I am so excited about my new Instant Pot and yet, I am a little nervous too. It is, after all, a completely new gadget for me and a little overwhelming! Thrilled to be able to share about my friend Emily's just -arrived "The Art of Great Cooking with your Instant Pot"  You'll want to get YOUR own Instant Pot after you see this exciting book!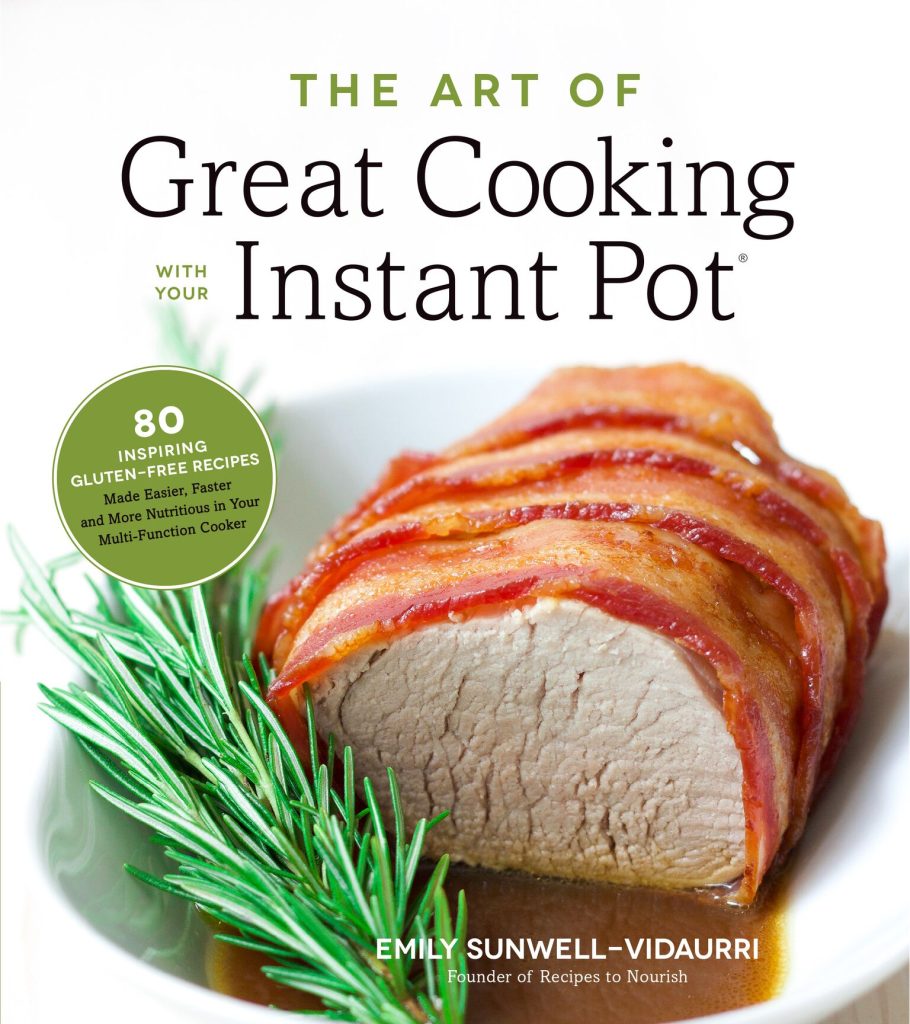 There are so many super ideas and inspiring pictures, so I had to dive in, immediately for a peek!
Immediately, Citrus Herb Basque Chicken, jumped out at me and that will be my first dish from this fabulous cook book to without doubt, please my beloveds!
Emily Sunwell-Vidaurri has indeed, given me the confidence to forge ahead with tantalizing recipes of all kinds, with excellent tips and great guidance to help a novice like me, feel confident and ready for success!
In her intro, Emily writes:
"The Instant Pot is a game-changer in the kitchen. Not only does it cook delicious food super-fast, but it locks in nutrition and makes food extremely tender and succulent. I want to show you that cooking with your Instant Pot can be easy, delicious, and beautiful."
Don't own your own yet? Here's the Instant Pot I received as a cherished gift!:
Here's my own personal Instant Pot ~via Amazon affiliate link. There are larger versions so we can pick the model that suits are own needs. I have friends who own 2 or even 3 Instant Pots!
Emily says: " My husband has Basque heritage. We love the simple yet bold flavors of Basque cuisine. This delightful dish is full of spicy chorizo, sun-dried tomatoes, sweet and tangy orange juice, floral thyme and salty olives. It's meant to be shared family-style with those you love."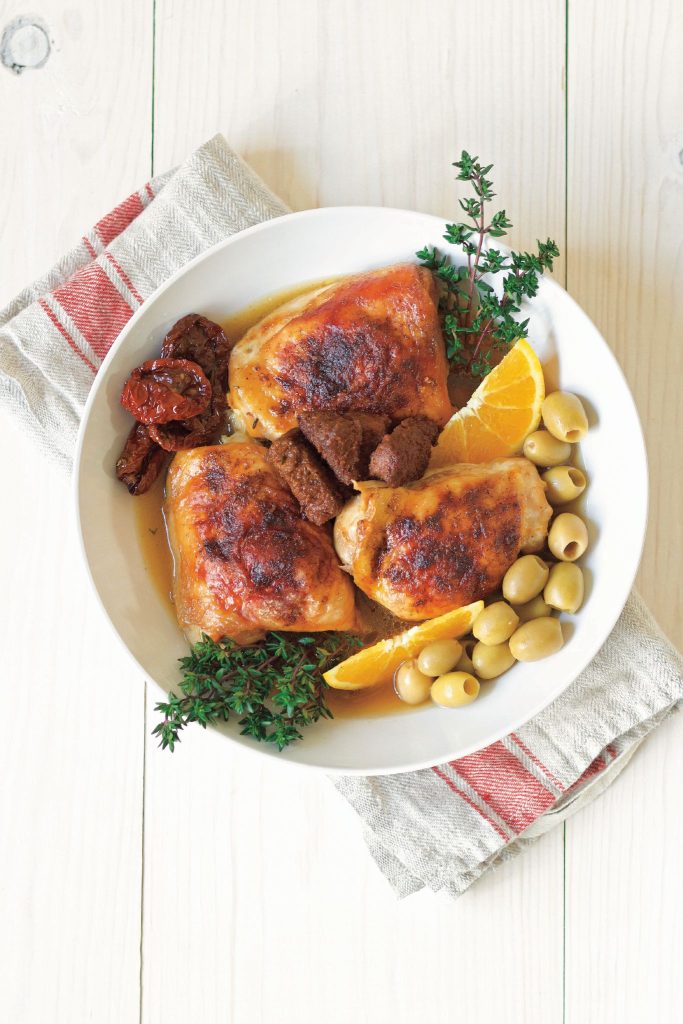 Citrus Herb Basque Chicken
2017-10-21 15:49:10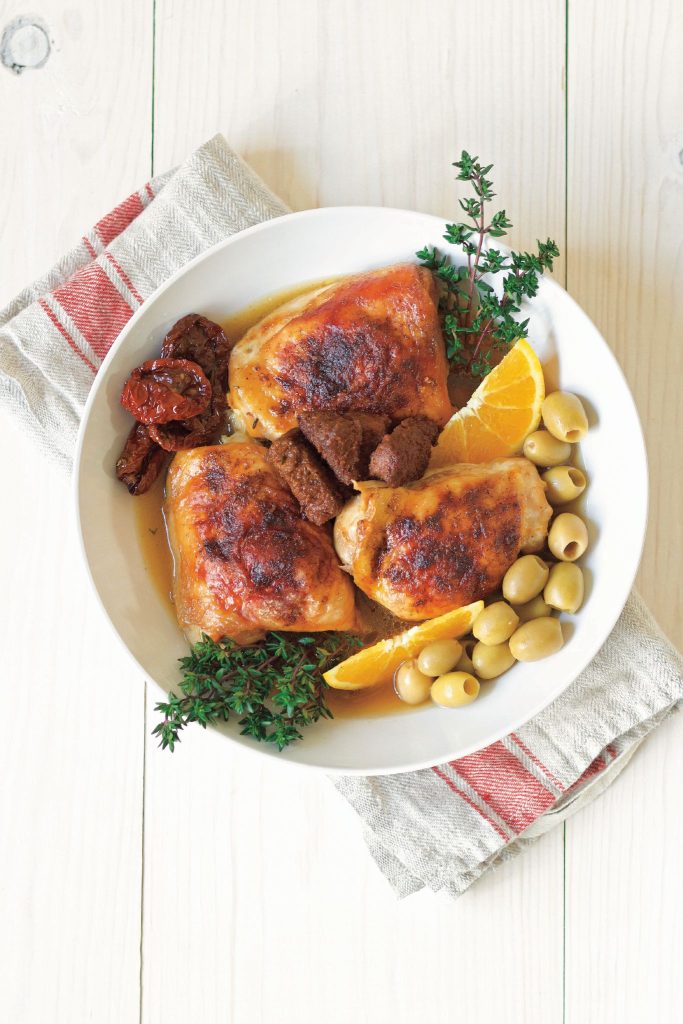 Citrus Herbed Chicken 'a la Basque' in the Instant Pot
Ingredients
3 tbsp (43 g) grass-fed butter, ghee or avocado oil, divided
4 bone-in chicken thighs
1¼ tsp (4 g) sea salt, divided
1 medium yellow onion, thickly sliced
4 fresh garlic cloves, minced
5 fresh thyme sprigs, leaves removed and stems discarded
½ lb (230 g) chorizo, casing removed
1/3 cup (18 g) sun-dried tomatoes
½ cup (67 g) pitted green olives
1/3 cup (79 ml) freshly squeezed orange juice
¾ cup (177 ml) chicken bone broth
Handful of fresh cilantro, for garnish
Instructions
Add 2 tablespoons (29 g) of healthy fat of choice to the Instant Pot and press "Sauté."
Once the fat has melted, add the chicken thighs, sprinkle with ½ teaspoon of sea salt
and brown for about 2½ minutes per side.
Remove the browned chicken to a plate and set aside.
Add the remaining 1 tablespoon (14 g) of healthy fat of choice, onion, garlic, thyme leaves and the remaining ¾ teaspoon of sea salt, sautéing for 5 minutes, stirring occasionally.
Add the chorizo and sauté for 5 minutes, stirring occasionally.
Press the "Keep Warm/Cancel" button.
Add the sun-dried tomatoes, olives, orange juice and bone broth.
Give it a good stir.
Add the browned chicken, making sure it's submerged and some of the liquid is ladled over it.
Place the lid on the Instant Pot, making sure the steam release valve is sealed.
Press the "Poultry" setting, then increase the time using the "+" button until you reach 20 minutes.
When the Instant Pot is done and beeps, press "Keep Warm/Cancel."
Using an oven mitt, "quick release/open" the steam release valve.
When the steam venting stops and the silver dial drops, carefully open the lid.
Serve immediately, topped with fresh cilantro.
Notes
Note: This meal is delicious served alongside simple roasted veggies!
I may need to pair it with those fabulous roast potatoes with lemon balm for a truly herb-infused feast!
Studio Botanica http://studiobotanica.com/
Recipe reprinted with permission from
The Art of Great Cooking with Your Instant Pot
by Emily Sunwell-Vidaurri. Page Street Publishing Co. 2017. Photo Credit: Emily Sunwell-Vidaurri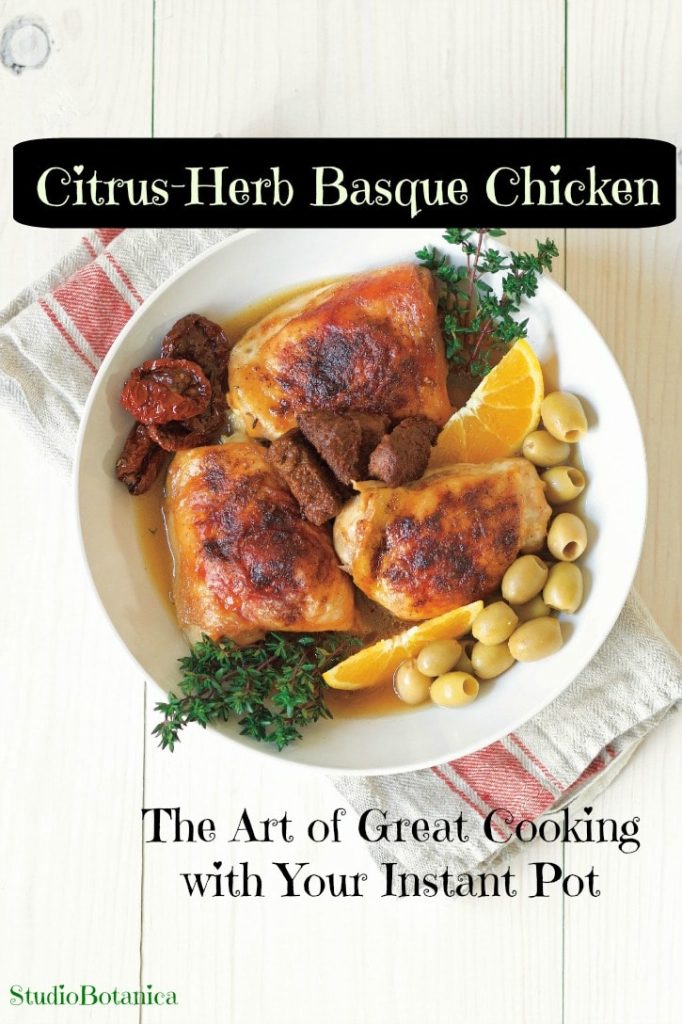 This is definitely my kind of meal with herbs infused into the very core of the dish. Read more about the healing powers of THYME and GARLIC and you'll understand why this is my 1st choice for my Instant Pot adventure!
Imagine being able to drastically cut down on the amount of time you spend in the kitchen.
That is THE reason I put this fabulous Instant Pot here — on my wish list!
Inside this delightful full colour book you wll find 80 gluten-free recipes to expand your repertoire of Instant Pot dishes so you can cook with fresh, new flavors faster, easier, and healthier than ever. YUMMY! Want your own copy? It's available NOW right here — HOT off the press!!
Mmmm can't you just get a whiff of that succulent citrus and thyme with garlic infused meal?
Yes please!!  
Do you own an Instant pot?  What do you like to make?
I'd love to hear from you and DO share your own personal favourites!
If  you don't own one yet, maybe you'll want to get your own Instant Pot …
…. and join the party!!
        With green blessings to you all ~ and a special thank you to my dear sweet friend Emily +
        many  congratulations for a job VERY well done!   xo Carol