You may know that I am somewhat fanatical about adding wild ingredients to my meals. There's something SO wonderful ~ on many levels, about the healing energy we find in wild food. Wild greens are definitely right 'up there' on my list! Today I am sharing a simple recipe for Wild Greens Pizza which is a big hit with my family and friends.
Have you ever gone foraging? I cannot describe the pleasure and the feeling of self-reliance that comes with the preparation of a meal, which comes together with various wild green ingredients!
Grab your 'pith helmet' friends, and let's go foraging!

Wild Greens PIZZA
This pizza is delicious. It can be with or without tomato sauce. This recipe is more about the toppings than the crust so choose a dough that suits your family or buy one or skip the crust altogether and make or buy tortillas or large pita breads so many choices!
I like to use a varied combination of wild greens (depending upon availability and season)
Some ideas include*: amaranth/pigweed, dandelion, lamb's quarters, purslane, violet leaves, young plantain or wood sorrel. There are so many combinations.
Not familiar with these greens? Here's a post I wrote a while back about wild greens.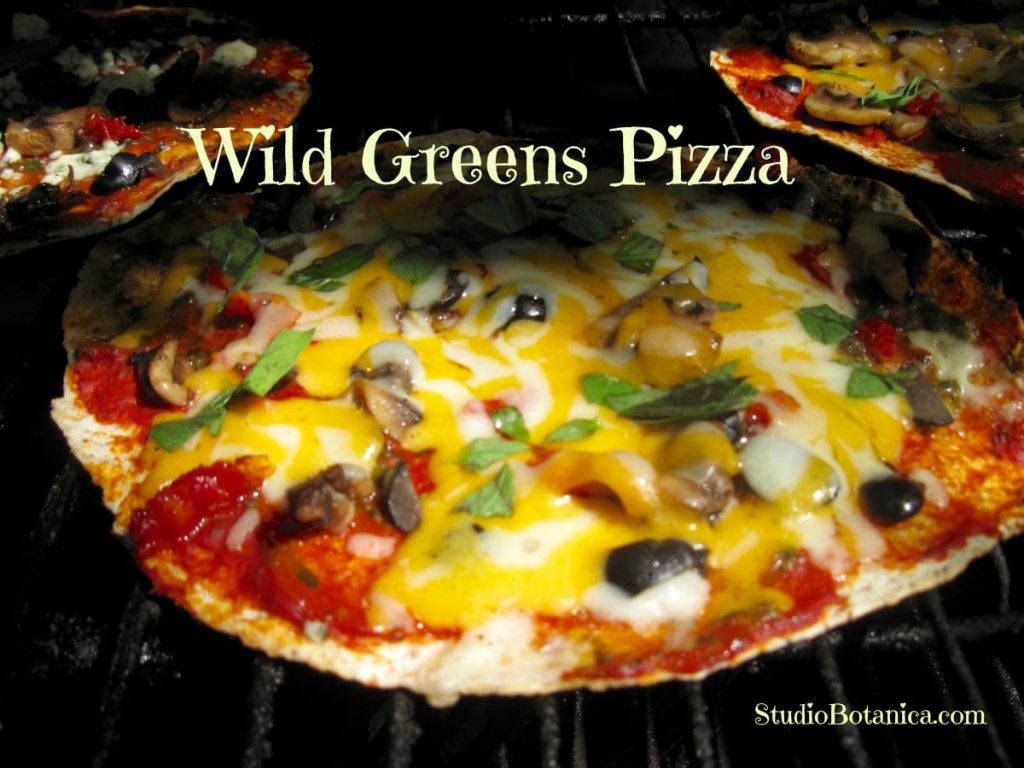 Wild Greens Pizza
2017-03-19 10:10:41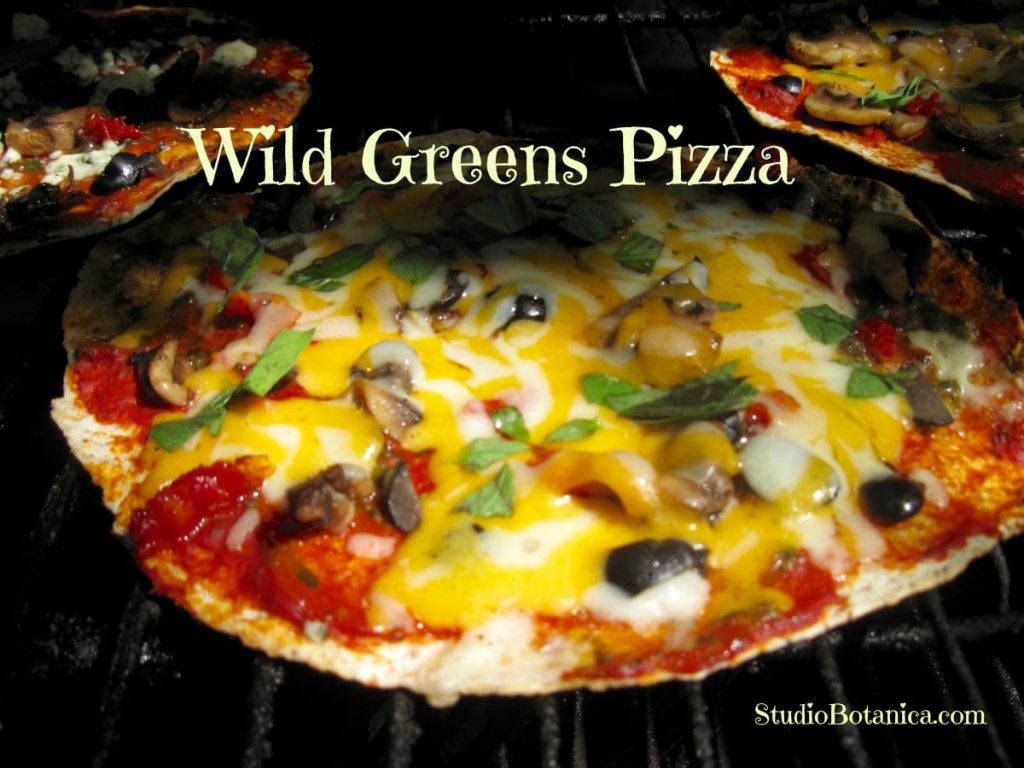 More of a template than a recipe. Make it your own! Just don't forget the wild greens!
Ingredients
1 tbsp avocado or olive oil
1 small onion, diced (optional)
1 clove garlic, minced
4 ounces of sliced mushrooms (your choice)
1 cup of chopped wild greens*
1 pizza crust (home-made or purchased)
2-3 tbsp cornmeal (optional for crust)
1 cup of tomato or pizza sauce (this could be more or less depending upon the size of your crust)
2 tablespoons of minced fresh basil
8 black olives, pitted, sliced
1 tsp Oregano and/or rosemary, finely chopped and/or thyme,
½ cup mozzarella cheese, grated
½ cup chèvre (goat cheese), crumbled
Sprinkle of red pepper flakes (optional)
Instructions
Preheat the oven to 400 degrees F.
In a medium saucepan, sauté the onions, if using, in olive oil until translucent. Add the mushrooms and continue to sauté until your desired tenderness.
Add the garlic and then turn down the heat.
Add the greens; stir gently and allow to wilt (about 3 minutes)
Set aside for a few moment.
Roll out your pizza crust (if needed or if using)
Place on a pizza stone or a cookie sheet, lightly greased (or sprinkled with 2-3 tablespoons of cornmeal)
Ladle the sauce (if using) onto the dough. Spread out to cover.
Spoon the greens mixture onto the prepared crust.
Add the basil, olives, cheeses, herbs and red pepper flakes (if using)
Bake at 400 degrees F. for 10-12 minutes or until done.
Notes
Alternatively: Go for the total outdoors experience and BBQ your pizzas!
Studio Botanica http://studiobotanica.com/
If you just can't get 'into' foraging or don't have the time or inclination, you can still make this delightful pizza and use store-bought or market-foraged dandelion greens! Start there. Adding the bitter green of dandelion atop your next pizza? Adds the power of the green, the healing aspects of the dandy and those bitter flavours? Well.. built in digestability helper! (is that a word?) Why do we care about bitters?
Read more here about the benefits!

Here's hoping you try this and please do leave me a note below!
Thanks for visiting! Carol