Cold Symptoms ? If you feel yourself coming down with a cold or flu, this is NOT the time to be eating ANY sugar, artificial sweeteners, or processed foods. Sugar is particularly damaging to your immune system — which needs to be ramped up, not suppressed, in order to combat an emerging infection. So, if you are fighting a virus, you'll want to avoid all sugar like the plague, and this includes fruit juice and even grains (which break down as sugar in your body).
Ideally, as soon as you feel that sore throat, or whatever YOUR own 1st symptom to indicate a virus,  it's best to go into 'combat' and address issues re sleep, nutrition, exercise and stress! Immune-enhancing strategies will be most effective if you begin to focus immediately on these issues.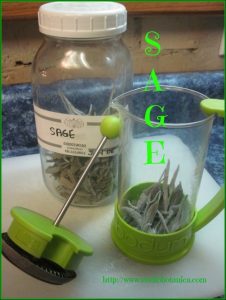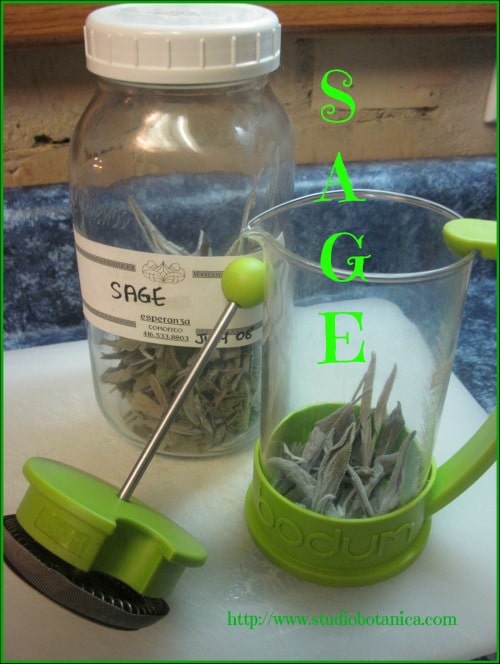 When you're 'fighting something' ,  we need to address ALL of the contributing factors immediately, which includes tweaking your diet in favor of foods that will strengthen your immune response. 
Ideas to speed your healing from cold symptoms include:
Pure good quality water.
Herbal teas — sage for sore throat or a combination of elderflower, peppermint,        yarrow, boneset and ginger. Winter tea blends here
Herbal tinctures — Here's a general formula here. See your local herbalist for specifics
Fermented foods (Kombucha, kimchee, sauerkraut, pickles etc)
Eggs from free-range local chickens (organic when possible)
Fruits, preferably local and organic whenever possible
Bone Broth, made from grass fed beef bones or pastured free-run chicken*
"My" PACK OF HEALERS: garlic, onions, horseradish, cayenne, ginger, turmeric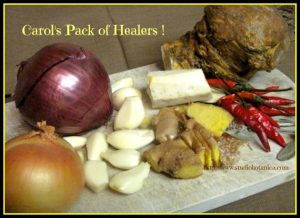 See these posts for more ideas to help with YOUR cold symptoms:
Wonderful HEALING soup. here
Make some FIRE CIDER and take daily or add to meals. See recipe here.
Steamed, baked veggies with Turmeric recipe here.
Make and enjoy often: Garlic Lemonade! Recipe here
EASY onions and garlic sauté can pack a punch. Here's that recipe.
* Bone broth recipes are easy to find online. Here are two of my favourites from 
   dear blogging friends. Megan from Eat Beautiful and Raine from Heal Your Gut with Food
  
Avoid:
All dairy products
Red Meats
Heavy foods
Any 'sensitive' or possibly 'allergic' foods such as wheat, corn, soy, sugary treats
Consider Supplements:
Vitamin D ~ I use D Drops available at health food stores or online here.
Vitamin C ~  Ester C is one of the most 
Zinc – documented evidence indicates a quick addition of Zinc as a supplement shortens duration
and severity of the virus.
Probiotics ~ proven to shorten the length of 'hold of virus'.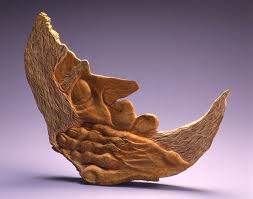 Get some rest and LOTS of it!
If you aren't getting enough restorative sleep, you are not giving yourself the best chance.
Gentle exercise like a relaxed walk (avoid snow storms!) haha.. that was me yesterday.. sudden snow squall surprised me when out for a wee walk. Yikes!
AVOID stressful situations. Try to find ways to better manage daily stress. This will contribute to a stronger and 'able' immune system. One of THE best ways I've ever used? Homeopathic flower remedies from the world of famed Doctor Edward Bach.
Do you know about the Bach Flower remedies? I have been involved in counselling for 30 years and can attest to the fabulous success, with every kind of imagineable emotional imbalance. Email me: carol@studiobotanica.com for more info. Here's an excellent reference:
The Encyclopedia of Bach Flower Therapy
Check out my eBook on the subject which contains 30+ easy DIY ideas to keep your family healthy all year —–> "Cold + Flu Season ~ Are YOU Ready?"
Available here: