I LOVE Violet Medicine!
Do you have a favourite spring/early summer bloom? Violets are definitely one of mine.  There is something so 'cheerful' about these sweet little blossoms, peeking out from under their glossy oh so green foliage.  This harsh winter was not kind to my violets (or the rest of my herb garden, for that matter!) but I do have some who have come back and are thriving. All flowers of the violet family are edible. In fact, both the flowers and the leaves are delicious mixed with other greens for a delicious salad. There are over 400 Viola species! ALL EDIBLE! Violet Medicine is a powerful ally!
The delicate scent of these sweet flowers makes me think of 'days gone by' when it was quite normal to have 'Violet tea' as a part of the (now say this with a British accent..please:) "High Tea" with all of it's traditions. Enjoy fresh leaves and flowers when in season. Extra leaves? Dry them for delicious tea year 'round.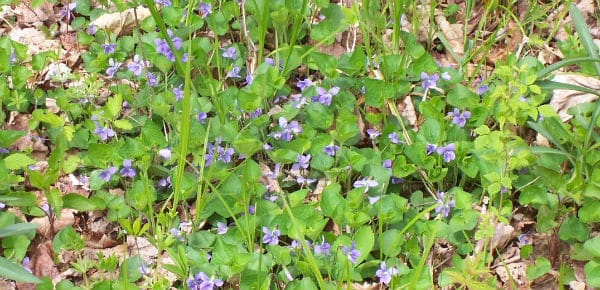 VIOLET TEA
Add 2-3 teaspoons of fresh violet flowers to 1 cup of boiling water.
If using a teapot, add as many flowers as cups to be made.
Allow to steep for five minutes, strain and serve.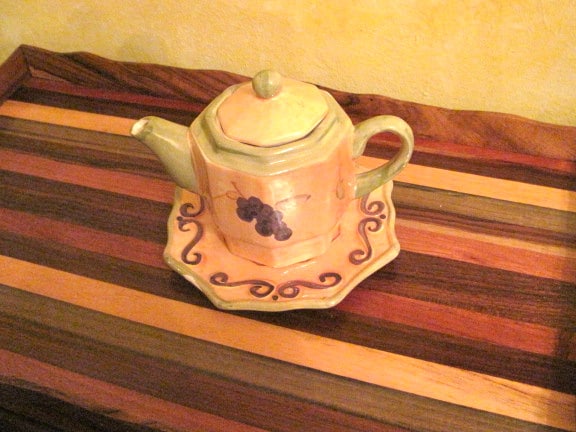 Violets make me think of 'hope' and optimism. Normally, when flowers are just beginning to pop up, I pick some every day and make both an infused oil (for making breast cream or salves) and a violet-infused vinegar (to enhance summer salads) See below for  DIY info.
I also make Violet tincture for my apothecary as violet (flower and leaf) has healing qualities.
VIOLET Medicine HIGHLIGHTS:
Viola odorata/sororia    (Common/Sweet/Wood/ Blue Violet)
We harvest both leaves and flowers from the top 25% of the plant. For every 2-3 flowers, we use 1 leaf to create the mixture for tincturing. For optimum flavour and therapeutic value, harvest mid-morning (after the dew has evaporated and before the hot sun wilts)
Here's a list of the most important violet medicine attributes:

anti-bacterial,
anti-catarrhal
anti-inflammatory
anti-rheumatic
aperient
demulcent
depurative
diaphoretic (mild)
diuretic
expectorant (relaxing,
secretolytic
)
lymphatic
nervine
relaxant
vasodilator (general,
peripheral
),
vulnerary
* Check the glossary under the articles tab for reference if you like.
Violet medicine can be used for all types of coughs as it is soothing and relaxing and loosens mucus. It is excellent for lower respiratory tract conditions ~ a good lung herb. Violet medicine is an excellent choice for toxicity related conditions. As a lymphatic herb, it can ease congestion and calm inflamed lymph nodes.
It is a deep-acting medicine and combines well in formulae. I like to add it to a formula that helps folks who need a 'lift' ~ with lemon balm and lavender. 
DIY VIOLET OIL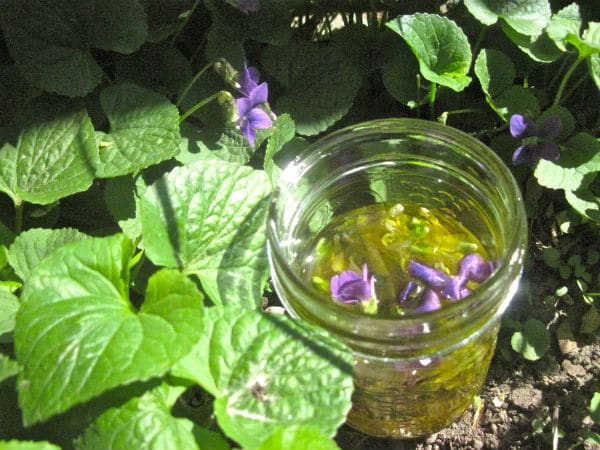 Use a glass canning jar.
Pick the violets mid-morning if possible for best results
Top with a small amount of good quality olive oil.
If you are like me, and have a limited amount of 'harvest', just put a lid on the jar, and store until the following day and add more flowers. Always cover with oil and then keep the lid on the jar when not harvesting.
Place the jar in a sunny place and let it steep for 2 weeks.  
Strain the oil using cheesecloth (or muslin)
I normally strain the oil into another glass jar with a good lid. After the oil is poured into this 2nd jar, place the herbs in the cheesecloth and wring until all the oil is extracted.
As I mentioned above, I use infused oil of violet, in combination with 'dandelion oil' for making a lovely nourishing breast cream.
Violet Medicine infused oil makes a delightful salve.
—   Herbal syrups are a favourite in my house! Stay tuned for more ideas for herbs and syrups!!
My friend Leda Meredith has just published a wonderful new book about foraging!
Click here: –> Northeast Foraging: 120 wild and flavorful edibles from beach plums to wineberries

to access it on Amazon. I can't wait to read it all!!
VIOLET VINEGAR ~ add some vitamins A + C  to your meals!
Use a clean glass jar.
Pick the violets, preferably after the dew has dried but before the 'heat of the day sets in'.
Cover the violets with vinegar.
In this case I use white wine vinegar so that we can enjoy the pinky/mauve hues from the infusion.
I understand, from friends who also make this vinegar, that champagne vinegar works very well too. Update: latest batch is with white balsamic vinegar!
Use whatever you like but choose a light vinegar to enjoy the colourful result. It's delightful!
NOTE:  I would have a picture for you of my gorgeous VIOLET vinegar ~ The local raccoon population ravaged through my
Violet patch this week… and just like that..munched or 'mowed down' all my violets!  No wonder they have been looking so happy lately!  Gotta love city life.. sigh…  I guess the word's out.. Violets at this house…over here… are yummy!!
HOW to USE in the Kitchen:
Eat both the flowers and the leaves in your spring salads. Delicious.
Add to a mix of other steamed greens . This can be a delightful addition to stronger greens like dandelion and garlic mustard, as they have a delicate flavour.
Enjoy VIOLETS ~ every way you can~  Wild violets, ethically wild-harvested are a wonderful part of Spring!
Green wishes,  Carol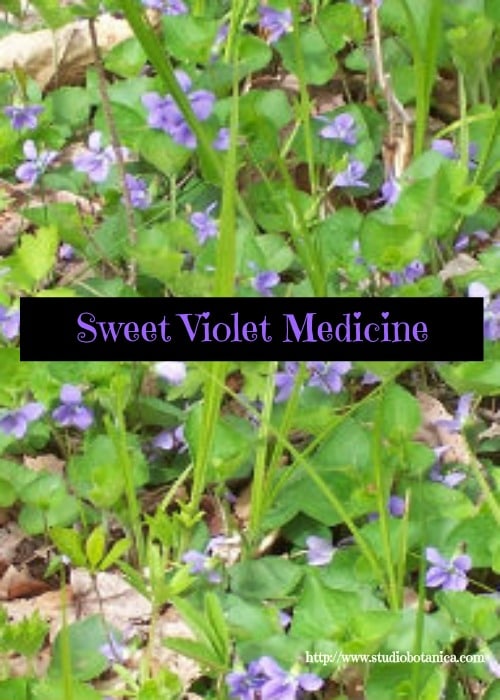 Save
Save
Save
Save
Save
Save