Do you have a 'least favourite month'?
I love the 4 seasons in my life ~ Living in Toronto, we get 'em all! Autumn can be spectacular and the glorious colours of the countryside are a joy to see. Winter has its beauty too ~ I am blessed to live in a beautiful ol' house with 2 fireplaces so we are cozy while winter blasts around us. I confess to needing a 'lift' in November. The trees have lost their splendour, the sun seems to take a break and grey days can string together. Oh November.. 
Maybe it's not November for you.. Many of you live in southern climes and your November remains bright and sunny! Maybe there are other months that you find difficult for whatever reason or there are upsetting events unfolding in your world. (sending hugs)
Are you asking me to check the calendar? After all.. it's NOT November. (chuckle)
It IS time however to think about preparation. Prepare for the days when we need a pick-me-up!
Prepare for the onslaught of cold and flu and all of 'that'. I've learned NOT to wait until I feel 'down' to start thinking about creating a formula or looking for the herbs to make one! 
This uplifting herbal formula is good to have on hand because it blends warming, uplifting, and relaxing herbs that can help alleviate the blues we all feel from time to time. Dull days? Winter blues? Put this tincture together, below, or try these ideas   One doesn't need to be a new mom with post-partum depression, to enjoy this delicious uplifting tea recipe!
1 part St Johns Wort extract
1 part lemon balm extract
1/2 part hawthorn extract
1/2 part Kava Kava extract
1/4 part Rose extract
1/4 part Ginger extract
Optional: If anxiety is a part of the 'picture', I like to add Skullcap extract (1/4 part)
or Passionflower (1/4 part)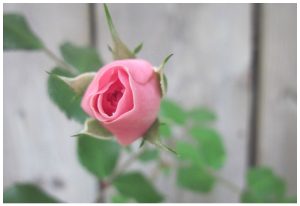 If you'd rather buy a similar formula 'ready to go' easily with one click, visit my favourite online source here for a great uplifting 'anti-anxiety' formula.
NOTE: Contact me for a conversation if you are pregnant or nursing, please. I have ideas for you!  I will post several ideas in November for our new moms!!
      In the meantime, I am easy to reach  –> carol@studiobotanica.com
Mix all extracts (or tinctures) together in a bottle and shake well. I like to take about 30 drops 1 to 2 times a day for up to 1 week, or less as needed. It's always a good idea to take a small amount first, sit in silence, and feel how the herbs effect your body. After a week, if you want to continue, take 2-3 dropperfuls,  3 times daily is the therapeutic dose.*
*Sharing general herbal recommendations based on principles of traditional herbalism.
It just might bring a little sunshine to your gloomy gray days!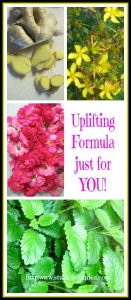 This post has been shared on Simply Natural Saturdays linky party here!