I am blessed to spend a good part of the summer, away from the city, living simply in a cabin beside a lake, surrounded by cedar, birch and maple. In an attempt at 'balance' (a life-long goal), I spend more time outside, in another tiny herb garden, and forage the surrounding countryside for plant medicine and wild edibles.
When friends arrive, though, I am all about making goodies that are "easy, quick, delicious, nutritious + herb-infused". I hope you enjoy these. These recipes will yield amounts for small or larger gatherings. Just add more ingredients.
They can be modified to reflect dietary needs but this is how I make these treats:
Herb-infused appetizers with Cucumber !
The first time I enjoyed this little treasure, was about 10 years ago, 'chez' our friend Rob, who was working with a 'celiac challenge', so always savvy with 'gluten-free apps.. and we enjoyed these, proclaiming them to be a 10/10 !!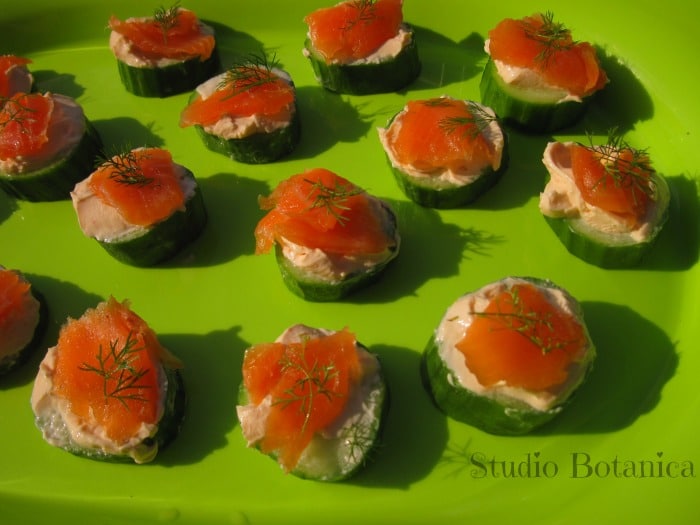 Smoked Salmon on Cukes with Cream Cheese + Capers
2017-07-27 08:16:58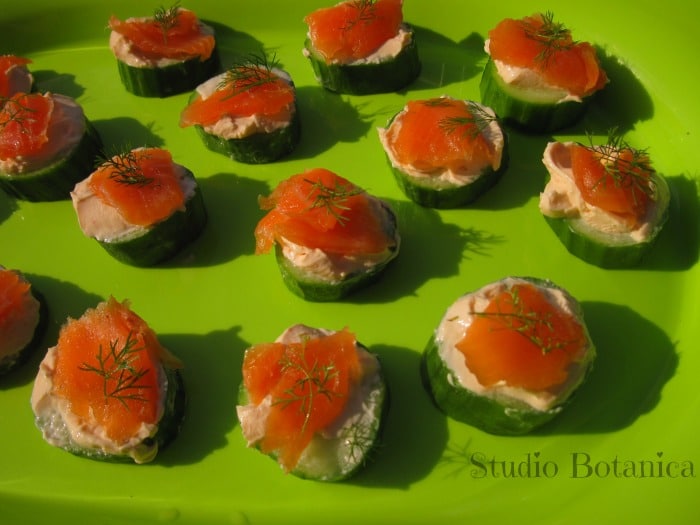 Delicious. Easy. Quick to prepare.
Ingredients
3-4 field cucumbers (or 2 English cukes)
Smoked salmon (fresh from the deli or frozen package)
Cream cheese (about 1 cup or 250 g )
Dill ~ 1/4 bunch
Capers ~ enough to garnish each round
Instructions
Slice the cukes into rounds (a little less than .5 inch each)
Cut the smoked salmon into small pieces (approximately 1 inch x 1 inch)
Spread the cream cheese to coat each cucumber slice
Top with the piece of salmon
Add dill sprigs and capers atop the salmon.
Notes
The size of the piece of salmon may vary, according to the size of the cuke!
"Amp" up the dill in this recipe by adding some chopped dill to softened cream cheese before the process begins!
Studio Botanica http://studiobotanica.com/
The sky's the limit with this next one. Wrap herb-infused cream cheese in crunchy ribbons of cucumber and enjoy! It's SO easy and quick to prepare. Can be made earlier in the day and refrigerated. Cooling and delicious!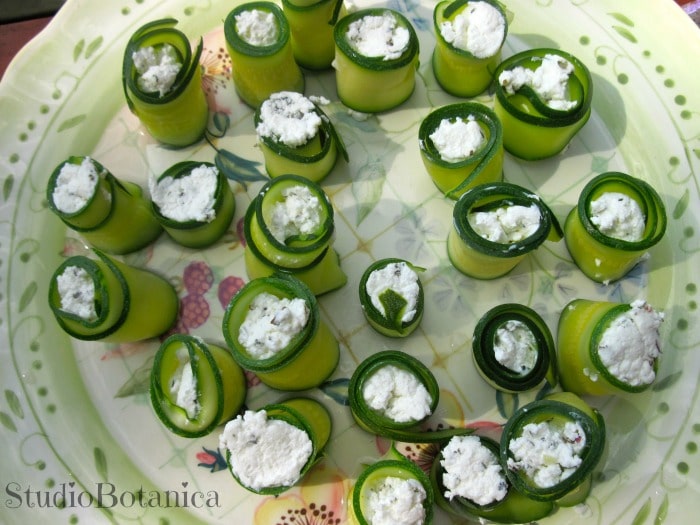 Herbed Cream Cheese wrapped in Cukes
2017-07-27 08:22:17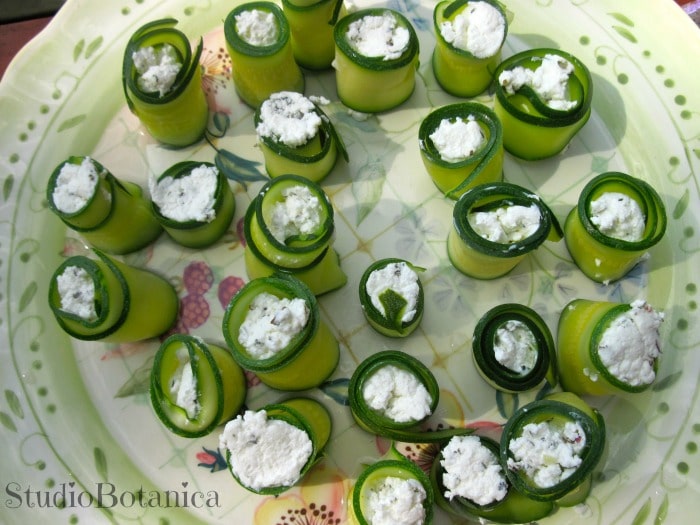 So good. Adaptable. Easy. Enjoy!
Ingredients
2 English cucumbers (or 3 large field cukes)
Cream cheese (about 1 cup or 250 g)
Basil ~ small bunch (or any favourite herb)
Instructions
Chop whatever herb you are using and add to the cream cheese in a bowl.
Stir until combined
Use a veggie peeler (as I do) or a paring knife to slice the cukes lengthwise into long ribbons.
One at a time...
Place a cucumber 'ribbon' on a cutting board and add a dollop of cream cheese mixture to the ribbon, at one end. Roll up. Stand on it's 'side'
(see picture!)
Crunchy and SO delicious.
Notes
This recipe changes depending upon the herb used. I've used Italian parsley, chervil, dill, basil, lemon balm and a lemony mint! It's a long list of possibilities.
This is the simple version. You can add sliced peppers, chopped tomatoes and pesto, or other colourful veggies. When I am pulling quick apps together, this simple one works just fine and is a crowd-pleaser!
Studio Botanica http://studiobotanica.com/
Cucumbers are in season now! Well endowed with
THE

2 most basic elements needed for healthy digestion: water and fiber.
Cukes are cooling and 95% water, so perfect for helping to keep us hydrated in hot weather!
Here's a reference re Cucumber's good qualities, over at Mercola.com
I love to infuse good quality water with cucumber slices or 'zoodles' and lemon or other citrus. You?

Back to our appetizers.. These are how my family has enjoyed, for many years and wanted to share with you!
Apologies for the absence of dairy-free options. What would you use in this case? 
To Your Health ~~~~ Green blessings,  Carol