In honour of "perfect pairings", here's an idea from MOTHER NATURE !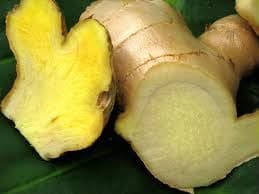 I LOVE THIS combination.    Two of my favourite herbs!
There has been a lot in the news lately about the amazing healing properties of turmeric, a free-radical-fighting antioxidant-rich curry spice that has been hailed as a defense against both cancer and Alzheimer's. This tasty recipe is a warming, nourishing, detoxifying ginger-turmeric tea, perfect for the  long winter season, ideal combo for detoxing and healing!
Ginger and turmeric combine with citrus and maple syrup to make the perfect blend of healing nutrients. Note: This recipe calls for powdered herbs but fresh are fabulous, if possible.  As with many of my ideas, this is a guideline so adjust as preferred tastes dictate.
It's so easy!
2 cups water
1/2 teaspoon powdered ginger
1/2 teaspoon powdered turmeric
1 tablespoon maple syrup
Juice of 1/2 lemon
1. Bring water to a boil, then add powdered herbs. Simmer for 10 minutes.
2. Strain tea into a mug, add maple syrup and lemon, stirring to combine. Drink warm.
Makes 1 serving.
GINGER
May help or treat:
Arthritis – Osteo and Rheumatoid
Asthma
Cholesterol problems
High Tri-glycerides
Heartburn
Indigestion
Migraines
Nausea
Motion Sickness
Morning Sickness
TURMERIC
May help or treat:
Acne
Allergies
Alzheimer's
Arthritis – Osteo and Rheumatoid
Asthma
Blemishes
Cholesterol issues
Colitis (inflammatory bowel disease)
Diabetes (type 2)
Flatulence
Hypertension
Liver disease
Macular Degneration (eye disease)
Parkinson's Disease
Pain
Obesity
Skin ailments – Psoriasis, Eczema, Rashes, Scleroderma
These 2 herbs are powerful allies for everyone, and can be added into our daily routines by trying NEW ways to enjoy their unique flavours.
ENJOY !!!
Green wishes,
Carol
p.s. this post originally aired during the week of the ROYAL wedding.. so that's the reference to 'perfect pairing'.
It was a special time:
Congratulations to William and Kate!
Did you watch the festivities on April 29th?  Those who did, have witnessed the wedding of the CENTURY, 'they' say.  One couldn't help be happy & hopeful, for sure.