Sharing this Powerful Healing SOUP! Anytime is a good time for this delicious soup! Dear readers may recognize it as I have made it for many years, and usually have some in the freezer as a 'back up'. We are all busy so planning ahead can truly be the difference between 'nipping that cold virus' at the start or … not.. If there is ONE functional food remedy that I recommend, after making it for 30+ years:
it's this recipe.
Take the TIME to make this!
My Powerful Healing Soup, as it has come to be known to friends, family and clients is a 'life-saver'. For those times when there is a 'vague malaise' or tell-tale 'whisper' of a symptom hovering nearby, this soup is a phenomenal healer ~ especially if eaten asap after symptoms show up!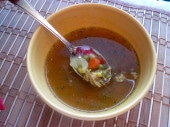 Of course, you just know that I have a full winter herbal medicine chest ~ brimming with herbal remedies. I've written an eBook about ways to prevent and treat colds and flu. It's an important topic for winter health!
This SOUP, however is such a powerful ally, that here I am again, sharing it and encouraging a batch in your house.. soon!!
Here we go:
POWERFUL HEALING SOUP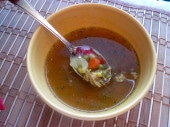 Powerful Healing Soup
2015-12-16 08:07:54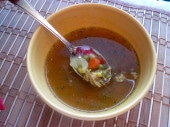 Powerful healing ally ~ packed with super hero herbs!
Ingredients
2 tablespoons olive oil
2 to 3 onions, chopped
10 to 12 garlic cloves, peeled
Bone Broth or Chicken stock
1 cup grated horseradish root
2-inch piece gingerroot, grated
1 teaspoon cayenne pepper
Sea salt
Black pepper freshly ground
2 cups combination of chopped celery, carrots, parsnips, corn, and peas
Optional: 4 cups cooked, bite-sized pieces of chicken (free-range or organic preferred)
Instructions
In a soup pot over medium heat, heat the oil and add the onions.
Sauté until tender.
Add 1 to 2 crushed garlic cloves at the beginning, but keep most until the very end to ensure garlic's medicine is intact.
Add the broth, horseradish, ginger, cayenne and a dash of salt and pepper.
Simmer for 10 minutes.
Add the vegetables and simmer for 20 minutes.
Add the cooked chicken, if using.
Taste and adjust seasonings.
Add the remaining garlic and serve.
Notes
NOTE: For those not 'acclimatized' to Horseradish, perhaps use 1/2 cup initially.
My 'extra ingredients' are listed below; added when the mood strikes!
Studio Botanica http://studiobotanica.com/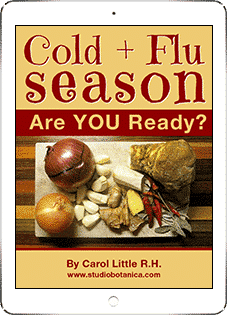 Make a batch and freeze in small portions to have on hand when needed! This soup is an amazing winter ally and my 'go to' healing soup ~ in a long list of possibles.. ENJOY!!

Here's to our health!!
Green blessings, always,
Carol