This SUPERFOOD is WILD ~ Go WILD !!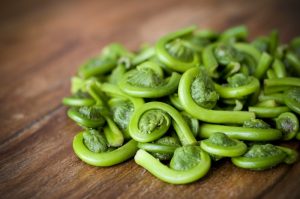 What is a fiddlehead?
A fiddlehead is a green vegetable that is considered to be a nutritional wonder. The top of a fiddlehead is curled in a tight spiral. This spiral shape resembles the head of a fiddle, hence the name "fiddlehead." The best quality of fiddleheads can be found along fresh waterways in the maritime provinces and Quebec and Ontario. This green vegetable is the early, tender growth of the plant, commonly known as the ostrich fern.
( or Matteuccia Struthiopteris)
What does a fiddlehead taste like?
Fiddleheads are said to have a unique taste.
Many people compare the taste of fiddleheads to a mix of asparagus, spinach, and/or broccoli.
What are the nutritional benefits of fiddleheads?
Fiddleheads are now considered a super food. They have twice the antioxidant activity of blueberries. Fiddleheads are a non-marine source of omega-3 and omega-6 essential fatty acids. Fiddleheads are also rich in iron, fibre, potassium, niacin, riboflavin, magnesium, phosphorous, vitamins A and C, zinc and beta-carotene. They are 3-4 times higher in phenolic compound concentration than spinach and contain cancer-fighting agents.
What to look for when buying fresh?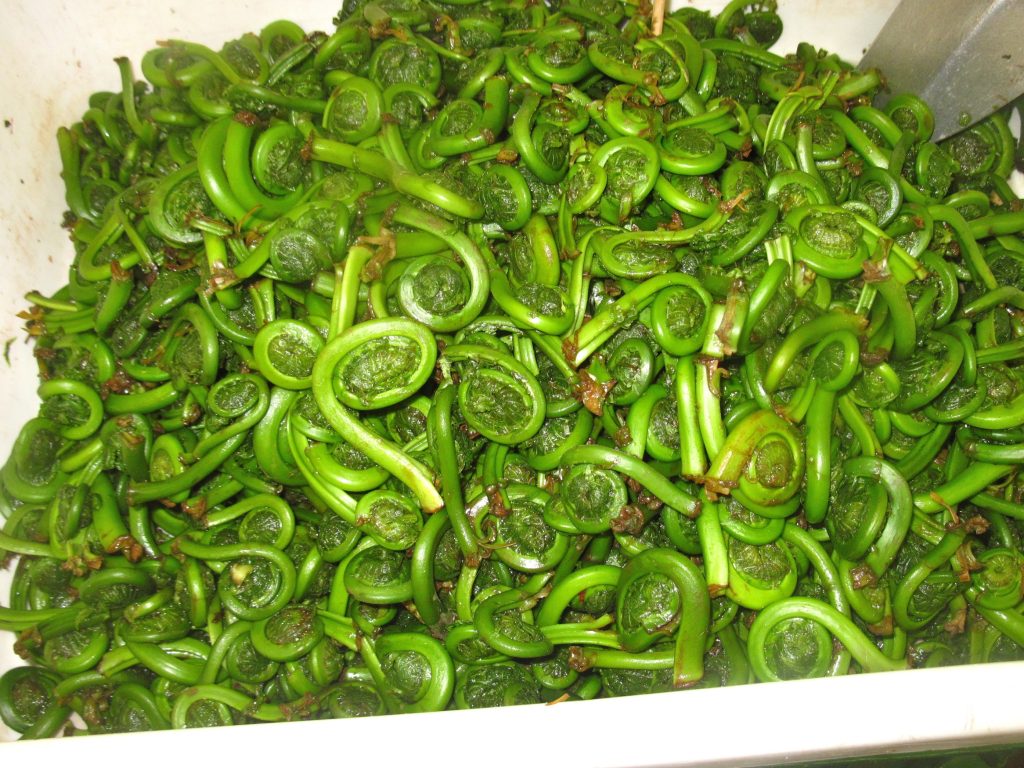 Fresh fiddleheads are available during their short growing season from late April to mid-June. When buying fresh fiddleheads, look for those that are tightly curled, bright green in colour and have a crisp texture. Ideally, fiddleheads should have a tight coiled head with a stem between 2 to 5 centimeters long.
Storing
For maximum freshness and quality over a longer period of time, store the fiddleheads submerged in water in the fridge. With regular daily water changes, the fiddleheads will reminder will remain crisp and green for at least two weeks from date of purchase. This is a great way to stock up with fresh fiddleheads towards the end of May before fiddlehead season comes to an end.
Preparing
To wash fiddleheads, rinse and swish them in several changes of cold water to remove any husks. Trim the tops of the stems to remove the dark ends with a knife. They should then be cooked in boiling water for 8 to 10 minutes. Fiddleheads should also be boiled or steamed prior to sautéing, frying or baking. Fiddleheads can be added to any recipe requiring vegetables or can be substituted for any green vegetable in a recipe. Fiddleheads can be eaten as a side dish with salt, garlic and butter or olive oil or they can be incorporated into dishes like stir fries, soups or vegetable mixes. NOTE: They keep well in your freezer.
If you prefer a mild taste like asparagus, boil your fiddleheads. If you prefer a somewhat bitter flavour like rapini, steam your fiddleheads. Try this winner below:
Pearl Barley Risotto with Fiddleheads, Squash & Walnuts
2016-05-08 10:29:34
This is a recipe by Chef Kyle Ferguson, winner of the 2011 So You Think You Can Cook fiddlehead competition, hosted by Norcliff Farms. Thanks for this plus the fiddleheads info! Visit this very informative website: www.norcliff.com
Ingredients
50 g fiddleheads, trimmed and blanched
50 g roasted butternut squash, ¼ inch dice
50 g pearl barley (cooked to al dente)
15 g roasted walnuts, roughly chopped
1 tbsp butter
1 tbsp marscapone cheese
1 tbsp parmasean cheese
1 tsp chives
2 tbsp vegetable stock (or bone broth)
¼ tsp sea salt
Combine all ingredients in a medium sized saucepan over medium heat. Serve warm.
Instructions
Clean them.
Toss into your sauté pan with a little olive oil, garlic.
They are ready to eat in under 10 minutes!
Notes
The 'classic' way -- with a little butter and garlic, is also very yummy. That's how I have cooked them for years.
Studio Botanica http://studiobotanica.com/
How do you prepare these unusual veggies?

Whichever way you do ~ they are GOOD for you! Celebrate veggies!!