Sweet potatoes are as delicious as they are good for you!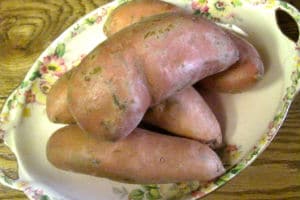 A medium sweet potato, let's say 2 inches in diameter by 5 inches long, contains about 100 calories, about 2 grams of protein and almost zero fat. High in fibre, they are an excellent source of potassium, and good sources of Vitamins A & C. They are low in sodium. This combination of high potassium and low sodium content makes them an excellent choice for those wanting to control blood pressure issues.
These two recipes, are favourites in the many ways I like to prepare this nutrition-dense veggie.
In this first "BAKED/ROASTED" recipe, they pair so perfectly with maple syrup that, sometimes I just bake them as below, then add a drizzle of maple syrup to make a decadent veggie side dish!
Thinking you'd like to 'kick up' AUTUMN flavours? See below for a very tasty appetizer/dip! ENJOY!
Baked or Roasted Sweet Potatoes
2016-05-08 11:15:35
Ingredients
1 lb sweet potatoes
2 cloves garlic
1 lime (juice from 1 lime)
2 tbsp olive oil
Sea Salt
Pepper, freshly ground
Optional: add your favourite herbs and spices at the point when coating the sweet potatoes. I have added finely chopped parsley or rosemary or tarragon or thyme as well as a quick sprinkle of hot pepper flakes for a little zip!
Instructions
Pre-heat oven to 375 degrees.
Peel potatoes and cut into medium sized wedges.
Soak in water in a bowl for about 10 minutes
In another bowl, mix all ingredients, making sure that the potatoes are covered with the oil. Place potatoes on a cookie sheet and bake for about 45 minutes (or until tender)
Alternatively, place potatoes on rack of BBQ ( I put them on foil on the rack)
Turn frequently.
Excellent addition to warm weather meals too!
Studio Botanica http://studiobotanica.com/
Southwest Roasted Sweet Potato Dip
2016-05-08 11:18:48
Serves 2
This delicious and easy dip is perfect to make ahead for easy entertaining or for a nutritious snack for the whole family!
Ingredients
2 medium Sweet Potatoes (about 8 oz/250 g each)
4 cloves Garlic, locally grown if possible!
1/2 cup (125 mL) coarsely chopped cilantro
1/4 cup (50 mL) olive oil
1/4 cup (50 mL) lime juice
2 tbsp (25 mL) water or vegetable broth
1 tbsp (15 mL) ground cumin
1 tsp (5 mL) salt
1 tsp (5 mL) chili powder
1/4 tsp (1 mL) cayenne pepper
Cilantro leaves (optional)
Serve with crostini, or crisp crackers or baked white corn tortilla chips, GF crackers or crunchy cucumber or carrot sticks, sliced veggies etc.
Instructions
Pre-heat oven to 350 F.
Pierce sweet potatoes several places with fork; place on a baking sheet, lined with parchment paper or sprayed with a small amount of olive oil. Bake for 45-60 minutes or until tender.
Meanwhile, peel and slice garlic into food processor bowl; pulse to finely chop.
Scoop flesh out of sweet potatoes to yield 2 cups (500 mL); add to food processor. Add cilantro, oil, lime juice, water, cumin, salt, chili powder and cayenne; process until puréed.
Refrigerate in airtight container for 1 hour or up to 3 days or freeze.
Bring to room temperature to serve. Garnish with cilantro leaves (if using).
Serve with tortilla chips and cucumber sticks ( or carrots or .. )
Notes
You can substitute chipotle powder to taste for the chili powder and cayenne, or add your own flavour combination!
Studio Botanica http://studiobotanica.com/