I love this SPELT dish. It's easy to make. Nutritious and very tasty. Everything but the kitchen sink can go into this meal or it can be a simple 5 ingredient dish. It's up to you!
Here's what I made last weekend. This recipe is but a guideline!!  Very Tasty!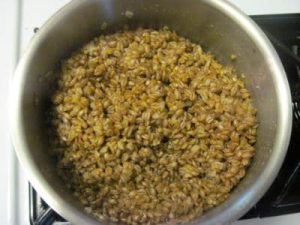 2 cups Spelt kernels
3.5 – 4 cups water
1 Organic vegetable bouillion cube
2 tsp EVOO (olive oil!)
1 onion, medium, chopped
1/2 lb – 1 lb mushrooms (white, button, cremini or any combination)
1/2 cup celery, chopped
1 yellow or red Bell pepper, chopped
1 bunch asparagus, washed, trimmed, cut into 3 inch segments
2 tsp Tamari* (or to your taste) or 1/4  tsp Sea Salt
2 Dashs black pepper
1 tsp Turmeric (optional)
2 tsp Italian parsley and/or Cilantro or your favourite herb, minced
Put the Spelt kernels into a pot and add the water. Bring to a quick boil and then allow to simmer. Add the vegetable bouillion and stir. Cover and leave on low heat for about an hour.
In a sauce-pan, saute onions and celery in the olive oil. Add the mushrooms after the onions are translucent. Cook over medium heat for 10 minutes or so. Add the red peppers. (I sometimes add carrots, or whatever I have on hand, at this point)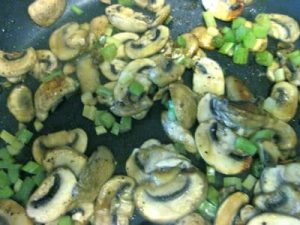 Next? Add the asparagus (and whatever else doesn't need a lot of time..maybe green peas?) Add to the Spelt in the pot. Stir gently to combine. Add the seasonings & herbs and allow to simmer briefly.
It's ready!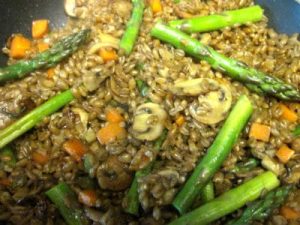 SPELT is a delightful nutty, quite chewy – always delicious choice. It's also worth adding to your pantry because it's GOOD FOR YOU!  Read about Spelt here.
*Tamari is a naturally brewed version of 'soya or soy sauce'. READ the label. It is available made without sugar and without wheat (which is now commonly in many soy sauces) and in low sodium versions. Buy Organic if possible to avoid eating GMO soybeans.