Welcome to Wendy Polisi, my favourite "queen of Quinoa". She is the creator of CookingQuinoa.net and the author of The Quintessential Quinoa Cookbook.  This book is a work of art, and offers the reader  nutritious ideas and allows the 'quinoa novice' to navigate along the path to using this superfood in many innovative ways!  See below for helpful 'how to' links and information plus Wendy's new e-cookbook,
"The HOLIDAY Quinoa Cookbook".
I love chocolate.  (I'm guessing most of you do too. )
So when I'm thinking of a quick last minute dessert, chocolate is the first thing that comes to mind.  Last time I was here, I shared my Quinoa Chocolate Bark.  Well, today Carol has asked me to share my new and improved version!
This year, I'm craving salty sweet treats, so I'm making a Sea Salt Quinoa Chocolate Bark with Pistachios.  I throw in a touch of cayenne pepper for a little heat, but feel free to leave it off if you think it will scare your little ones away.
You can use toasted or popped quinoa, though I encourage you to give popping quinoa a try!  Although the seeds don't actually expand the way that popcorn does, the texture turns very light.  This makes it the perfect healthier substitute for rice krispies.
 Ingredients
8 ounces good quality chocolate, melted
1/8 teaspoon cayenne pepper, optional
¼ cup popped or toasted quinoa
½ cup shelled pistachios, chopped
¼ – ½ teaspoon sea salt
Instructions
Line an 8 inch pan with parchment paper. Mix melted chocolate with cayenne pepper and stir well. Pour chocolate in to prepared pan and smooth with a dry spatula. Top with popped or toasted quinoa, pistachios and sea salt.
Chill for 30 minutes, or until set. Remove from pan and break into pieces.
To pop quinoa: Heat coconut oil in a popcorn popper or heavy duty saucepan. Add quinoa and pop for about three to five minutes, until the seeds become golden brown. (If you are using a saucepan you will want to cover it and shake frequently to prevent burning.) Store in an airtight container for up to two weeks.
Servings 6, Calories 152, Fat 9.8g, Carbohydrates 12.8g, Protein 4g, Cholesterol 0mg, Sodium 139mg, Fiber 3g, Sugars 6g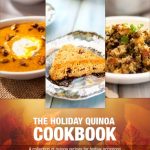 Here is the link to the ebook:http://cookbooks.cookingquinoa.net/holiday-quinoa-cookbook/
To learn more about quinoa or to find more great quinoa recipes, please visit her on the web.
Here is a great tutorial for toasting quinoa: http://www.food.com/recipe/how-to-properly-clean-and-toast-quinoa-421986
WHY choose Quinoa?  Quinoa 101  is an easy step-by-step tutorial.
OK!  No excuses now! Get yourself some Quinoa and have fun experimenting!
YOUR body will thank you!  Love to hear what you're doing with grains ~
so many of us need to choose alternatives to WHEAT & gluten.