Roses are such a glorious flower and a favourite in my early summer garden! I love to make a delightful Rose Syrup with my Rosa Rugosa blooms. The pale pink syrup is a gentle uplifting remedy and best sipped from old fashioned cordial glasses (in my humble opinion ! tee hee)
For more about Rose Medicine, check out this post, with some 'Rose highlights' and instructions for tincture making. I also make Rose Vinegar every year, and here is more about that, here.
To make an herbal syrup, we are essentially, making a strong herb infusion, and combining it with honey. I infuse honey too, but that's a little different. In this case, we are creating a strong tea, and using honey instead of sugar, to create a syrupy 'sippable' drink, which can be enjoyed 'solo'. added to some bubbly water or champagne for a rose-infused cocktail, or drizzled over roasted chicken, or perhaps your favourite ice-cream or frozen dessert!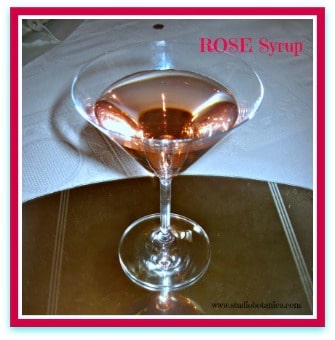 Rose Syrup:
I always use fresh roses. This is a guideline, more than a recipe. Here we go;
1 cup Rose petals
2 cups good quality water
Raw honey (1/2 cup – 1 cup)
Add the rose petals to the water, in a small saucepan.
Bring to a quick boil and simmer for 20 minutes.
Allow 'rose tea' to cool 'back' to room temperature.
Strain out the roses, reserving the liquid.
Pour 1 cup of 'rose tea' into a glass measuring cup.
Add 1/2 cup of raw honey and stir. Check the consistency.
Taste. Add more honey if you prefer a thicker syrup.
Pour into a sterilized glass jar with a lid or a decorative glass decanter with a stopper!
Optional: Add a little brandy, vodka, whisky or your preference to increase shelf life.
Personally, I make a small amount and share it and it's gone each year.
If I ever make enough to last longer, I would suggest adding the alcohol to allow it to 'live longer'!

Announcing: June's "giveaway" very soon!
ROSE 2012 Herb of the Year ~ fabulous 260 pages featuring ROSE as the star!
Stay tuned for details! You will want to enter for a chance to win!