There's probably nothing easier to make than a delicious herbal vinegar. It's one of my favourite ways to preserve herbs throughout the year. ROSE VINEGAR is a yearly tradition and finds its way into many salads each summer.
ROSE VINEGAR can also be diluted and used as an after sun soothing spray. I made a lavender vinegar in the same way and have used a mixture of the two as an uplifting laundry spritz or room spray. There are no doubt lots of ways to use ROSE VINEGAR to offer our lives more beauty and peaceful vibrations.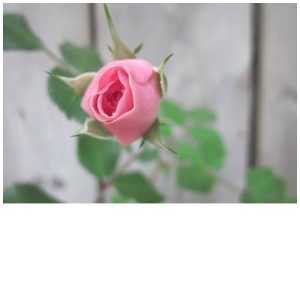 It's easy to make!
I use a canning jar, but any jar will do, provided it has a tight-fitting lid.
When choosing your jar, pick a size that will allow you to fill it up with rose petals
ANY roses are possible for this recipe, just choose UNSPRAYED!
I use Apple Cider Vinegar almost exclusively for my healing vinegars ~ it's just an 'herbgal' thing. I know that others use White Wine Vinegar + Champagne Vinegar with good results.
Personally, I don't use the plain ol' distilled white vinegar except for cleaning windows or as an ingredient in home-made cleaning products.
So.. Here we go:
Pick your roses after the 'dew' has dried but before mid-day to capture the maximum healing qualities.
Gently remove the petals and place in the jar.
Fill the jar with the vinegar.
Some folks gently heat the vinegar first; others choose to let the sun heat the mixture if it's a warm day.
That's exactly what I did, this time but have made the Rose petal vinegar both ways with good success.
After a few hours in the sun, gently shake the jar or turn upside down a few times and then store away from light in a cool cupboard. It's a personal choice re heating the vinegar before-hand or not. I think that one may find that the colour of the finished product is deeper with the warmed vinegar method.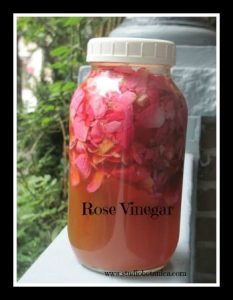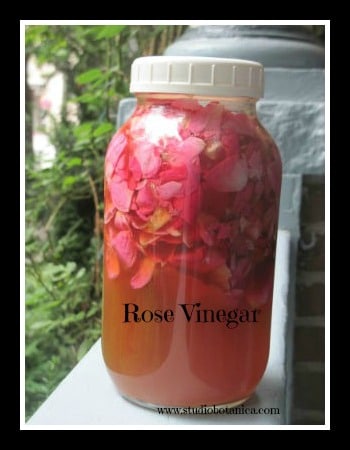 Rose may be a favourite for an early summer project, but there are so many options for healing, tasty herbal vinegars. For some other ideas click here.
What are your favourite herbal vinegars? Improve bone health with botanical vinegars here.
Have you made ROSE VINEGAR?
It's easy to leave a comment below!   Enjoy your days!
You can read all about ROSES in the International Herb Association's ROSE ~ Herb of the year 2012 available at their website here — along with all the other "Herb of the year publications"

Save
Save
Save