Rose Medicine
I love Roses. Do you? I love all ROSES! It was a great pleasure to be a part of the collaboration of the International Herb Association's 2012 HERB of the YEAR publication: ROSE. ** I loved diving into my recipes and playing with ROSE for the better part of 2011 ~ and play I did.  Wanted to share some with you ~ please tell me what you do with this most amazing plant. Comments are easy to leave, below. Thanks.
Rose petals, and to a greater extent rose hips, are known to be high in vitamin C, and also contain vitamins A, B-3, D, and E, as well as bioflavonoids, minerals, plus malic and citric acid. Rose hips also contain pectin. These nutrients are the reason why many herbalists use rose medicine to clear toxins and heat from the body, and relieve fluid retention or congestion. Rose creates "movement" in the body, so it can be used to help relieve heavy menstrual periods caused by uterine congestion, and as a part of a diuretic or gentle laxative formula.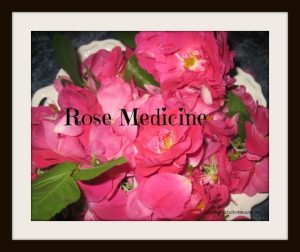 Rose medicine is also known to support the liver and gall bladder because it promotes bile flow, which contributes to better elimination. Rich in vitamins, rose medicine stimulates the immune system, helps fight infections, soothes mucous membranes, and can help to relieve colds and influenza.
In my herbal practice, I use rose tincture, as well as hot and cold infusions made from rose petals and rose hips.
Rose Petal Tincture
There are many ideas and formulas for creating the perfect tincture.
I use fresh rose petals at the height of their blooming season (June for my Toronto gardens). Only use roses from plants that have not been sprayed with chemicals (see note at end, re: best roses for making medicine). I pluck the petals gently from the plant, leaving the rose hips intact to mature in the fall. Tinctures can be created using any number of 'extraction liquids' or menstrums such as vodka or grain alcohol (use what is available). Brandy makes a lovely choice for rose petal tincture.
1) Gather enough fresh rose petals to fill a 500 ml (glass) canning jar.
2) Fill the jar with the rose petals, but don't over stuff.
3) Fill the jar to the very top with alcohol (it's important to completely cover the plant material).
4) Use a chopstick or other non-metal object to poke the plant material a bit, to ensure all air bubbles float to the top.
5) Cap with a tight-fitting lid.
6) Label the jar with the name of herb, date, plus which menstrum used. (ie. Rose Tincture – Vodka – 20 Jun 2012)
7) Place the jar into a cool cupboard.
8) Shake at least once a day.
9) The rose tincture will be ready to use in 4 to 6 weeks. At this point, strain the mixture through a sieve and transfer to tinted glass jar, if possible. (eg. Amber glass)  store in small, dark, glass jars containing a dropper.
A tincture made from rose petals can be effective in addressing sadness, grief, depression, anxiety or insomnia. I often combine rose tincture with a selected Bach flower remedy with good results.
Rose Petal Tincture + Bach Flower Remedies
Rose tincture can be combined with Bach flower essences in a myriad of ways to address the specific needs of each individual. Rose medicine has been used throughout the ages to comfort sorrow and relieve heartache. For deep grief, add 3 to 4 drops of Star of Bethlehem Bach flower essence to a 100 ml dropper bottle filled with rose tincture or syrup. Take a dropperful three to four times a day, or as needed.
(Sometimes, it's helpful to fill a spray bottle with water and add a few drops of Star of Bethlehem flower essence. The entire bottle becomes infused with the potent healing power to calm grief. It can then be sprayed around the room where people need comfort.)
Bach flower remedies can be added to herbal medicine or healing foods – whether it be in the form of tincture, tea, syrup, infused honey, vinegar, glycerite or elixir; adding a flower essence to the herbal remedy adds another emotional healing component needed during difficult times.
Stay tuned for more ROSE MEDICINE. Please do send along questions or comments.
May the sweet healing peace of ROSE be with you  ~   Carol
 ** Go to www.iherb.org to see the complete series of International Herb Association's Herb of the Year books!