Rose petals and to a greater extent, rose hips (the delicious fruit) are known to be high in vitamin C, and also contain vitamins A, B-3, D and E as well as bioflavonoids, minerals, malic and citric acid. Rose hips contain pectin.
I have several friends (and yes, me too, lately) who  suffer from the pain and joint stiffness.  Studies show that rose hips may reduce the symptoms of osteoarthritis and help sore, achy joints function better. Well that's good news!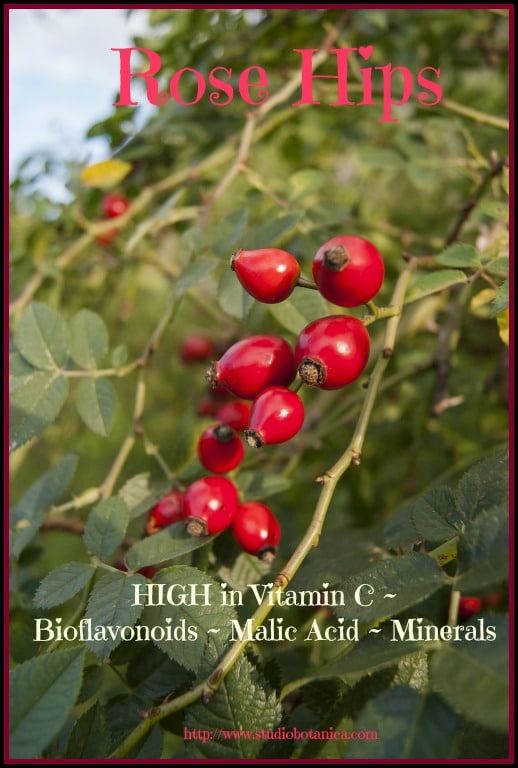 Harvesting rose hips is a simple process.  IDEALLY, rose hips  stay on the rose plant until after the first frost. At this point, they will be orange to bright red in colour, or somewhere in the middle. Best options?  Firm bright red hips are perfect! Leave any rose hips on the rose plant if they are shrivelled as a tasty treat for wildlife during the winter. If the hips are deep dark red, they are possibly overripe, which means although very sweet, they have lost hips are sweet, they have lost much of their vitamin C.
As with all herbs, we want to work with harvested plant medicine as soon as possible after harvest. Cut the top and bottom of the rose hip and then either slice open and remove seeds and 'hairs', or prick the hip with a pin 4-5 times, being careful not to crush it.  Some folks slice open and remove the seeds and irritating hairs, when planning to dry the rose hips*. Personally, for a tea or when making products from fresh rose hips, I usually go with slicing off the very top (where attached to rose plant) and bottom and then prick with a pin repeatedly. This allows all the tart goodness to stay intact and keeps the irritating minute hairs, inside the rose hip.
*When drying rose hips for later, choose the largest rose hips and carefully remove the seeds and hairs and place on a tray (either a baking sheet or dehydrator tray etc) atop some waxed paper, parchment paper or paper towel.
Tip: Slice (or use small scissors) the hips and then, using an inverted teaspoon, gently scrape the seeds out of the hip, ensuring that the outer membrane is preserved.
 ROSE HIPS INFUSION:
Also known as tea or tisane.  It's easy to include rose hips in infusions, either on their own or in combination with other herbs in a formula. I use rose hips with or without their seeds; infused rose hips produce a tart, slightly acidic-tasting tea.
Diluted, I have used this for a gentle eyewash. Compresses made using rose hip infusion can soothe a throbbing headache, and ease the pain of a sore ankle, knee or wrist. Use the best quality water available to you.
Makes 1 cup
1 cup water
1 tablespoon rose hips, dried (2 tablespoons if using fresh)
Pour boiling water over the rose hips in a cup or mug.
I prefer to use canning jars with lids for any infusions. The lids allow the healing constituents in the steam to remain with the tea. It's best to allow it to steep, covered for 12-15 minutes.
Strain.  Enjoy with or without sweetening.
If using as a healing herb compress, allow the tea to cool to room temperature, then dip a cotton cloth into the infusion and apply to the affected area.
Store extra tea in the fridge for re-application, for up to 2 days, if necessary. I prefer to make fresh batches daily, when possible.
This tea above is one of my favourites. Here's the recipe here!
With an abundance of Rosehips this year I decided to make  an infused rosehip vinegar. It tastes great with  smoked meats and fish and is the perfect addition to game sauces as well as an accent for veggie dishes.
With Christmas looming, this makes a wonderful, beautiful gift for the foodies in your family. Use old bottles, corks etc to give your Rosehip vinegar a 'classic'  look.
Rosehip Vinegar:
Rosehips
vinegar
Glass jar
Also — you may like to make a delightful gift and add a festive bottle with cork or tight-fitting lid.
Gather and prepare rosehips (see above)
Fill a glass canning jar until almost full, then top with  vinegar. (I have used both ACV  or white wine vinegar)
Cap and place in a cupboard for around 6 weeks. Shake a lot in the first days and then occasionally.
 Rose hip Syrup
There are so many ways to make a syrup. We can use sugar or honey. Here's a simple but decadent recipe.
I love to serve in sweet little cordial glasses to sip but you can dazzle your friends with a drizzle over custards, ice-cream or your favourite dessert! Rose hips contain twenty times more vitamin C than oranges. 
Ingredients
2 lbs rose hips
3 quarts good quality water
1 lb brown sugar
Bring  2 quarts of water to a boil.
Chop rosehips in food processor until mashed up, then add to boiling water.
Bring the water back to the boil, then remove from the heat and allow to steep for about 20 minutes.
Pour rosehips and liquid into a scalded jelly bag and allow the juice to drip through.
Gently squeeze the jelly bag to extract as much liquid as possible.
Add rosehip pulp back to a saucepan containing 1 litre of water and bring back to the boil. Then remove from heat and allow the contents to steep for another 20 minutes before straining through the jelly bag as above.
Add the brown sugar to the strained rosehip liquid and dissolve, stirring a little.
Allow to simmer for five minutes, then pour into hot, sterilized bottles.
Makes: Approximately 2 quarts
Rose Hips and Wine
Last year, for the first time, I infused some red wine with dried rose hips as an experiment. I had heard that this concoction can increase blood flow and digestion as a kind of 'aperitif. Since then, I've played with this basic idea with the addition of various carminative herbs. I have used cinnamon, cloves, and cardamom so far with tasty results.
Steep 4 ounces dried rose hips in 1 liter/quart of full-bodied red wine for 2 to 3 weeks.
Add the complimenting herbs/spices after the first week. When ready to drink, strain the botanicals from the wine. Drink a glass before your evening meal.  I love to play with flavours. What would you try?
Whatever way roses find their way into your life, they will be sure to add a sweet fragrance, a glorious poetic compliment to your garden, an exhilaration when they over-winter (for some of us!) and perhaps above all, a certain tranquil peace when they find their way into your life as an uplifting and soothing medicine.
Want to learn more about HOW to increase you and your family's health?
Want to learn some DIY herbal remedies ?
Check out my ebook "Cold + Flu Season ~ Are YOU Ready?"