It's funny how we run into people, isn't it? In my community lately, I've met two fabulous women; new moms. They both shared that they are having a tough time and asked for help. I made them up some of this Postpartum tea blend.
Are you a new mom? Are you having difficulty coping and feeling 'down'? Do you have a friend who could benefit? Please share this info with them.
My new clients have similar but differing stories of anxiety and deep sadness. I know that this can be a devastating issue for new moms and so want to help.
I have created specific plans to nourish  them ~ lifestyle changes and herbal medicine together can really make such a difference.
It's a process, for sure. It takes time. I hope that, if you or anyone you know is coping with this, that step-by-step, peace-filled sunny days soon become more the 'norm'. I have several ideas to help. Here's a good one to get started.
It's an easy tea but don't let the gentle appearance fool you. It's packed with supportive, nourishing, magical healing plant power!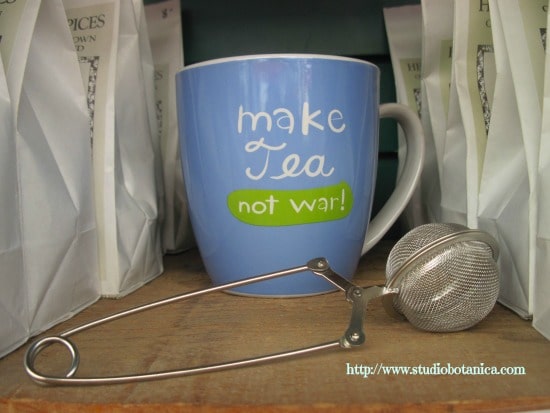 Here's an effective tea blend to uplift and support:
1 oz Raspberry leaf, dried
1 oz Rosemary leaves, finely chopped
1 oz Skullcap herb, dried
1/2 oz Licorice root, dried
1/2 oz Oatseed (milky oat tops),dried
Mix the herbs together in a glass jar with a tight-fitting lid. Store in a dark cupboard. Use 2 teaspoons per cup of boiling water.
This tea blend is an adaptation of one I learned from herbalist Susun Weed  in an herbal class, high in the Adirondacks of New York state over 20 years ago! The same herbs work well now, as they did then. There are many herbal combinations but  I find this blend to be easy for women to make, as the ingredients are dried herbs.
Grow your own or find them locally if possible from a herb grower or practising herbalist. Otherwise, good quality dried herbs can be ordered from your local health food store or online*
Raspberry leaf ~ tones and strengthens uterus, increases available calcium
Rosemary (leaf) ~ eases depression, tones liver, encourages milk flow
Skullcap herb ~ strengthens and soothes nerves, encourages emotional calm, helps with feelings of impatience and irritation, source of calcium
Licorice Root ~ offers a positive affect on the hormonal balance. Uplifts the Spirit
Oatseed (or milky Oat tops)~ tremendous nervous system healer, nourishing and uplifting
 Just another note for a possible ingredient.
 Stinging Nettles is an herb that I often suggest ~ either brewed alone as a 'simple' or added to a tea blend. It is very high in minerals and is extremely supportive for all women!
There are many possible ways to help to ease this distress and get back to feeling like "our old selves". I am not a 'birthing expert', but I love and respect the herbal world and find solutions here for many of life's challenges. 
If you are feeling low and anxious and want to check in with an expert, you can read more about symptoms and clarification here.

Also, my friend Amanda Rose, who has written much on the subject,  has an entire site devoted to helping women move to a better mood!
Just go here for more info.
 *I have provided links to my affiliate partner Mountain Rose Herbs, an excellent online source for these herbal medicines. People can purchase these wonderful herbal medicines from this great company AND a small commission comes back to me as a 'referral'. It doesn't cost more to purchase through these links. Thank you.
The tea blend above, is nourishing and supportive. It can help anyone to feel a little more grounded with it's nervous system support. I will put some more ideas together ~ there are some effective blends in my head that need to be written down! 
Wishing you peace-filled days and nights. 
Save
Save
Save