Pesto is a delight. I love Pesto.
It can become an intensely flavoured dip, a light pasta sauce, a lemony vintaigrette to serve with salad or steamed veggies.. UNLIMITED!
I have been known to use a mortar & pestle, and yet I confess that the food processor fast-tracks the recipe and yields a delicious, mouth-watering result each and every time.
"P E S T O" from old Italian, meaning 'to pound' or 'to crush', in my kitchen is usually a variation of the following:
garlic (almost always!)
nuts ~ pine nuts, walnuts, almonds, etc. and/or seeds
herb or green or vegetable
oil ~ usually olive, sometimes walnut or othe
cheese (optional)
seasonings


As with many of my kitchen adventures; this is a guide.
Play with the herbs in smaller quantities to see what you like best! 
The classic, BASIL pesto is still one of my favourites. I do make others on a regular basis, however.
Have you tried DANDELION PESTO? It's absolutely delicious and packed with intense flavours ~ ideal for right now! Click here for Dandelion highlights.
I love pesto with PARSLEY, ARUGULA, DILL, SPINACH, CILANTRO,  MINTS, LEMON BALM, WATERCRESS, Sun-dried TOMATOES… mmm I know there's more~  Each season has it's Pesto. Early May offers Dandelion, wild Garlic Mustard, Mints.
I love to make CILANTRO pesto as a part of a gentle Spring detox.
(Check out the "DETOX your HOME" e-report! under articles)
Meantime, let's celebrate MEATLESS MONDAY this week with the "template" for a great pesto plus some "love pesto" recipes!
Stay tuned for more later this month.
PESTO 101
1/2 – 1 clove garlic
1/4 cup nuts
2 cups herbs
1/4 cup olive oil
1/2 cup cheese (optional)
Salt and pepper or other seasonings
In a food processor, pulse the garlic & nuts until coarsely chopped.
Add the herbs and again, pulse herbs until chopped (about a minute)
Add the oil slowly. Allow the oil to mix with the contents of the food processor.
Stop and scrape down the sides of the bowl.
You may need to add more oil but I find that this amount usually works well. 
Add 1/2 cup cheese (if using) and process to combine. Season with salt and pepper.Sometimes, if I'm going to make a larger batch, with plans to freeze it (in ice cube trays for easy portions later), I'll leave out the cheese. It's easy to add fresh grated cheese later.  
ARUGULA PESTO
1 large bunch arugula (about 1 packed cup), trimmed and coarsely chopped
2 tablespoons extra-virgin olive oil
1 small garlic clove, minced
2 teaspoons freshly squeezed lemon juice
1/2 teaspoon coarse salt
Freshly ground pepper, to taste. Combine all of the ingredients together in a food processor.
Pulse until smooth. Serve immediately.
Watercress and Blue Cheese Pesto
2-4  garlic cloves, roasted
1/4 cup almonds, slivered, lightly toasted
2 cups watercress greens
1/4 cup olive oil
1/2 cup Blue cheese (look for a creamy Blue*)
Roast the garlic first and remove from 'skins'. Lightly toast almonds in skillet on stove and set aside.
Pulse the greens. Add the garlic and then the olive oil (slowly)
Add the cheese; make sure to scrape down the sides of the food processor so that all is well mixed.
Add the almonds. Mix gently.  This can be a powerfully pungent pesto!  It's delicious with Penne pasta,
on baked or mashed potatoes.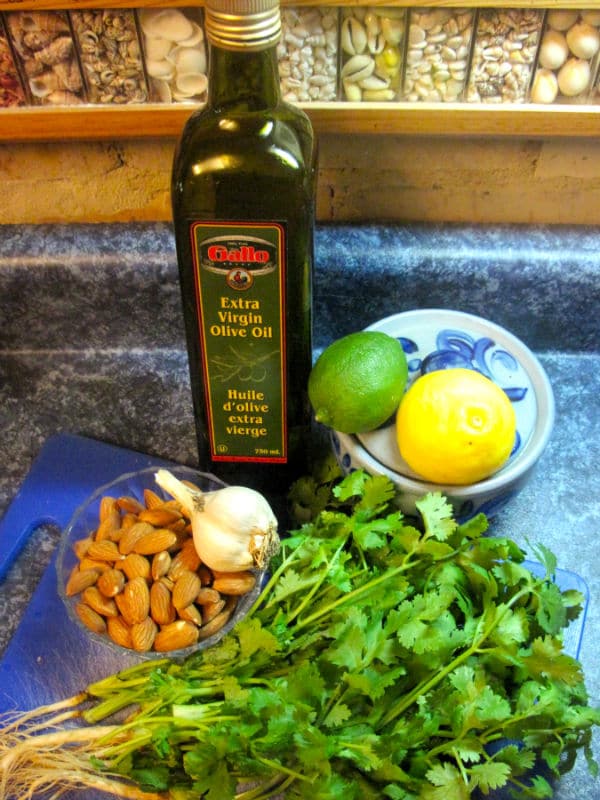 Cilantro Pesto  #1
(using the template above)
1 clove garlic
1/4 cup walnuts or almonds
2 cups Cilantro leaves
1/4 cup olive oil (or walnut if you have it)
1/2 cup cheese (Parmesan or Blue!)
Sea Salt + Black pepper, freshly ground
Cilantro Pesto  #2
1/4 cup walnuts crushed
1 to 3 cloves garlic crushed (your preference!)
1 1/4 cups fresh cilantro leaves
2 tablespoons (about 1 ounce) dry-packed sun-dried tomatoes chopped
1 1/2 tablespoons olive oil
1 teaspoon white-wine vinegar
2 tablespoons grated Parmesan, cheese
1/2 teaspoon chili pepper flakes (or more if you dare!)
Salt, to taste
Spread crushed walnuts on a baking sheet and bake in an oven heated to 350 degrees for 8 to 10 minutes, or until slightly brown.
In a food processor or blender, combine walnuts, garlic, cilantro leaves, sun-dried tomatoes, olive oil, vinegar, Parmesan cheese, and chili pepper. Puree until smooth.
Add more olive oil if needed until the pesto reaches desired consistency. Season with salt.
This recipe makes 2 cups. It can be stored in the refrigerator for up to 3 days or frozen!
Makes 1/4 cup
I freeze this in ice cube trays and then store in ziplock bags in my freezer.  Don't forget to label the bag!
Save
Save
Save
Save
Save
Save