You may have heard of this powerful liver supporting plant ~ Milk Thistle. It is especially popular at this time of year as we tend to focus on LIVER HEALTH in springtime. It is a common held belief that we can truly nourish and support our livers in the spring by lightening up in the 'food and beverage' department. Many of us have been cooped up inside for a few months and living with internal air pollution and eating heavier meals. Milk Thistle is a true friend always, and especially now!
Milk Thistle (Silybum Marianum) is a biennial member of the Compositae (Daisy) family which originated in the Mediterranean. These days, having naturalized along the west coast of the USA, it can be gathered in the wild or grown in your herb garden! This special thistle prefers full sun and well-drained soil. When happy, Milk thistle multiplies with enthusiasm! The seeds are collected as the flower head becomes 'fuzzy'.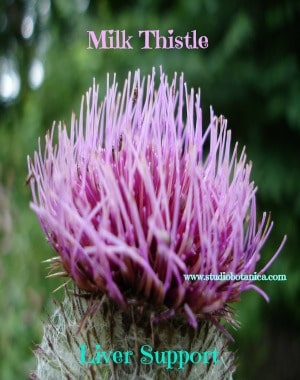 Milk Thistle Medicine Highlights:
As I mentioned above, Milk Thistle is a star player for liver conditions. 
Milk Thistle is an antioxidant with an affinity to the liver and has a special gift: protecting the liver from the harmful affects of toxins. Milk Thistle has a tonic and regenerating affect on the liver.
We combine Milk Thistle seeds in tincture formulas, with more bitter herbs. I promise to share a formula below. This powerful healer's seeds contain silymarin. Research indicates that silymarin helps to restore liver function and helps to improve digestion in situations where when damage has occurred from 'general toxicity' as well as alcohol, drugs, radiation, mushroom poisoning, toxic chemicals, or heavy metals.
Typically we think of Milk Thistle medicine in cases of hepatitis, jaundice, liver inflammation and gall bladder issues.
Milk Thistle can promote the oxidation of LDL cholesterol.
Regular use can reduce excess cholesterol in the blood and inhibit the formation of plaque.
We can use Milk Thistle all year long ~ in tincture form or as a functional healing food.
Primary Properties: 

antihepatotoxic
anti-inflammatory
antioxidant
cholagogue
choleretic
galactagogue
hepatic
hypolipidemic
Other Properties: 
Antiallergenic
anticarcinogenic
antidepressant
antineoplastic
antispasmodic
antiulcerogenic
aperient
bitter
depurative
emmenagogue
immune stimulant
stomachic
vascular tonic
Check the glossary under 'articles' above for any new properties.

Liver Support Tincture

The following formula may aid healing of .. plus rejuvenation of liver/gall bladder imbalance. We can use this combination in spring, too, as a liver supporting tonic!
Dandelion Roots and leaves: 2 parts
Milk Thistle Seed: 2 parts
Burdock Root: 1 part
Yellow Dock Root: 1 part
Assemble the ingredients:
Decide what will be the "part". If making a little, try 1 tablespoon. or more ~ make 1 cup=1 part!
Place in a glass canning jar. 
Cover with vodka (or whatever your chosen alcohol)
Shake the mixture. Allow the herbs to settle.
Top up with more alcohol.
I like to keep in a cupboard where I will have access to it easily during the day.
I shake it every day for at least 1 month.
After a month, drain the liquid and strain through a fine sieve into a dark amber glass jar
for storage. Love your liver!
Take 2-3 times daily. Start with one dropperful per dose. 
Therapeutic dose is 3 dropperfuls 3 x daily, before food.
Another idea to include the healing powers of Milk Thistle Medicine in your day:
Milk Thistle "Sprinkle"
Milk Thistle medicine can be as EASY as a quick grind and sprinkle!
Grind some milk thistle seeds in a coffee grinder and store in the freezer.
Sprinkle 1-2 tablespoons of the ground seeds into your smoothies or over veggies or rice dish.
Therapeutic dose? Take 2x daily for a few months and LOVE your liver!!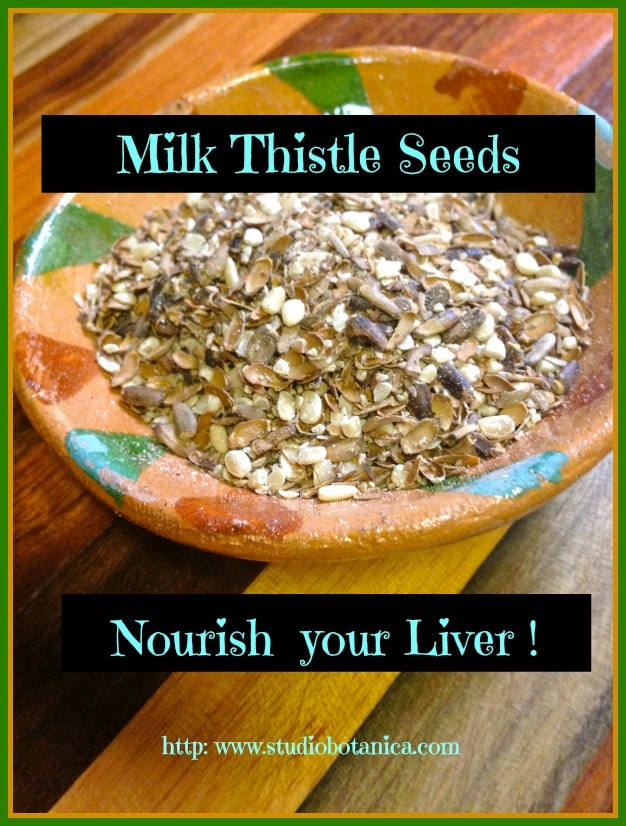 Note:
Milk Thistle is safe for pregnant and nursing women and promotes the production of breast milk*    *A Women's Book of Herbs by Deb Soule (Avena Botanicals) 
Deb Soule   is a long-time dear friend and amazing herbalist.
From Amazon here: 
A Woman's Book of Herbs: The Healing Power of Natural Remedies

Do you use Milk Thistle Medicine ? Please consider adding this supreme liver support herb to your life ~~ Milk Thistle Seeds are a gift our livers!
Save
Save
Save