Do you love condiments but want to avoid all that sugar and MSG?
With childhood obesity rising and diabetes diagnoses on the rise, many readers are looking for alternatives. We don't need to give up great taste when easy DIY flavour enhancing condiments are only 10 minutes away!
TODAY I am sharing two of my FAVE Mexican condiments. I hope you enjoy them.
What's on every table in Mexico, from street vendor to fancy restaurant?
Some call it "Mexican Salsa" and there's a version for every region ~ or maybe every community or maybe even every family!! Mexican salsa recipes represent a multitude of ideas. Thousands of versions of the same classic recipe can be found.
It can be 'picante' (spicy hot) or not! I found that the versions I enjoyed in the homes of Mexican friends, were NOT spicy at all. These folks rely on the bottled 'hot sauces' which are also often local specialities, for adding 'heat' to their food.
I asked why, a few years back, and my friend Graciela explained that, with children in the home, this staple of Mexican cuisine, is flavourful but has very limited heat so all can enjoy. Here are two of VERY common accompaniments ~ and remember, the heat can be absent or scorching!
Your choice! Sometimes I make two versions at a time — Make sure to label the jars!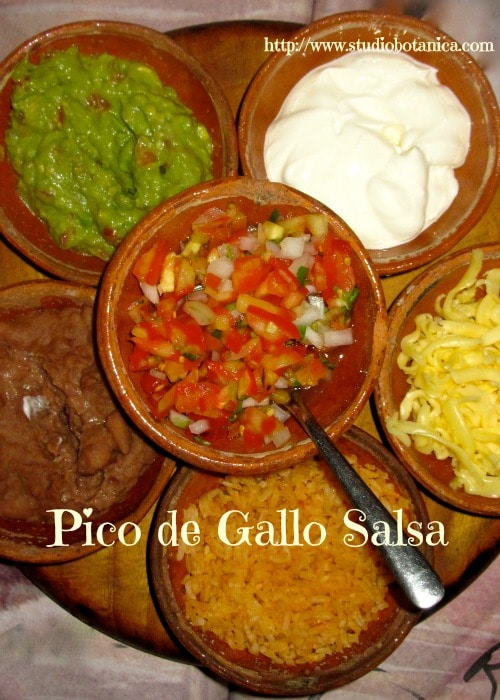 Pico de Gallo is a relish, salad or sauce (salsa).
It's delicious atop fish or with grilled meats and egg dishes.
Pico de Gallo
2015-10-22 09:37:52
One yummy version of this Mexican classic!
Ingredients
6 roma or plum tomatoes, finely diced
1 small red onion, finely chopped
4 tablespoons cilantro herb, finely chopped
1 small jalapeño pepper, seeded and finely minced
1 lime, juiced
1 garlic clove, finely minced
Optional:pinch of ground cumin
:pinch of dried oregano to taste
Season with sea salt
Instructions
Toss all ingredients in a mixing bowl.
Garnish with a little cilantro if you like, when you serve.
Notes
Note: I add freshly ground black pepper because I really like the taste.
Refrigerate and enjoy within a week.
Studio Botanica http://studiobotanica.com/
Leave out the black pepper if you want an authentic Pico de Gallo. Black Pepper is not normally a part of all Mexican kitchens.
Here's another idea and it makes a perfect side dish for 'taco night' at home~
There's a small taco restaurant (8 tables) where we love to go for authentic "tacos al pastor". I can't possibly replicate the tacos but the owner was kind enough to share bits of her recipe as I told her I simply had to make it at home! The recipe below, is what I've put together after lots of 'playtime'! There are many ways to make this or similar. Experiment!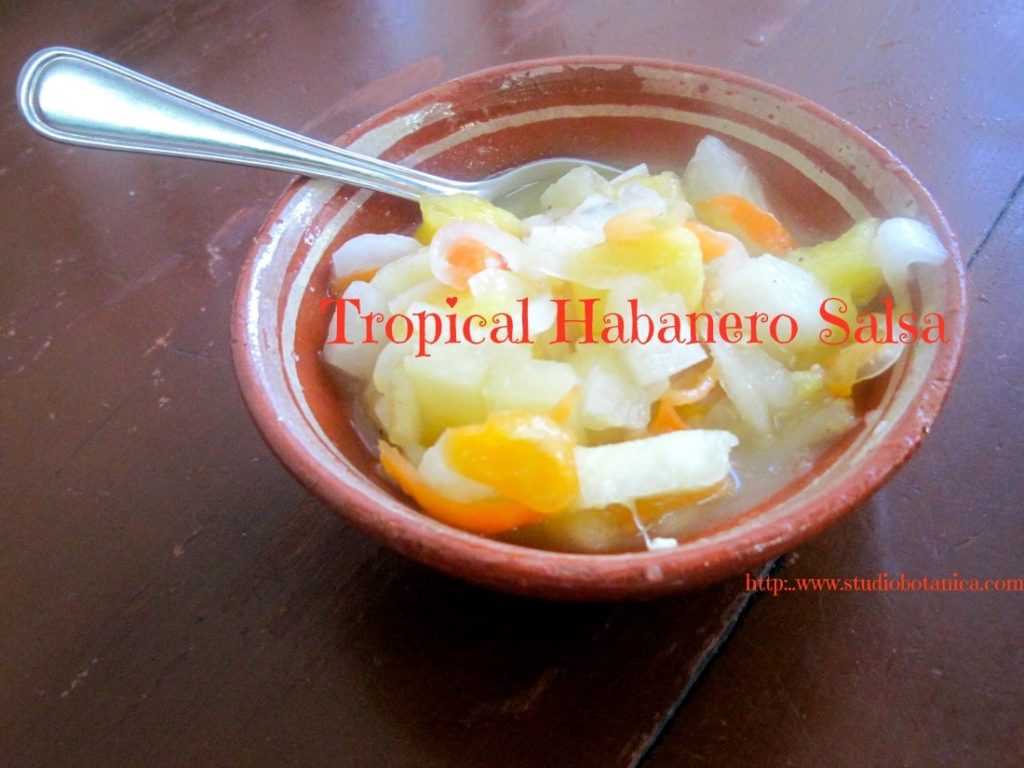 Tropical Habanero Salsa (aka SASSY!)
SASSY Habanero Salsa
2015-10-19 19:17:33
Delicious condiment or side dish to accompany tacos, taquitos, or other fave Mexican dishes
Ingredients
1 medium onion, chopped
2 habanero peppers, minced
3 slices fresh pineapple (1/2 cup chopped)
1/2 cup fresh mango (chopped)
1 cup apple cider vinegar (or more) to cover
Instructions
Chop all ingredients and put in a large glass jar.
cover with apple cider vinegar.
Allow to sit for 2 weeks.
Drain. Serve!
Refrigerate and enjoy within a week.
Notes
Save the vinegar for a kick-ass hot sauce.
Studio Botanica http://studiobotanica.com/
The leftovers make a spicy condiment which goes well, if you dare…
.. with tacos or pretty much any main dish! Try it~ and remember.. if

HEAT

is not for you ~ just leave it out. Use a juicy bell pepper or other lightweight spiced one.
Please share your own ideas and versions. I love learning what you are making! I LOVE condiments ~ small tasty bites that change up a meal and can also change the 'origins'.