It's NOT just for use after a long day at work or a lovely day in the garden!! The Epsom salts bath is probably the most simple of all bathing rituals ~ pure Epsom salts in warm water. It may not sound very exciting. It doesn't bubble or have a pretty scent. It IS, however, very GOOD for you.  It's easy, by the way to enjoy a non-chemical, scented version if you prefer. Stay tuned!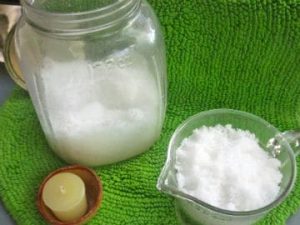 What is Epsom Salt?
Well, it's not actually a 'salt' per-se, but a naturally occurring mineral combination of Magnesium & Sulfate. There are posts all over the internet regarding the many possible uses for this special compound ~ gardening, house-cleaning, beauty issues & health too.
For this post, of course, it's all about HEALTH. Research has shown that both Magnesium & Sulfate are easily absorbed through our skin, which helps us to enjoy fabulous health benefits. You may be surprised at the long list below and be tempted to pick up some Epsom salts today and jump into a warm bath!
HIGHLIGHTS:
Magnesium has the ability to help muscle & nerve function, reduce inflammation, improve circulation + prevent atherosclerosis.
Sulfates stimulate pancreatic enzymes,  help to improve the absorption of nutrients,  can ease migraine headaches, encourage the flushing of toxins.
Here's a list by researchers from the web site of the Epsom Salt Industry Council:
Improved heart and circulatory health, reducing irregular heartbeats, preventing hardening of the arteries, reducing blood clots and lowering blood pressure.
Improved ability for the body to use insulin, reducing the incidence or severity of diabetes.
Flushed toxins and heavy metals from the cells, easing muscle pain and helping the body to eliminate harmful substances.
Improved nerve function by electrolyte regulation. Also, calcium is the main conductor for electrical current in the body, and magnesium is necessary to maintain proper calcium levels in the blood.
Relieved stress. Excess adrenaline and stress are believed to drain magnesium, a natural stress reliever, from the body. Magnesium is necessary for the body to bind adequate amounts of serotonin, a mood-elevating chemical within the brain that creates a feeling of well being and relaxation.
Reduced inflammation to relieve pain and muscle cramps.
Improved oxygen use.
Improved absorption of nutrients.
Improved formation of joint proteins, brain tissue and mucin proteins.
Prevention or easing of migraine headaches.
Studies have shown that both magnesium and sulfate are easily absorbed through the skin, which makes Epsom salt baths an optimum bathing choice to encourage healing. Magnesium is the second most abundant element in our body and helps to regulate over 325 enzymes.
Most of North Americans are 'magnesium-deficient', having reduced by 50% in the last 100 years due to changes in our diet and in the agricultural system. (i.e. industrial farming and over-use of soil). 
The diet of mainstream North America contains too much salt, sugar, fat and excess protein which can deplete Magnesium from our bodies. Advertisements for Calcium are everywhere and a big focus courtesy of the pharmaceutical industry. We need Calcium ~ don't misunderstand, but often we have an excess of it. (It is thought that the best ratio is 2:1 –> Calcium:Magnesium. Most North Americans have 5 times more Calcium than Magnesium.  Unfortunately, research shows that Magnesium supplementation is not very effective as Magnesium is not well absorbed through our digestive system. (stomach acid, certain foods, or drugs or body imbalances)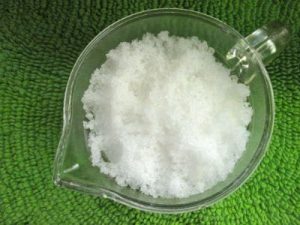 The ANSWER?
Studies show that we can increase our Magnesium levels by soaking in
EPSOM SALT BATHS!!
 If you can manage the time, experts recommend 3 Epsom salts baths every week for the best results.  I encourage people to have these baths and alternate with "hot & cold shower" hydrotherapy for optimum health.
BASIC BATH:
Add 2 cups of Epsom Salts to a warm tub of water. Enjoy 15-20 minutes, topping up with warm water when necessary.
Soothing Scented Detox BATH
2 cups epsom salts
1/2 cup baking soda
10 drops lavender essential oil (optional)
As above. Enjoy the added benefits of soothing baking soda and the scent of pure Lavender essential oil
MORE HEALTHY BATHING ideas to follow!         What is YOUR favourite bath???
Share your favourites in the comments section below.. It's easy to do. Love to hear from you.
Today starts a mini-series of life-enhancing bathing ideas!!!
Want to learn more about HOW to increase you and your family's health?
Want to learn some DIY herbal remedies ?
Check out my ebook "Cold + Flu Season ~ Are YOU Ready?"