It has been said that — if we catch a cold/flu with the right remedy at the very beginning and if we take enough of it and if we keep taking it for a couple of days after symptoms subside –> We can avert the cold or flu altogether! What is the ONE herb you don't want to be without ~ this winter?
Ta Da.. Jazzed UP Ginger Juice .. to the rescue!!
There are so many 'contestants' for the honour of this "claim to fame". I have a large herbal medicine chest filled with years of experiments and classes and experience. I was asked recently for the ONE remedy.. that could be IT.. that
sure-fire cure.. Well that doesn't exist of course.. but HEY.. I have a contender.. It's readily available for most of us. I have a local store where I purchase pounds of ORGANIC sourced herbs and it takes only 5 minutes to pull this idea together!
Ok.. here we go!
I've come to call this: "Jazzed up Ginger Juice "
Some of my colleagues will agree and believe that this is THE 'go-to' remedy!
(and yes.. for every herbalist, there's another opinion!) Why GINGER? Read more here.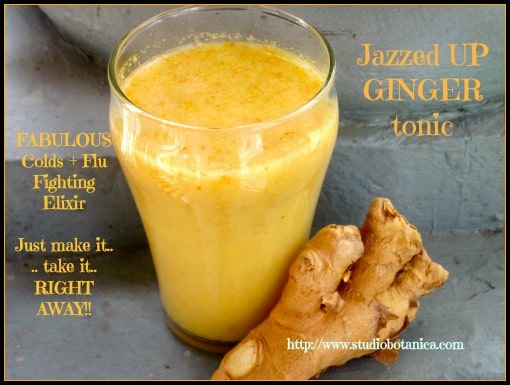 Not to 'go on….' but it's about having it on-hand and doing it and drinking it IMMEDIATELY.. and then AGAIN!
"Jazzed up Ginger Juice"
You will need 1-2 pounds of fresh ginger root.
Juice it if you can or use a blender.
I am blessed to have a VitaMix so I use that.
Here's the recipe: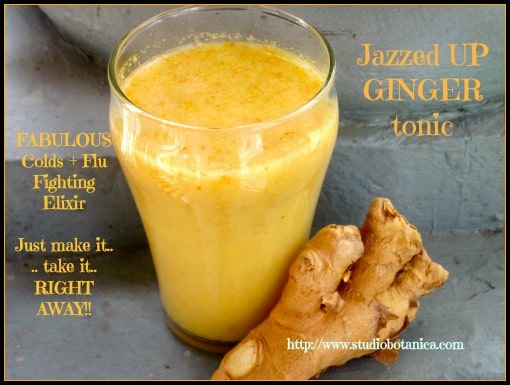 Jazzed up Ginger Juice
2015-02-13 11:54:03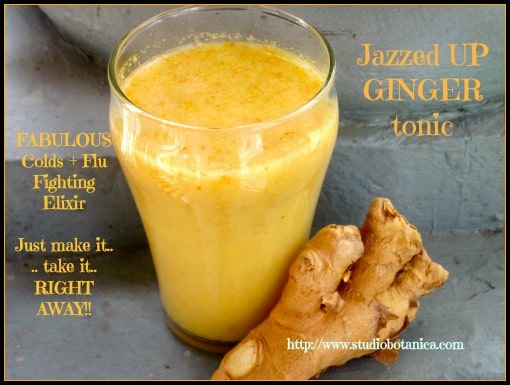 Power Packed Ginger Juice!
Ingredients
4 oz fresh ginger juice
1 tablespoon raw honey
1/4 cup fresh lime (juiced)
1/8 tsp cayenne powder (more or less to your taste)
6 oz good quality room temperature water
Instructions
I use my 'bullet' or Vitamix.
Whiz it up. Strain it into a glass canning jar and add the other ingredients!
Mix well.
Add the lid.
Pour a small cup and sip throughout the day
Store any extra in the fridge.
Notes
Repeat!
There are many variations on this simple theme. Sometimes I add fresh turmeric.
Studio Botanica http://studiobotanica.com/
Here's a post to read more.
Sometimes it needs to be used 1:1 with lemon juice and warmed into a gingery lemonade..
Want more ideas like this one? Have a look at my eBook: "Cold + Flu Season ~ Are YOU ready?"
More information here about why this eBook is a super resource for you and your family or a thoughtful gift!