I absolutely love Garlic!  Do you?? There are so many reasons to include this pungent member of the Lily family in your daily meals, anytime but especially now.  There is a glossary* to help with herbal terms but, please contact me if the properties below are not clear.
The huge list, below, primarily extols the virtues of raw garlic. I tend to add it at the very end of whatever I am cooking, to enable the maximum healing powers to be present in my food. Sometimes, for added flavour, I will  sauté onions and add garlic after the onions are translucent but will make sure to save MORE garlic to add just before serving to ensure garlic's goodness is present.
Garlic is a strong cardiac tonic and is used for any conditions of the cardiovascular system.
It decreases inflammation in the arteries and protects them.
Garlic decreases blood fats and cholesterol
It is a strong circulatory stimulant. It improves heart function and circulation in general.
Garlic is an immune stimulant.
Excellent expectorant, so can help to expel mucus from a productive cough.
Garlic is an excellent 'fighter of infection' of every kind
Garlic is anti-parasitic which means it's very effective against 'worms' and 'parasites'
Garlic is an excellent digestive herb. Important ally for infections & inflammation of digestive system.
*Here's the list of  properties ~ go to "GLOSSARY" under articles(top right) for any new terms.
Garlic

(

Allium sativum)
Primary Properties: Anthelmintic (pinworms, threadworms), , antibacterial, antifungal, anti-inflammatory, antioxidant, antiprotozoal, antispasmodic, antithrombotic,  antiviral, blood pressure normalizer, carminative, circulatory stimulant, decongestant, diaphoretic, digestive stimulant, expectorant febrifuge, hepatoprotective, hypocholesterolemic, hypoglycemic, hypolipidemic, immune stimulant, pancreatic
Secondary Properties: Analgesic, adrenal tonic, antiallergenic, antiarrhythmic, , antineoplastic, cardiac, cholagogue, depurative, diuretic, uterine stimulant, vascular tonic.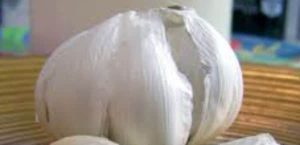 Garlic Syrup
Slice several bulbs of garlic.
Put the garlic into a clean canning jar.
Add raw honey to cover the garlic.
Place tight-fitting lid on the jar.
In the next 48 hours, the juice from the garlic will mix with the honey.
Take 1-2 teaspoonfuls of this syrup every 30 minutes for congestion in the lungs and to relieve cough spasms or a sore throat.
Pickled Garlic  ~ plan ahead!
It's been 20 years since my dear friend and mentor Rosemary Gladstar taught me how to pickle garlic three ways. I honestly can't tell you which I prefer, because I enjoy each, but will include all here. Make them both and YOU decide!
They will be either salty-sweet or tart-sweet. The degree of sweetness can also be adjusted, so as with many adventures with herbs, the recipes are more of a guide than a recipe.  Use your imagination!
garlic bulbs, amount will vary
tamari OR apple cider vinegar
honey
glass jar (I tend to use a canning jar)
Peel several heads of garlic. Try not to nick the cloves, as this will make them turn black or brown. (This doesn't affect the result or the taste, but cloves in their original color look more appetizing.) Place the cloves in a glass jar. Choose the size of jar carefully; the idea is to have the garlic cloves piled in the jar and topped with liquid so that there's not a lot of air space.
Cover the garlic cloves with tamari or apple cider vinegar* and allow to steep in a warm area (ideally a warm cupboard) for 4-8 weeks. Sometimes air bubbles will form, but this is a part of the process. Ensure that the cloves are always covered with liquid.
After 4 – 8 weeks, strain the liquid into a bowl or another jar. Pour ½ to 1 cup of the liquid into a measuring cup. Add an equal amount of honey. Mix together and pour the sweetened mixture back into the original jar, over the garlic cloves.
The remaining unused portion of the liquid makes a delicious addition to sauces, stews, salad dressings.
Put a tight-fitting lid onto the jar with the garlic and allow to sit another 4 -8 weeks.
The result yields a tasty, raw garlic condiment with all of the power of garlic's goodness. It can be taken daily as a preventative or used with salads or many main dish meals.
*Use tamari, apple cider vinegar, or both! If time permits, I like to make all three. If not? I make the version with both tamari and apple cider vinegar. Tamari is a fermented Japanese version of the common "soy sauce". It offers a deeper, richer flavor and is available 'gluten free'.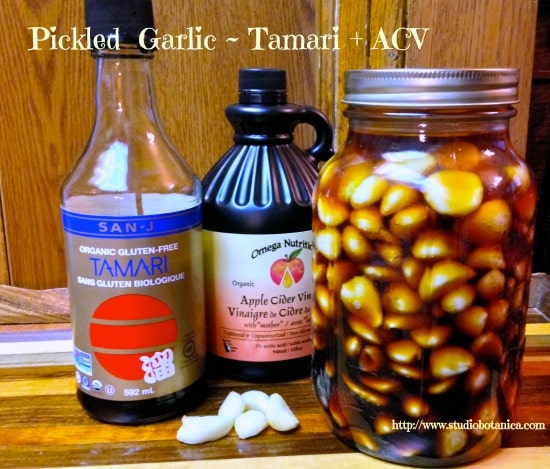 easy Garlic-infused Vinegar
Peel, chop and crush an entire bulb of garlic.
Put it in a quart of apple cider vinegar.
Allow to 'marry' for a week or two.
Strain through fine cheese cloth or a fine stainless steel strainer.
Note: I have used white wine, red wine and rice wine vinegars but prefer apple cider, personally.
Experiment!
Use it cooked in meals. For more complete range of healing constituents, it's best to add it at the end of cooking for best results, as I mentioned above OR you can enjoy pickled garlic (still raw, uncooked) OR do what hard-core garlic
lovers do .. Cut cloves in half and swallow with a big gulp of H2O, as one might take a pill!!
 Whatever way you can ingest garlic, DO IT!  I have some great garlic recipe ideas and will post in the next few weeks. Meantime ?
What do you do with garlic ?       It IS nature's TOP PERFORMER !!
Check out my eBook and learn all about using herbs + spices to keep healthy !