Have you ever made an Immune Boost Vinaigrette? You may want to consider this next 'foodie project' this month, as, well, it's the perfect time.
This is THE time of year that I always think about adding more 'power' to my foods in anticipation of  the cold and flu season, which is here!!
Heck, I'm thinking about this because, just yesterday, I was surrounded by people coughing and hacking. There was much "blowing of noses" and, after I washed my hands and held my breath a few times, my thoughts were already on my 'to do checklist' for this month!
If you are a part of my community here at Studio Botanica, you may know that I wrote an eBook a while back called "Cold + Flu Season ~ Are YOU Ready?" Take a peek here.
I've been sharing it on my site and happy to report lots of good feedback. Why not become more self-reliant in general, PLUS more empowered to look after ourselves and our families without needing to rely on OTC remedies?  Take a look ~ if you don't have this already, you may enjoy it. LOTS of remedies and links to many more!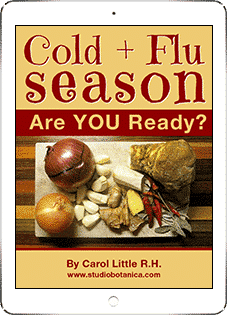 I've come to understand something important. We can take all the remedies we want, herbs every day, drink tea by the gallon.. If we are not supporting ourselves with so called "functional foods" which are foods with a purpose, foods which support and target specific tasks, we are not giving ourselves the best chance for optimum health. We can make an authentic notable difference in how we feel by paying attention to the choices we make.
I often write about herb-infused oils, vinegar, butters, honey and so on.. Vinegar can be such a wonderful 'carrier' of herbal medicinal goodness.. This immune boost vinaigrette is one such idea.
First we start with some good quality vinegar; apple cider vinegar in this case. We add garlic and can stop there or add more. We can add any number of "Carol's Pack of Healers" as they have come to be called here at SB. plus more for added aromatics if desired.  This is a version, possibly of our beloved
Fire Cider (read more here and recipes here)
Immune Boost Vinaigrette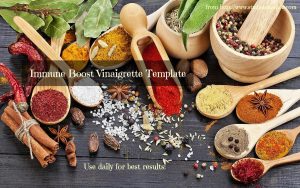 Your Template for Immune Boost Vinaigrette
2016-11-06 12:18:16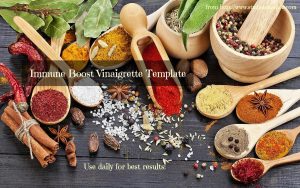 Ingredients
3/4 quart/liter Apple Cider Vinegar
8-10 garlic cloves, peeled
ginger root, 1-3 inches of organic if possible, peeled and chopped
1 cup raw honey
Optional
1 cayenne pepper, seeded, chopped (leave seeds out if not wanting heat)
1/8 cup horseradish root, grated (or a little less if using from the jar)
1 onion, small, diced or run through a 'bullet' to liquify
2 teaspoons turmeric powder (or 2 inch root, fresh, grated)
Peel from one organic orange, only the peel, not the white pith
1 teaspoon black pepper, freshly ground
Other possibilities
Astragalus root, Schizandra berries, Echinacea root, cranberries, blueberries, apples, mandarin orange, etc.
This list is endless!
Instructions
Put the vinegar into a large canning jar
Chop the garlic and ginger and any other ingredients you have decided to include
Add these ingredients into the jar.
Add the lid. Choose either plastic
or put waxed paper or cheese cloth over the opening and then add the metal lid.
Shake a little to mix all the ingredients together.
Sit on your counter or in a cupboard for 2-4 weeks.
I tend to allow it to sit for about a month, but try it earlier if you need to use it.
Strain the vinegar through a fine sieve or cheesecloth into a large glass measuring cup or bowl
Add the raw honey. Mix with a wooden spoon to incorporate.
Pour into another canning jar or use a funnel and pour into smaller vinegar jars.
Notes
These make a super delicious gift and store well in a cool cupboard or basement.
To make this flavourful vinegar into a vinaigrette, measure 1 part vinegar to 3 parts olive oil,
or to your taste. Use in your next festive salad !!
Skip the oil and you've made an aromatic marinade for virtually any meat or poultry dish.
Add to soups, stews, sauces, with or without the addition of the honey.
This is VERY versatile. The possibilities are endless!
Studio Botanica http://studiobotanica.com/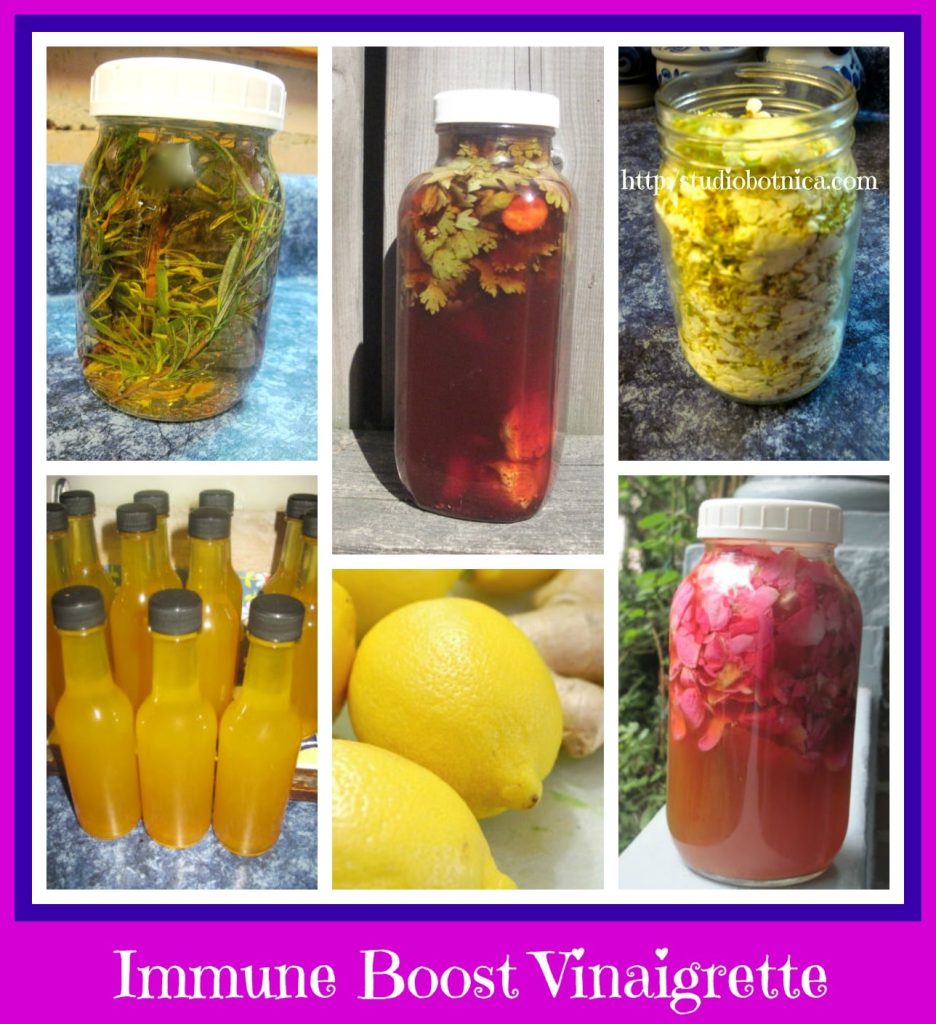 If you should decide to delve (don't you love that word?) into herbal vinegars, I have some other ideas for you:
Vinegar infusions 101 –> here and great tastes —>here and bone building, supporting vinegar —> here!! 
Have fun with these. Hope you enjoy this recipe and enjoy the immune-boosting benefits!
                                                green blessings,  Carol

Save
Save
Save
Save
Save
Save