Pin It

One of my very favourite winter herbal remedies is  "Garlic Honey".
It's easy to make and I always make a big jar of it every autumn 'in preparation for winter's challenges'!
It's extremely effective in the case of  sinus problems,  sore throats, colds, lung congestion,
and the flu. I know it's February, and, we're in the middle of a crazy winter…this remedy packs
a punch, and can be ready NEXT week, for use all year!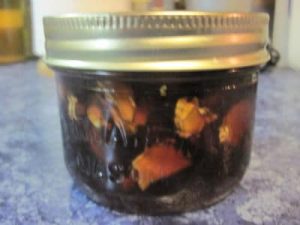 I use a huge jar, as I mentioned but here's directions for a small amount to start you off:
You'll need a Mason jar (125ml or 250 ml) with a tight-fitting lid.
Fill the jar with garlic cloves.
Pour honey over the garlic and fill the jar.
Use a wooden spoon or a chopstick to ensure that the
garlic is totally covered (this also removes any air bubbles)
Put the lid on the jar and don't forget to label the jar with the date
and "GARLIC HONEY".
This concoction gets better with age but can be used as an herbal
remedy after about 1 week with good results.  With time, the honey becomes
infused with garlic AND of course, the garlic becomes a yummy treat!
Remember!
Raw garlic has SO MANY attributes. GREAT FOR YOUR HEART TOO!
You are giving yourself a gift every time you make  it
Then ….Just remember to EAT IT !!! !
 BONUS IDEA:
Make a "Garlic Tonic" 
It's easy.
Infuse garlic in vinegar (Apple Cider Vinegar)
After a week or so, it's ready to use.
Mix together equal parts garlic honey and vinegar infused with garlic.
Enjoy a spoonful every day ~ or place in a dropper bottle and take by the dropperful often to prevent colds and flu!
Garlic Tonic: Mix together equal parts garlic honey and garlic vinegar. Put in a dropper bottle and take by the dropperful, as needed, to prevent or treat colds/flu.