As a youngster I studiously avoided any contact with that suspicious looking ramekin that was passed around the roast beef dinner table. Horseradish and cooked turnip were both on the "no thanks" list for my entire childhood. My dad, over time, became quite the gourmet cook and blessed us with years of new taste experiences. Eventually the family came to recognize the subtle heat in various condiments, sauces or soups—courtesy of a dollop of horseradish cream as it was called. Zoom ahead ~ I LOVE Horseradish now and use it often ~ Horseradish + Healing Soup go hand in hand every autumn!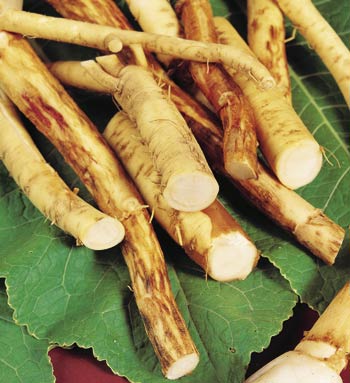 In time, I discovered fresh horseradish root and have grown to love this gnarly herbal root Look for a firm crisp root, somewhat like an enthusiastic parsnip!
It can keep in the fridge for a month—although mine never last that long.
It offers no initial impression until grated, and then, look out! The mustard oils in horseradish are released when grated yet will dissipate in about 30 minutes.
I've come to realize that I feel a lot better when I choose foods which fuel my body, and in the autumn and winter months, that means foods which stoke my digestive fire as well as stimulate eyes to tear and nose to run.
In other words, foods, which aid my body to eliminate accumulated toxins and enhance immune-system function.
One of my favourite warming recipes, now called "Healing Soup" by my friends, is easy to make. Try it. Your body will thank you!
I always have some on hand in my freezer. I am sure there are as many chicken soup recipes as there are cooks. Vegetarians can substitute vegetable broth for the chicken stock and omit the chicken.
I have used shiitake mushrooms instead when making a meat-less version.
This recipe is just a guide.
The most important aspects of the soup are the combination of supportive, powerful, healing and warming herbs. Everything else is optional.
I use the same "pack of healers"– onions, garlic, ginger, horseradish, cayenne — when making most winter soups.
HEALING SOUP
2016-05-08 09:56:29
Ingredients
2 tablespoons olive oil
2 to 3 onions, chopped
10 to 12 garlic cloves, peeled
Chicken stock, low-sodium, organic – 6-8 cups
1 cup grated horseradish root
2-inch piece gingerroot, grated
1 teaspoon cayenne pepper
Sea salt
Black pepper freshly ground
2 cups combination of chopped celery, carrots, parsnips, corn, and peas
4 cups cooked, bite-sized pieces of chicken (free-range or organic preferred)
Hot sauce, optional
Instructions
In a soup pot over medium heat, heat the oil and add onions; saute until tender.
Add 1 to 2 crushed garlic cloves at the beginning, but keep most until the very end to ensure garlic's medicine is intact.
Add the chicken stock, horseradish, ginger, cayenne and a dash of salt and pepper. Simmer for 10 minutes.
Add the vegetables and simmer for 20 minutes. Add the cooked chicken. Taste and adjust seasonings.
Add the remaining garlic and serve.
Studio Botanica http://studiobotanica.com/
More adventures with Horseradish coming soon!
In the meantime, look for a fresh root and 'get grating!'.