Sometimes, the busy life and constant multi-task filled days leave us feeling tired in the evening or  restless. We can physically feel like we could fall asleep propped up in the nearest corner but when actual bedtime arrives, we either find it difficult to 'settle' into sleep-mode or we experience shallow sleep habits and awaken in the night ~ unable to enjoy a complete night's rest. Herbs for better sleeps ~ can be a big help.
Check out these ideas to encourage a better rest.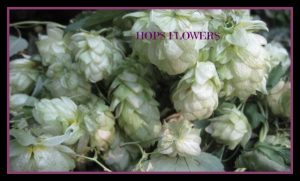 Here are some of my favourite herbs to help you enjoy a better quality of rest or improve your SLEEP time:
Please note that herbalists use a "therapeutic dose" when treating 'imbalances'. What that means, is that we recognize that we are, in this case, working with the whole body to effect a positive change in sleeping habits. Sometimes we are up-tight and worried about an issue. Other times we have been through a very stressful time and are just so worn out that we, somehow are restless. Whatever the reason, a gentle tea before bed is a great idea. Possibly more important in the 'big picture' is this. Why not get into the habit of drinking a nourishing, strengthening herbal tea during the day which helps us to build and repair and nurture ourselves? A therapeutic dose = 3-4 cups of herbal tea daily. Check out some TEA recipes here.
I've been asked about sleep tinctures and how I use them to help those with sleep issues. Each herb tends to have a signature; a way of working that is quite specific. All herbs don't work the same for all people.. I will generalize a bit and you will experiment to see what works for you. Purchase the tinctures at your local health food stores or make them yourself. See here for an easy way to make herbal tinctures.  I suggest that people begin to work with tinctured herbs as 'simples'. This just means that we take one single herb and notice the affects over time. Develop a personal relationship with the herb, and get to know what our body + mind feels like with this plant.
HERBS which help us to step down into 'sleepy mode'and
heal our nervous system:
California poppy (Escholtzschia californica)
California poppy can be very effective for encouraging restful sleep, helping one to relax, and alleviating mild anxiety. It can be given to children and adults because of its mild sedative and analgesic properties.
** Since the tea is mild, a tincture is recommended when a stronger dose is desired.
Thanks to my friend  Amanda Rose,  for sharing this California poppy pic.
Dose: Tea, 1 cup 2-3 x daily; Tincture, 30-40 drops 2-3 x daily.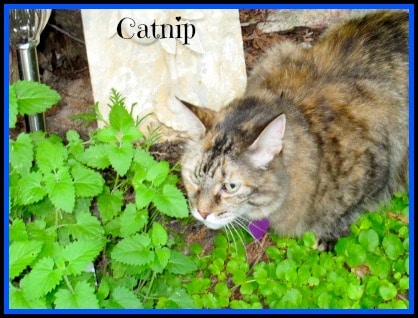 Catnip  (Nepeta cataria)  has a calming, relaxing, soothing affect on people. I realize it has just the opposite affects, sometimes on kittycats, but be assured it's a supportive relaxing nervine; excellent as a sleep remedy or as part of a formula. A member of the mint family, catnip blends well with other mints and lemon balm to make a nourishing tea.
Dose: Tea, 1 cup 3-4 x daily;  Tincture, 30-40 drops 2-3 x daily
 Say HI to my kitty~ CoCo… who LOVES her catnip!!
 Chamomile (Matricaria recutita)
  German Chamomile is both delicious and effective. It is thought to promote sleep by increasing mental calmness. Personally, I feel that the fact that Chamomile, as a carminative, increases digestive ability so relieves possible after-dinner tummy upsets. Chamomile tea is a good choice for children,anytime.  Don't let Chamomile's gentle nature fool you. This is an ages old respected remedy. I tend to make a tea with dried flowers more than tincture. Chamomile tincture, however, is an excellent herbal ally.
Dose: Tea, 1 cup 3-4 x daily;  Tincture, 30-40 drops 2-3 x daily
 Hops   (Humulus lupulus)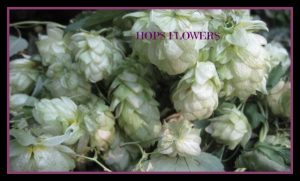 Hops has a long history of use for sleeplessness, nervousness, and restlessness. I use Hops alone, or in sleep formulas with good results. For many years, I have made sleep pillows filled with Hops, Lavender and Mugwort (for good dreams!) which can be tucked into bed and promote happy sleeps. These have been used for centuries for mild insomnia.
Dose: Tea, 1 cup 2-3 x daily; Tincture, 30-40 drops 2-3 x daily.
 Lavender   (Lavandula officinalis)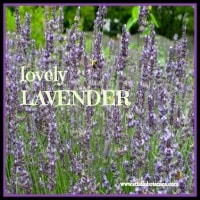 Lavender is a gentle strengthening tonic for the nervous system. I like the tea but find that most clients prefer lavender as a part of the herbal tincture formula. A few drops of lavender oil added to a bath before bedtime can be helpful for persons with sleep disorders. Additionally, the oil may be used as a compress or massage oil or simply inhaled to promote relaxation. Lavender in tincture form is delightful. My favourite combination? Lavender + Lemon Balm tinctured separately and then combined in a small dropper bottle to use throughout the day to heal the nervous system and promote wellbeing.
Dose: Tea, 1 cup 2-3 x daily; Essential oil–oil may be inhaled, massaged into the skin (use 10 drops essential oil per ounce of vegetable oil), or added to baths (3-10 drops). Tincture, 30-40 drops 2-3 x daily.
 Lemon Balm   (Melissa officinalis)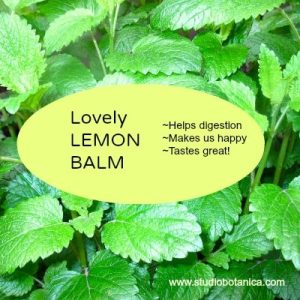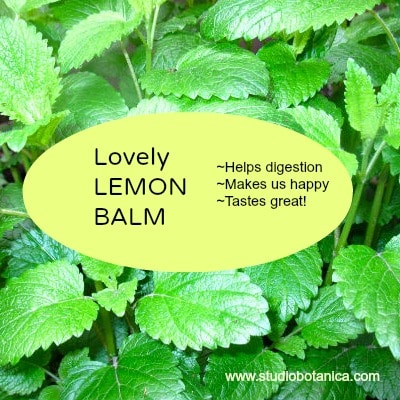 One of my personal favourites, this citrus-flavoured member of the mint family is a potent anti-viral, a euphoric (makes you feel good), a relaxing carminative; so aids digestion AND is thought to increase mental clarity + calm. Although a gentle herb, "Melissa" is a powerful anti-viral with a special affinity for the herpes virus. Increasingly, studies show a definite ability for Lemon Balm to assist with improving memory and clarity.
I make tea with Lemon Balm, as well as glycerites, syrup, infused honey + tinctures.
Dose: Tea, 1 cup 2-3 x daily; Tincture, 30-40 drops 2-3 x daily.
St. John's Wort   (Hypericum perforatum)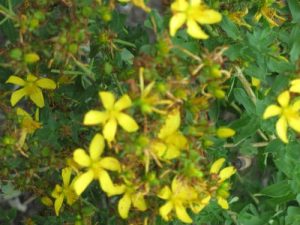 SJW as it's fondly called, is an effective nervous system supportive herb. It works well for people who feel that their nerves are 'frayed'; on edge, stressed out.
Research indicates that it can help relieve chronic insomnia and mild depression when related to certain brain chemistry imbalances.
Dose: Tincture, 1/2 to 1 teaspoon 2-3 x daily; powdered extract, 1-2 tablets or capsules 2-3 x daily. Allow 2-3 weeks for the full therapeutic effect to develop.
 NOTE: If you notice any light sensitivity, reduce or discontinue the St. John's wort and consult a qualified herbalist.
IMPORTANT: St. John's wort interacts with a large number of medications. St. John's wort can decrease the effectiveness of the medication OR it may increase the effects. Consult a qualified herbalist who will determine whether this delightful herb is a good fit for you personally.
 Passion flower (Passiflora incarnata)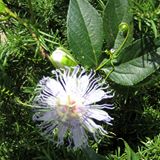 I tend to add passion flower in a herbal formula for insomnia or for a calming restful sleep when symptoms include worry or fear plus mental exhaustion. Passion flower is used for minor sleep problems in both adults and children.(Bruneton, 1995). Thanks to my friend + herbalist Roswitha Lloyd for the Passion flower pic!!   
Dose: Tea, 1 cup 3 x daily; Tincture, 2-3 droppers 3-4 x daily.
  Valerian (Valeriana officinalis)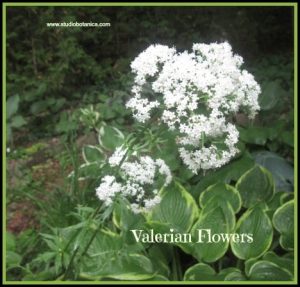 We use valerian for its sedative action in cases of restlessness and insomnia.  It is helpful for those who have a hard time falling asleep and can reduce the tendency for those who tend to awaken during the night.
Most people find it is an excellent herbal sedative that has none of the negative side effects of Valium or other synthetic sedatives.
Work with a qualified herbalist to see if Valerian can help you reduce the use of sleeping medication. As with most herbs, Valerian can be very helpful in a wide variety of situations: I've used it in cases of anxiety, tension headaches, menstrual cramping, hot flashes and mild depression.
It works well in combination with other sedative herbs, such as California poppy,lemon balm, hops, and passion flower.
NOTE: In a small percentage of the population, valerian acts as a stimulant so check it out for yourself.
 **Personally, I start with one of the others in my list above, and if insufficient 'relaxation' results, I move to valerian. I tend to work this way, though, in my practice..i.e. Nourish and support the body (or body system) first and often, our miraculous bodies respond without the requirement of the 'heavy-hitters'.
Dose: Tea, 1 cup as needed; Tincture, 2-3 droppers 2-3 x daily.
Additional ideas :
Avoid taking naps, and especially after 4pm.
Develop an evening ritual. "Step down" each hour into a more relaxed activity.
Limit liquids before going to sleep to minimize nighttime trips to the bathroom.
If liquids do not pose a problem, enjoy a cup of decaf herb tea or warm milk (dairy, rice, almond)
Here are some FOODS TO INSPIRE SLEEP:
Bananas. Potassium and magnesium are natural muscle relaxants, and bananas are a good source of both. They also contain the amino acid L-tryptophan, which gets converted to 5-HTP in the brain. The 5-HTP in turn is converted to serotonin (a relaxing neurotransmitter) and melatonin.
Cherries. Fresh and dried cherries are one of the only natural food sources of melatonin, the chemical that controls the body's internal clock to regulate sleep. Researchers who tested tart cherries and found high levels of melatonin recommend eating them an hour before bedtime or before a trip when you want to sleep on the plane.
Oatmeal. Like toast, a bowl of oatmeal triggers a rise in blood sugar, which in turn triggers insulin production and the release of sleep-inducing brain chemicals. Oats are also rich in melatonin, which many people take as a sleep aid.
Toast. Carbohydrate-rich foods trigger insulin production, which induces sleep by speeding up the release of tryptophan and serotonin, two brain chemicals that relax you and send you to sleep.
Warm milk. Like bananas, milk contains the amino acid L-tryptophan, which turns to 5-HTP and releases relaxing serotonin. It's also high in calcium, which promotes sleep.
Here's hoping that some of these ideas help you or family members or friends to enjoy a better sleep; to awaken rested and ready to cope with the challenges of the day ~ LIFE is for living!
LIFE  is so much more enjoyable with enough rest!
Please leave a comment and share this information. We can all benefit from helping each other! 
                      with good green wishes,  Carol
Save
Save