It's SUMMER! It's hot, hazy and humid! Why not cool off with these refreshing, easy-to-make 'herbal lemonades'?  There are many options for using herbs from the garden or local farmers markets to create delicious, cooling beverages (alcoholic or non-alcoholic). Think Mints, Lemon Verbena, Lemon Balm, Lavender, Anise Hyssop, or  Chamomile to start with.
Here are three of my favourites:
 Lemony-Lemonade with Lemon Balm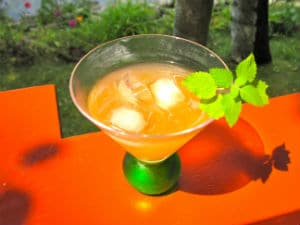 A  simple lemonade but even more tasty with the added flavour of lemon balm!
Enjoyed by children and adults alike. Serve well-chilled. Lemon balm (melissa officinalis) is one of my best green allies for
so many reasons. Check out Lemon Balm here.
4 lemons
1/2 cup fresh lemon balm leaves
1/2 cup sugar
2/3 cup boiling water
2 1/2 cups water
ice (optional)
Perrier or sparkling water (optional)
2 -3 fresh sprigs lemon balm, to decorate
Wash the lemons well.
Carefully peel the rind , avoiding the white pith.
Set aside the lemons.
Place the  lemon balm leaves, the lemon rind, and the sugar into a small heat-proof container.
I use Mason jars as I always have them on hand.
Pour the boiling water into the jar (if using) or heat-proof pitcher and stir well, crushing the lemon balm leaves to release their flavour.
Leave mixture to infuse for about 15 minutes.
Now, cut the lemons in half and squeeze out the juice.
Strain juice into a large glass pitcher  and add the cooled, strained syrup.
Add a few fresh sprigs of lemon balm,
Top up with water or half-water half-ice, and chill until ready to serve, or add to some Perrier or your preferred 'sparkling water'.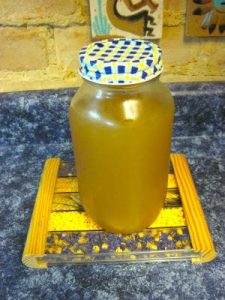 I LOVE to add a small amount of
Lavender
(fresh or dried) to drinkies or sweets or savoury meals. This lemonade is a special treat. My good friend/herbalist/chef, Karen Herzberger introduced me to this idea during classes at Studio Botanica in 2003. Thanks Karen. I have lost your recipe but this one does work well.
Lavender
offers super herbal support! Click
here
for more information about lovely
lavender
.
1/4 cup dried Lavender
2 cups boiling water
3/4 cup honey
4 lemons
Cold water
Use a Mason jar or pitcher to serve
Place the Lavender blossoms in the jar and cover with boiling water.
Let steep for 10 minutes then strain.
Cut the lemons in half.
Use a citrus juice extractor (I love my ol' glass one!) or use a 'citrus reamer' ~ ok.. Get the juice out of the lemons and into the jar!Add the lavender infusion and the honey to the lemon juice in the jar.
Fill the jar (or pitcher etc) with cold water.
Stir.
Add ice cubes.
Stir.    Enjoy!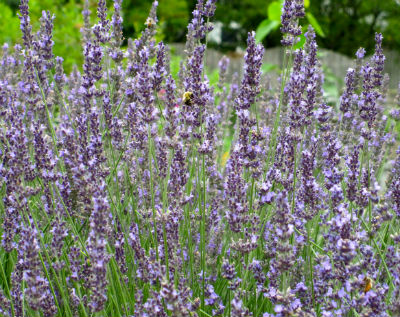 Lavender marries Lemon Balm and makes Lemonade!
1/8 cup dried Lavender flowers
1 cup fresh Lemon Balm leaves, lightly packed
2-3  cups boiling water
3/4 cup raw honey
3- 4 lemons
Cold water
Use a Mason jar or pitcher to serve
Place the lavender flowers in a large glass jar or pitcher.
Top with just boiled water and allow to steep 5-8 minutes
Add the fresh lemon balm leaves
Poke with a chopstick or wooden spoon until plant material is submerged.
Allow to steep for 8-10 minutes.
Strain. Compost the plant material or reserve to make again — can make another light batch!
Cut the lemons in half. Add the juice — without the pits/seeds to the lemon balm-lavender 'tea'.
Add cold water and ice cubes to the lemony tea.
Enjoy!

Here's to refreshing "good for you" herb-infused drinkies!
Green blessings to all, 
                                            Carol
Love to hear what you are doing with herbs!
Save
Save