I've written before about my childhood aversion to horseradish. As a youngster I consistently avoided any contact with that suspicious looking bowl of prepared 'white stuff'. My dad, an amazing cook, blessed us with years of new taste experiences. Eventually the family came to recognize the subtle heat in various condiments, sauces or soups—courtesy of a dollop of horseradish cream as it was called.
Horseradish is both a food and a medicine. At first glance, as a whole root, it emits nothing of the hot, biting taste awaiting those who scrape or grate it. It contains  sinigrin, a glucoside similar to  black mustard seeds. It also contains  myrosin, an enzyme. As I understand it, when the root is grated, a volatile oil called allyl is produced instantly when the sinigrin and  myrosin come in contact with each other. According to Maude Grieves, it is only when these two substances meet, that isothiocyanate,, also in Black Mustard seed, is created: hence the pungent hot yet subtly sweet taste of this special root.
Horseradish Highlights:
anti-bacterial
strongly antibiotic,
anti-parasitic
coronary vasodilator
digestive
diuretic
expectorant
Please see  glossary for any unfamiliar terms above.
It stimulates a number of body systems and can be used to aid mild circulatory problems, digestion and water retention. I've used it to help to encourage timid appetites. A potent digestive elixir can be created by combining a small amount of horseradish with carminative herbs and apple cider vinegar.
Choose firm crisp roots: it looks somewhat like  an enthusiastic parsnip! It can keep in the fridge for a month — although mine never last that long. It offers no initial impression until grated, and then, look out! The mustard oils in horseradish are released when grated yet will dissipate in about 30 minutes.
My My favourite tool in the kitchen is a microplane when it comes to horseradish. This sturdy, but very fine grating device makes it easy to add a quick "hit" of heat and pungent goodness to a wide variety of dishes.
In my herbal practice, I encourage clients to experiment with warming foods over the winter months to increase digestive fire and as a vehicle for fueling the body with a wide variety of immune-enhancing foods. With this in mind, I like to teach them to use ginger, garlic, onions, horseradish and cayenne when possible.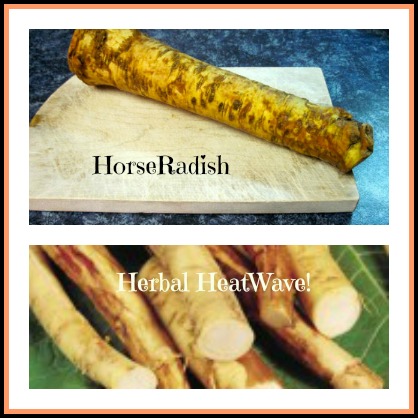 In the fall, I make a number of herbal remedies to prepare my family, friends and clients for the winter months. One of my favourite remedies is well known in herbal circles by several names. I learned to make in 20 years ago from my friend and mentor, Rosemary Gladstar.  FIRE CIDER is a potent healer and easy to make. Horseradish is one of the featured herbal healers and offers its own brand of 'heat' to this special concoction. Find the recipe here.
Years ago, I had the good fortune to visit Poland for New Year's with my friend Grace. The entire trip was a feast, an adventure in new tastes. Thanks to Grace for sharing her family recipe for "Polish Horseradish", Chrzan. It is historically made from horseradish and white wine vinegar and made by hand. I confess to using a food processor, which makes this recipe easy to make. It's very yummy with Kielbasa as well as other "European-style sausages. Actually – make this.. It's a great addition  to many dishes, offering a little 'tang' and some 'heat' !!
CHRZAN  (pronounced "Kuh-shan")
½ pound fresh horseradish root, peeled and grated
¼ cup white wine vinegar  or apple cider vinegar)
¼  teaspoon each sea salt and pepper (to taste)
2   teaspoons fresh lemon juice
1 tablespoon dernerara sugar (optional)
Combine all ingredients and store, covered in the fridge. It should be shared within 2 weeks.
I have made a huge batch by using 2 pounds of roots and adapting the recipe above accordingly.
This is only ONE of many recipes that I am making with this FABULOUS root!!
What do YOU like to do with horseradish????
My ebook "Cold + Flu Season ~ Are you Ready?" is packed with great ideas for winter health.
For more information and/or to order for you and your family.  click here