I had the opportunity, to speak to a wonderful group of women about healthy travels to India. Conversation turned to 'food choices' and what kinds of dishes will offer the most nourishment as well as support stressed immune systems. I always think of the culinary herbs and spices of India as a sort of 'kitchen medicine'.
India is known for having the largest vegetarian community in the world. Legumes (beans) and pulses (lentils) are the mainstay of everyday cooking and join in the 'parade of colours', complementing  both delicate and bold vegetable dishes.
Within India's colourful array of classic dishes ~ exist a treasure-trove of delicious, nutritious and power-packed choices for your health.  Thick books filled with Indian cooking & sumptuous recipes featuring the many regional cuisines within this magical sub-continent can teach us how to prepare the dishes themselves, but it may be helpful to know a little more about the herbs & spices which are the backbone of  this exotic land's meal offerings.
Here are a list of some of the ingredients in the 'kitchen medicine' of India. This is a mini-list featuring some of the power-packed plant "attributes" which will support days of busy on-tour activities, offer fuel for the body, and support for digestion and immune system function.  Whether at home or 'on the go', these herbs and spices are LIFE-ENHANCING!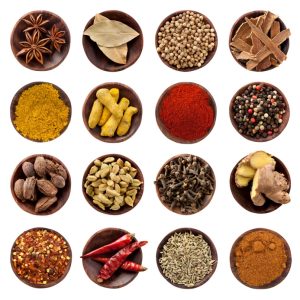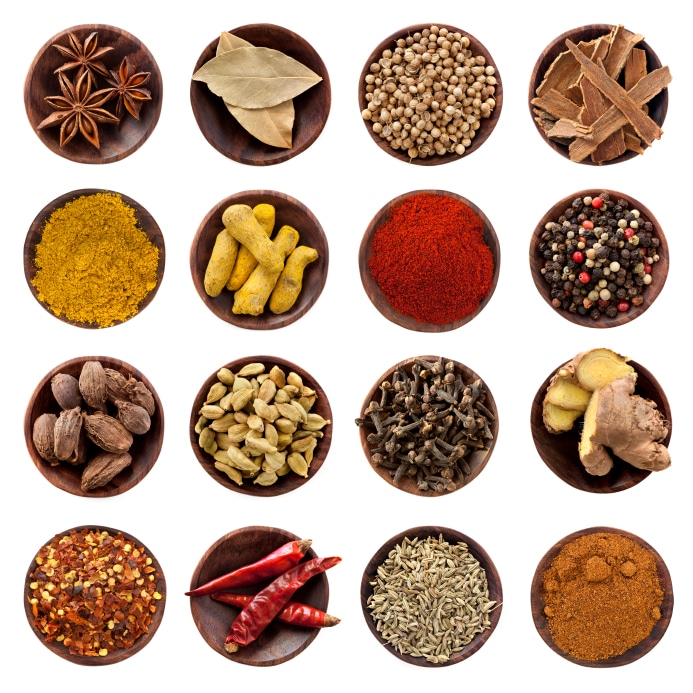 See below this list  for some menu ideas and Stay tuned for more Kitchen Medicine!
Bay Leaf
anti-oxidant
anti-bacterial
aids digestion
Caraway Seed
excellent digestive aid
relieves gas, bloating, cramping, nausea
regulates blood sugar
Cardamom
increases digestive ability
soothes stomach
supports the respiratory system
Chillies-Chilis-Chiles (verdict is out on the correct spelling!)
pain-relieving (arthritic conditions)
believed to prevent  blood clots
increases metabolism
Cinnamon
helps to keep blood sugar 'even' or 'balanced'
anti-bacterial & anti-fungal
heart protective, lowers cholesterol
Cloves
supports healthy teeth & gum health
anti-bacterial (proven to combat H.pylori & E.coli, Staphyloccus)
oil of cloves repels mosquitoes
Coriander
extremely soothing re digestive upsets (soothes minor and major tummy woes, constipation)
stops intestinal spasms, eases flatulence
reduces redness re inflammatory skin disorders(rosacea, eczema, psoriasis)
Cumin
blocks action of bacteria which causes food poisoning (studies from India)
anti-cancer,  anti-diabetic
plays a role in prevention of cataracts
Fennel
powerful digestive aid
reduces cramps, settles tummy
anti-inflammatory
Fenugreek
anti-diabetic
kidney supportive, anti-cancer
regulates blood sugar
Mustard Seed
anti-cancer
regulates blood sugar
regulates overall cholesterol
Nutmeg
regulates cholesterol
anti-anxiety
anti-diarrhea (90% effective killing virus which causes TD)
Sesame Seed (and Sesame oil)
reduces blood pressure
lowers cholesterol, especially,  in post-menopausal women
boosts healing, anti-aging actions of vitamin E
Turmeric
almost TOO numerous to mention; has more than 50 healing attributes
pain reliever (headaches and general aches), powder speeds wound healing
antacid to soothe digestive issues, clears nasal passages
excellent anti-tumour, anti-cancer.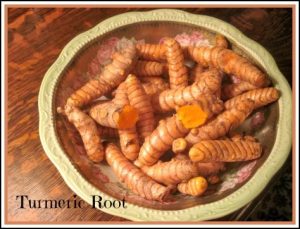 See my other posts re this superstar healer.
Other healthy ingredients to watch out for:
Ajowan
all purpose healer; asthma, soothes coughs
reduces hypertension
Anti-bacterial (also can kill salmonella)*
Galangal ( India's cousin of Ginger)
anti-inflammatory, anti-cancer, anti-ulcer, anti-diabetic
Curry Leaf (not to be confused with Curry powder or sauce)
reduces high blood sugar, high cholesterol
and then there is:
Kokum ~ this is the tiny fruit of the Kokum tree from Western India
helps to prevent infection
eases arthritic pain
improves digestion
reputed to reduce cravings, curb appetite and has a reputation for being India's very own "weight loss herb"
Dont' forget : Garlic, Ginger, Onions – superstars ~ my three daily favourites!
So, from this list of some of the 'stars' of Indian cuisine's list of healing plant medicine, there are lots of healthy possibilities.  Do you know that "curry powder" is actually a combination of herbs and spices which varies from region to region and actually even from family to family?  In fact, curry is a cooking style, not a single dish made with "curry powder". It's easy to make your own blend but there are many wonderful curry blends on the market. Essentially; it's always savoury and always spicy ~ not necessarily hot-spicy as in cayenne peppers or 'piquant' (as in Mexican cuisine for example)
Traditional curries typically contain the following:  black pepper, coriander, curry leaves, cumin, mustard seed, and turmeric; red chilis are optional. The style of each curry and the 'heat' will vary with additional ingredients from region to region within India or Thailand or … well.. there are traditional blends created daily all over the world!
In much the same way as an Italian nonna or French cook will simmer meats or vegetables in herbs and wine, traditional curries are created by simmering vegetables, meats, fish, poultry in a liquid infused with the cook's special combination.
Here's an example of what can be added to the basic blend above to further enhance the flavours:
Almond
Bay Leaf
Cardamom
Cinnamon
Fennel
Fenugreek
Garlic
Garam Masala
Mint
Onion
Garam Masala is India's most popular spice blend. Normally, it's used as North Americans use salt & pepper, being added towards the end of meal preparation. As it's not a bitter spice mix, it can be sprinkled onto vegetables, or into grain dishes, soups or stews and does need to be simmered at length to decrease the pungency.   Here's a recipe for this, the most popular of all Indian spice blends:
8 tablespoons coriander seeds
4 tablespoons cumin seeds
2 tablespoons caraway seeds
2 tablespoons black peppercorns
4 teaspoons cardamom seeds (brown)
2 three-inch cinnamon sticks
2 whole nutmeg
2 teaspoons cloves (whole)
1. In a small heavy skillet, over medium heat, gently pan toast (one ingredient at a time) cumin seeds, coriander seeds, caraway seeds, peppercorns, and cardamom until they change colour and emit a light fragrance. Turn the seeds often so that they don't burn.  Set aside on a plate to cool.
2. Use a food processor or spice grinder to process the nutmeg and cinnamon sticks.
3. Add the cloves and the lightly toasted seeds to the nutmeg/cinnamon mixture and grind to a fine powder.
Store in a container with a tight-fitting lid. I prefer glass, personally. This recipe makes about 1 cup.
Enjoy it within 6 months.
Within the Indian Menu:
I promised to offer some suggestions for healthy menu items and when I started to make a list…it became evident that, since entire websites offer this info, I'd best share my favourites and let those interested in a more in-depth discussion, go for a ride on the internet or to your local library.
For those wanting to enjoy the vegetarian cuisine options in India, there are 1000s of options! Lentils and beans, rice dishes, vegetables alone or combined with rice, beans, lentils or paneer (Indian cheese). Cooling raita made from yogurt accompanies and brings balance to the warming spiced foods on every menu. Ok..
Here are a few of my favourites:
Pakora – appetizer fritter – made with Ajowan
Samosas – vegetable or meat-filled dumpling – made with Ajowan
Lentil dishes are high in fibre and an excellent source of nutrients; often contain Ajowan to prevent flatulence & improve digestion. Often called 'Dal', these are very common; more than 60 kinds of lentils are used in India; offers huge affordable protein choices to this largely vegetarian society
My own personal favourites are "Saag Paneer" ~ spinach and India's wonderful paneer cheese, cumin, garlic, chili powder.
"Aloo Gobi Masala" ~ potato & cauliflower curry is extremely tasty with cumin, coriander, garlic, ginger, curry powder and turmeric
"Channa Masala" ~ featuring chickpeas with ginger, cumin, coriander, chili powder, so delish but not too 'hot'. Sometimes with tomatoes as well.
"Vegetable Biriyani" ~ extremely tasty rice dish with vegetables and a variety of healing spices and topped with the crunch of cashews and almonds and raisins.
SO.. whether you are off to exotic India on vacation, or perhaps interested in expanding your horizons in the kitchen,  the herbs & spices of Indian cuisine do indeed provide a treasure-trove of healthy options!
What's your favourite Indian dish? Indian herb or spice?  Love to hear your comments!