Hawthorn (Crataegus spp) is a member of the ROSE family. The berries, leaves, and flowers are used and they have similar properties, but the berries are the most gentle and tonic. We harvest the berries when they are turning from green to orange or red (in July or August in southern Ontario)
Hawthorn berries make a delicious tea. I have had good success sharing this easy recipe with many clients. Even the folks who are not 'too sure' about herbal medicine, will try a tea if it tastes good ~ and it does, either hot or cold! 
Famous for treating cardiovascular conditions, hawthorn is a powerful herbal ally. This delicious berry's attributes combine to make this a 'natural' for cardiovascular support.
Take a look at these highlights:
antiarrhythmic
anticardiotoxic
anti-inflammatory 
antioxidant 
blood pressure normalizer 
cardiac
diaphoretic 
nervine 
relaxant 
tranquilizer
vascular tonic
Hawthorn can normalize blood pressure. It's an amphoteric herb which means that continuous use can raise low blood pressure as well as lower high blood pressure! It strengthens the heart muscle and all parts of the cardiovascular system. We use hawthorn to decrease cardiac arrhythmias with good success. It has an added bonus of being able to decrease the affect of toxins on the heart.
As a diaphoretic, it can improve circulation and helps to dilate blood vessels all over the body.
We use it for all sorts of vascular conditions as well, varicose veins for example. It can help to alleviate and decrease arteriosclerosis.
I add it to other tea and tincture formulas for anxiety and depression. It helps to alleviate our stress response so makes a great companion and helper in nervous system support formulas.
In addition to the highlights above, hawthorn also has anti-allergenic, anti-depressive, anti-spasmodic properties.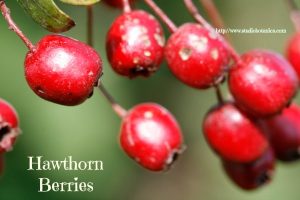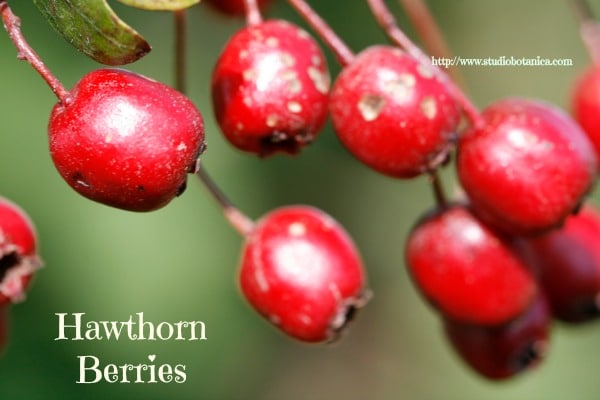 Caution:
For those taking heart medication:
Hawthorn may increase the action of cardiac glycoside medications.
NOT recommended without the supervision of a qualified practitioner 
Interesting side note: We need to use caution in these cases because hawthorn increases the strength of the entire cardio system and in so doing, can make the medicine seem too strong!
To Make Hawthorn Berry Tea:
Infuse 2-3 tablespoons of hawthorn berries in a pot of good quality water.
Bring to a light boil.
Lower heat and gently simmer for 8-10 minutes.
Strain.
Reserve the berries (for another infusion, later.)
Drink 3 cups of infusion daily
The tea is delicious 'solo' and also combines well with other supportive herbs.
I normally make it just like this above.
Nervous System Support Tea:
2 parts Hawthorn berries
2 parts Oats (milky oat tops are preferred)
1 part Nettle
1 part Lemon Balm 
Allow the berries to steep for 8 minutes and then add the other ingredients for 4-5 minutes.
Strain. Enjoy.
This recipe is a guideline only. Citrus peel, ginger root, hibiscus flowers… Imagine!
Tincture Dose:
Start with 1 dropperful 3 x daily.
Increase this dose each few days until the therapeutic dose is reached
3 dropperfuls taken 3 x daily is the therapeutic dose amount
For more ideas to support the cardiovascular system, here's a post with ideas.
Enjoy Hawthorn medicine!  Leave a comment. How do you use this fabulous heart-helping berry?
good wishes, Carol