Years ago, I had the good fortune to visit Tahiti. On the island of Moorea, our breakfast options included lots of fresh fruit as you would imagine plus the most delicious Bok Choy dish accompanied by herb-infused scrambled eggs! I've never forgotten that dish ~ so light and tasty. There's something special about eating sauteed greens, anytime, but in the morning? What a decadent way to start the day! Greens for breakfast!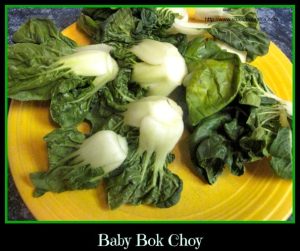 This dish is super easy to prepare. My family loves it. I have made many variations over the years but really, I confess that the original remains my favourite.
South Pacific Baby Bok Choy + Scrambled Eggs
Here's the info for 2 servings:
10 – 12 Baby Bok Choy
1/4 small onion, finely chopped
1 tsp Olive oil (cold-pressed)
1-2 tsp Tamari *(or Soy sauce)
4 eggs (from your local farmers market or farm whenever possible)
1 tsp butter
Black pepper, fresh ground if possible.
Optional:
hot pepper flakes
herbs of your choice ~ suggest dill, chives, thyme, oregano, cilantro or your preferred.
*I buy gluten-free, low sodium Tamari. It's delicious.
Use regular Bok Choy if the mini-version is not available. It's just fine.
It's Easy to make:
Finely chop the onion, Add the olive oil to a pan. Heat and add the onion.
Sauté lightly.
Prepare the greens. Slice the small core off the end of the Bok Choy.
Slice the crunchy white parts and set the green parts aside.
Add the white parts to the onions and continue to sauté, stirring often.
At this point; time to scramble the eggs. I tend to use 2 farm fresh eggs per serving.
I like to add herbs and spices to my eggs but prepare them however you like.
I added a combination of chopped fresh cilantro, finely chopped and hot pepper flakes to the eggs above.
Add some Tamari to the Bok Choy and then toss in the greens, stirring gently.
Tamari adds a salty 'umami' flavour and I love it with the Bok Choy.
This is exactly how it was presented to me, many years ago, in a dreamy resort in Tahiti.
I hope you enjoy it ~ as much as I did and still do~
Green wishes ~ for healthy days ahead. DO try greens for breakfast ~ enjoy!
Save
Save
Save
Save