GOLDENROD solidago canadensis (solidago spp.)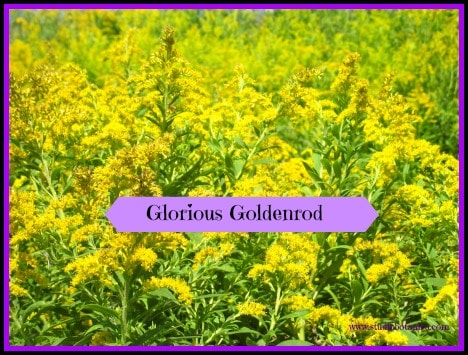 It's a sure sign of late summer-early autumn when the meadows turn golden with an abundance of Goldenrod! Don't worry; this glorious member of the "Aster" family ( Asteraceae), is NOT an allergen which causes seasonal hayfever.
That would be ragweed, which often grows near Goldenrod and has unremarkable green flowers.
A note from herbalist, Susan Weed:
"No one is, no one can be, allergic to goldenrod pollen. Why? It has virtually none. What little pollen it makes is sticky, all the better to stick onto insects who pollinate the goldenrod. Only wind-pollinated plants — like ragweed (Ambrosia artemisifolia), which blooms at the same time as goldenrod, and has an especially irritating pollen — make enough pollen, and spread it widely enough, to cause allergic reactions."
Guess what?
Making a tea from Goldenrod flowers + leaves can definitely help to soothe the symptoms of allergic rhinitis ~ respiratory congestion or itchy eyes so often a big part of hayfever.
Herbalists harvest the top 1/2 to 2/3 of the flowering stalk ~ usually a bit more flowers to green stalks or essentially the top 25-30% of the 'above ground plant' late August to early September. I use Goldenrod in tincture and also as a warming golden tea. It's easy to make a nourishing tonic tea with Goldenrod!
Here's how:
Goldenrod Tea
Chop the leaves and flowers.
Place 2 tbsp fresh Goldenrod (or 1 tbsp of dried Goldenrod) in a cup *
Add freshly boiled water
Steep, covered for 20 minutes.
Drink warm or at room temperature, whatever you prefer.
* I like to make herbal tea in a canning jar with lid or in a Bodum French press
Note: Enjoy this tea.
For therapeutic effects, take 3 cups per day. Drink up to 5 cups per day in 'acute' situations.
I like to harvest the plant when some of the flowers are open but not all. This is called "the beginning of the flowering period". It's not necessary, but offers the medicine a fuller range of healing properties. If using fresh, just hold the stem with the flowers pointing into a bowl and clip the flowers and leaves into the bowl. Compost the stems. If you want to dry some Goldenrod to enjoy tea throughout the coming fall & winter, just hang up a bunch in a cool, dry spot. I wait until the leaves are 'crispy'. When the plant material is dry, I store it in a large jar in a dark cupboard. I don't chop it up, but try to keep the leaves & flowers intact as much as possible.
Please check the "glossary" in the articles tab above for a key to the terms, below.
Goldenrod is a wonderful healing plant and offers a long list of healing constituents:
GOLDENROD Primary Properties:


Antiallergenic
Anticatarrhal
antifungal
anti-inflammatory
antiulcerogenic
aperient
astringentdepurative
diaphoretic
diuretic

expectorant (secretolytic)
hemostatic/styptic
lymphatic
prostate tonic
urinary tonic
vascular tonic
vasodilator
vulnerary
HIGHLIGHTS:
Goldenrod is noted for the ability to heal respiratory tract conditions; amazing for 'upper' infectious conditions and for the coughs + colds of lower tract conditions. As an anti-allergy herb, we often include Goldenrod in an 'anti-allergy' formula, especially in autumn.
It is an amazing healer for skin or epithelial issues:bites, stings, cuts and other skin conditions, as well as internally for inflammatory conditions of the digestive tract (e.g. ulcers, colitis, diverticulitis)
Goldenrod is renowned for healing urinary tract conditions. It facilitates detoxification throughout the urinary tract.
It is excellent for prostate inflammation and for the ability to help with the elimination of uric acid. It is a helpful pain reliever, in these cases. Goldenrod contains chemicals that increase urine flow and have anti-swelling (anti-inflammatory) effects.
Goldenrod is an excellent lymphatic and depurative. It detoxes primarily through both urinary + lymphatic systems. As a detoxifying herb, as well as an anti-inflammatory, it can be very helpful in cases of gout, arthritis & joint pain. It is used for both chronic + acute inflammation of lymph nodes as well as edema.
It is also a mild bitter and cholagogue so is extremely supportive for liver health.
Goldenrod is a very good diaphoretic ~ supports good peripheral circulation.
as well as excellent vascular tonic (which supports heart health and cardiovascular system health)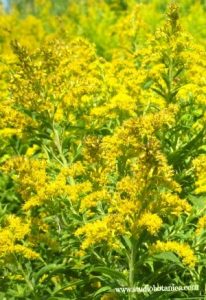 It should be noted that, for each of the situations described above, Goldenrod will often be combine with other healers to make a specific formula for the situation and for each individual. Goldenrod as a 'simple' (i.e. taken alone, as a tea, in the above dose), is, however, a great way to jump onto a healing path. Consult with respected herbalist for specific formulas.
As always: these ideas are my opinions only and should not be taken as ANY sort of medical advice.
As with many herbs, the constituents present, offer a wide variety of healing attributes. We often look to the "primary healing properties" as they are the strongest healing categories. Most herbs, however, have such a wildly wide range of helping properties, that are still very present and can help us choose the absolute best herb to contribute to a situation. It's for this reason, I want to share some of Goldenrod's other gifts; they are a part of the herbal profile, even if they are not the first attributes that we may think of initially.
Secondary Properties:

antibacterial
antilithic
antineoplastic
antioxidant
antirheumatic
antispasmodic
appetite stimulant
bitter
carminative
cholagogue
febrifuge
hypotensive
immune stimulant
nervine
relaxant
stomachic
tranquilizer
Glorious Goldenrod ~ an abundant healing plant.
Stay tuned for some more ways to find benefits for you and your family with Goldenrod medicine! Now is the time to harvest our golden girl, so do so if possible, and hang to dry.
Wishing you only great health!!
Carol
Thanks to HERBGEEK — For the honour —
this post featured Back in September 2013 as 'among the best online'
http://www.herbgeek.com/herb-geek-round-up-best-online-articles-september-2013/
Want to learn more about HOW to increase you and your family's health?
Want to learn some DIY herbal remedies ?
Check out my ebook "Cold + Flu Season ~ Are YOU Ready?"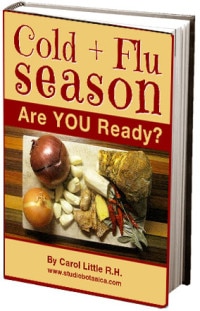 Save
Save
Save
Save
Save
Save
Save