Garlic is a gift! The attributes of this pungent healing herb, are many. How to EAT MORE GARLIC? You must try this Golden Garlic Paste!! So good!
Here's a super idea ~ a family favourite. It is excellent spooned over a baked potato, with any kind of baked chicken, pork, beef or fish as well as legumes and a myriad of vegetables. It takes about 20 minutes to make and stores well in the fridge for 2 weeks (or freezes well) Try this and please do let me know HOW you use it with your meals.
We can all benefit from MORE garlic!!
ENJOY!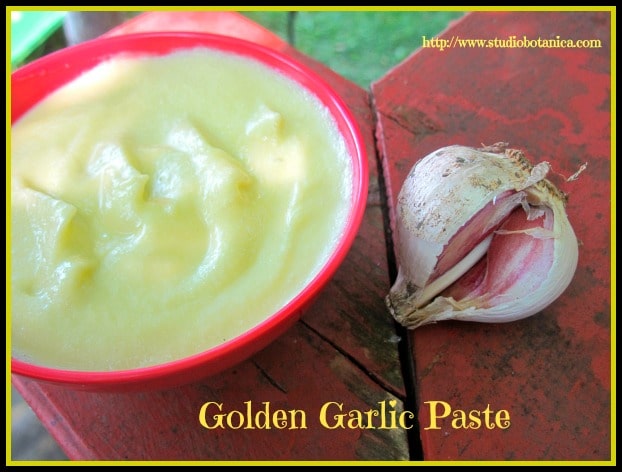 Garlic Paste:
2 bulbs garlic, cloves separated and peeled
1/2 cup lemon juice (freshly squeezed if possible)
3/4 teaspoon sea salt
1 – 1.5 cups extra virgin good quality olive oil
1 egg white* (optional)
Put all of the garlic in a blender or food processor
Blend until garlic is chopped (about 2 minutes)
Add the egg white (if using) and blend until mixed in
Add 1/4 cup of the lemon juice + the salt.
Pulse until combined
Slowly add a small amount of the oil. (Let's say about 1/4 cup of oil)
Blend until the mixture becomes slightly smooth. (at least one minute)
Add more (about 1/4 cup again) oil and continue to blend.
Add the remaining lemon juice. Blend for another minute.
Continue to add oil and blending for about a minute until 1 cup of oil has been added.
We are looking for a smooth thick garlicky paste.
If the garlic bulbs are large, the recipe may require additional oil.
We stop adding oil when the oil itself stops blending into the mixture.
The mixture should become thick and resemble golden mayonnaise.
Store in a glass container in the fridge or freeze in small batches.
*Egg white helps to hold the garlic together and makes it easier in the food processor, to achieve a good chop.
Often the garlic 'hugs' the bowl of the device and won't cooperate. The egg white is an easy way to help it all emulsify and get to the consistency faster. If the egg white is omitted, the result will be a garlicky paste or thick sauce. Including the egg, should produce a lighter mayonnaise-like consistency. The taste will be the same. The egg can be omitted.
The consistency achieved is somewhere between a thick paste and a creamy smooth sauce~ depending upon 'the weather', the size of the garlic cloves, and the size of the egg's egg white!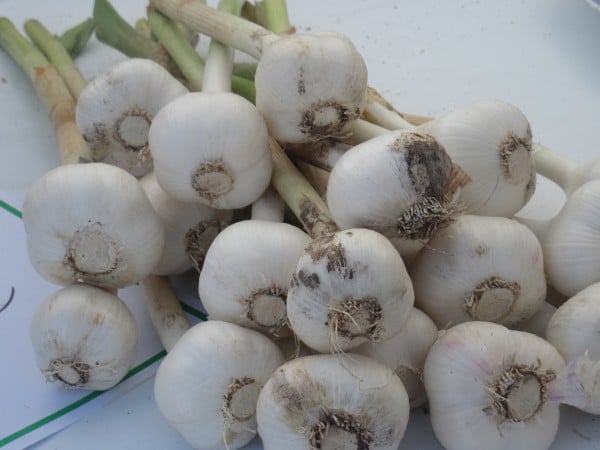 Why do I keep writing about Garlic? Why do we want to eat lots?
Here are the reasons I am always making garlic goodies!
Save