I love making stuffing for festive turkey celebrations. You?
I have made some changes to my long time recipe so I now make a "Gluten Free Stuffing" with some tasty twists. Canadian Thanksgiving is always in October, so we have this delicious meal, with a few variations, in October an also at Christmas too. I've shared this one, with countless friends over the years and it's always a hit. I use fresh herbs from my garden, dried over a few weeks before needed. As with many of my recipes…they are guidelines and open to additions and substitutions. I will share how I made it earlier this month, and include some other options from other 'experiments'!
Gluten Free Stuffing with a twist
is easy to make and includes dried fruit and a liqueur. These can be omitted, of course, but the fruit adds a 'juicy' bite here and there, and the liqueur's alcohol is cooked off before adding to the mixture, imparting flavour only.
I normally toast the bread cubes before-hand to make them like croutons in the bowl, but it's not necessary. Ok.. so here's my recipe (from a 30+ year old sharing from a local paper. I still have the scrap of worn newsprint, well-loved over many years.)
Yummy Gluten Free Stuffing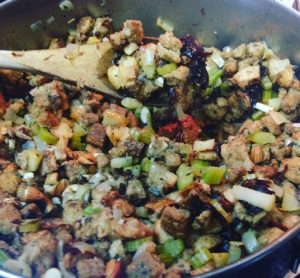 Gluten Free Stuffing
2016-10-21 12:39:26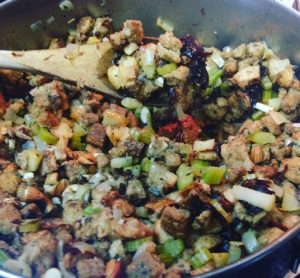 Ingredients
1 cup chopped prunes (or dried apricots, raisins, or your fave dried fruit)
1/2 cup port (or orange liqueur, sherry or fruit juice)
1/2 cup best quality butter
4 large celery stalks, chopped
2 large onions, chopped
1 large or 2 medium apple, unpeeled, cored, diced
2 tbsp sage, dried (or 3 tbsp fresh leaves, finely chopped)
1 tsp thyme, dried (or 2 tsp fresh, chopped finely)
1 tsp savory, dried (or 2 tsp fresh, finely chopped)
3/4-1 tsp sea salt
1 tsp black pepper, freshly ground, if possible
12 cups gluten free bread, chopped into cubes, dried*
1 cup nuts, coarsely chopped (almonds, pecans, walnuts etc)
1 cup chicken stock (or luscious broth, your choice)
Instructions
In a small pot, combine the dried fruit and liqueur; bring to a boil and set aside..
Melt butter in a large pot, over medium heat.
Add the onions and celery. Stir.
After about 5-7 minutes, when onions have softened,
Add the apple and stir into the mix
Turn down the heat to medium-low
Add the sage, thyme, savory, salt and pepper
Stir all together, and enjoy the fragrant aroma!
Add the bread cubes and nuts, if using, a little at a time to coat the bread with the mixture.
Add the port and prunes - or whatever fruit mixture you have used.
Add the stock, stirring all to moisten.
It's ready !
To toast the bread cubes before-hand
Spread bread cubes on a greased baking sheet in a single layer and bake in a 400 F oven for 8-10 minutes, or until golden.
When the stock, above has been stirred into the mixture to coat as evenly as possible, either stuff into the cavity of the turkey just before roasting or bake in a 300F oven for 30 minutes, at some point in the day: when there's space in your oven!
Sometimes, we pull out the turkey when it's done and bake the stuffing while the turkey is 'resting'.
It's a few years now that we've been brining our turkey, so I don't stuff it, but place onion and garlic and maybe a mandarin or two, sectioned, into the cavity.
This recipe makes enough for a 16-18 lb (5.75-6 kg) turkey.
* 12 cups of bread cubes = 2 good sized loaves (that was this year. Depends upon size of loaves of course!)
Adapted from from a longtime favourite traditional recipe
Adapted from from a longtime favourite traditional recipe
Studio Botanica http://studiobotanica.com/
Recipe above in printable format. I know it's not rocket science, but I did take some pics as I was making this month, so here they are:

Well, there, now.. I've shared my tradition. How do you make YOUR stuffing? Do you use any unusual ingredients? Do you have a family stuffing that is a 'must have' or do you experiment with new ideas? I'd love to hear.. and if you are up for a new one.
Try this one and do share your thoughts!!