I've written about making Fire Cider every autumn for many years and Fire Cider recipes are a wonderful way to use these powerful herbs in supportive ways.
It's an annual ritual which I enjoy and which gives my family and friends a good supply of immune boosting herb-infused vinegar to add to salads, soups. stock, sauces and more. Fire Cider recipes are a super way to better enjoy the healing gifts of these powerful herbs!
Have you heard of Fire Cider? This is classic herbalism. Make yourself some of this magical Fire Cider and then go another step.. and make one or more of these powerful Fire Cider recipes!
Here's the recipe, shared in my apprentice-ship class in the 90s on Sage Mountain, and TWO bonus recipes from my beloved friend and mentor, Rosemary Gladstar.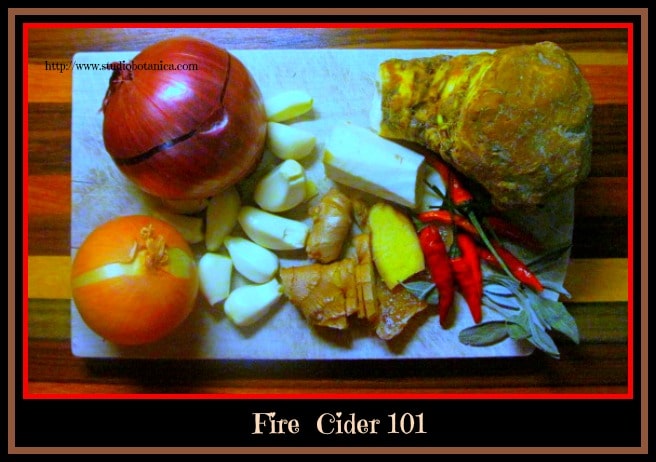 Rosemary's Fire Cider Recipes
Here's the original + Chutney Recipe
It all starts with making Fire Cider***
There are many recipes for making Fire Cider; here's the original recipe plus the Chutney too: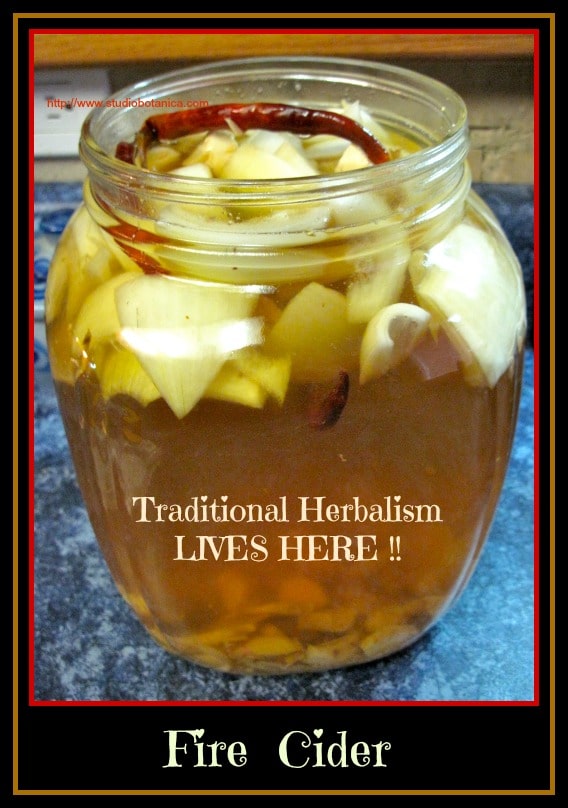 Fire Cider Chutney
2015-12-13 09:21:16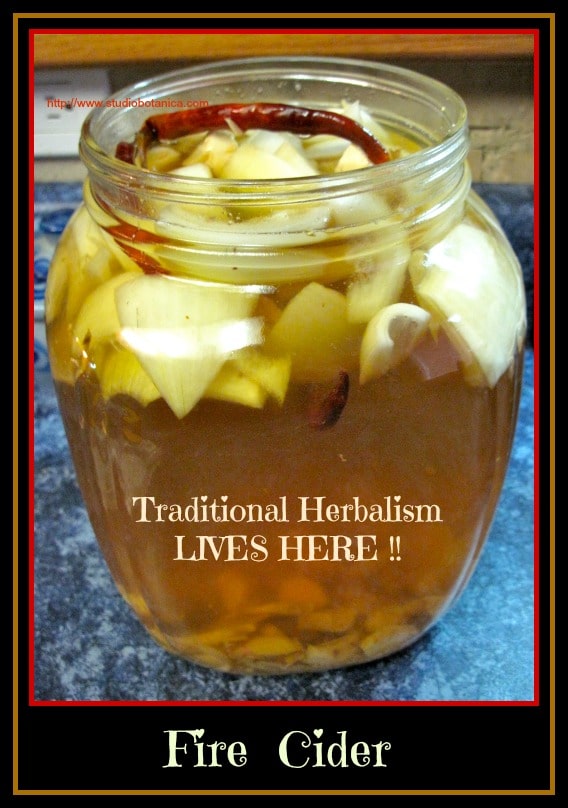 YUMMY + Powerful!
Ingredients
Garlic approximate 8 – 10 cloves finely chopped
Horseradish root approx. 1-2 cups grated or finely chopped
Onions approximate 1 medium sized onion, finely chopped
Ginger approximate 1-2 cups grated
1 - 2 cayenne peppers, to taste, crushed or chopped
Options: add a lemon with peel and/or turmeric to the above recipe.
Instructions
Steep in raw unpasteurized apple cider vinegar for 4-6 weeks then strain.
Add honey and cayenne to taste.
Taste should be hot, spicy, pungent and sweet.
Strain the herbs after 4 -5 weeks (save the liquid -- that's your Fire Cider!).
They should still be firm and flavorful.
Add the herbs to a food processor or blender, and grind coarsely
(don't blend into a smooth past, but only until coarse and crunchy).
If too dry, add a little of the Fire Cider Vinegar to the mix. |
You might wish to add a little more honey and cayenne to taste.
Per Rosemary
"Your finished Fire Cider Chutney should be sweet but not too sweet, hot but not too hot, and just right for your pleasure taste!"
Studio Botanica http://studiobotanica.com/
This delicious chutney is great on toast, mixed with rice, veggie dishes,
is a favorable addition to soups, or enjoyed right from the spoon.
It's the perfect winter condiment!
***
Please note:
you can also make Fire Cider Chutney without first making Fire Cider. Just add the listed ingredients to a food processor, add vinegar to moisten, and grind to the desired constituency. I've made it both ways, and both ways are delicious, with a slightly different texture.
Fire Cider Cough Syrup
Once you have made your Fire Cider Chutney, you can be creative and make a healing syrup!
Honey Onion Syrup is another annual creation in my home. Check out this post
It's very tasty and also effective for deep bronchial coughs.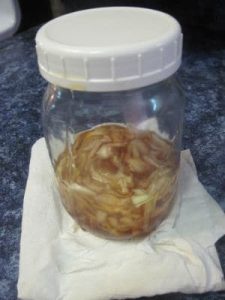 You can further enhance by adding garlic with the onion for even stronger syrup.
For more power, add Fire Cider Chutney and you have: Fire Cider Cough Syrup.
To make a nicer syrup consistency, blend the chutney into a finer paste,
and then add to the onion syrup. It is divine!!!

Fire Cider Syrup
2015-12-13 09:16:38
Powerful deep-acting syrup can soothe bronchial coughs
Ingredients
1 onion, chopped
1/2 cup raw honey (I always use honey but you can use brown sugar)
Instructions
Slice yellow onions into thin half moons and place in a pot.
Cover with honey, and with the lid slightly ajar (just enough to let a little of the steam out) slowly heat the mixture on low heat
We want the honey to be warm, but not simmering or boiling.
Cook for about 30-40 minutes over low heat, until the onions are very soft and the honey is deeply infused with onion juice.
Add your blended Fire Cider Chutney to taste
Studio Botanica http://studiobotanica.com/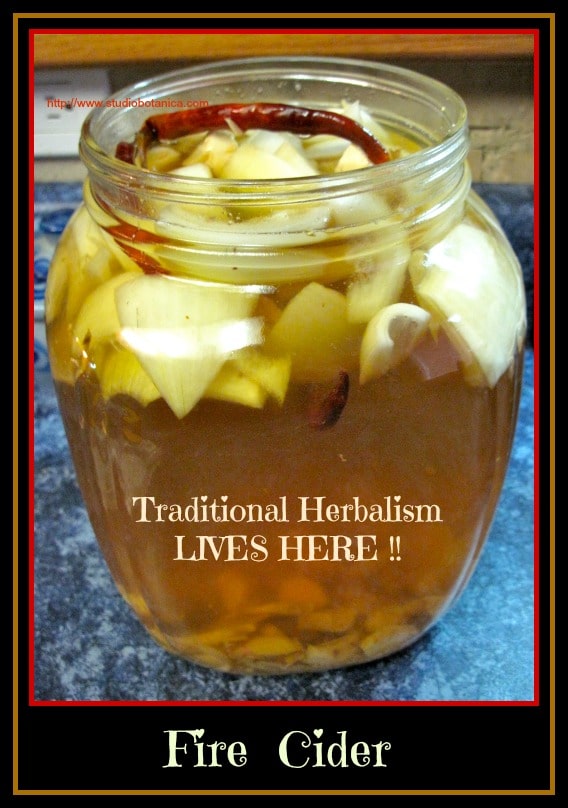 For many more DIY healing ideas ~ check out my eBOOK:
"COLD + FLU Season ~ Are YOU Ready?"