Do you want to make the now famous "FIRE CIDER" for your own family? Here's how…but first a little story..
Once upon a time, in a land far far away…. Ok.. it was in the 90s and I was in Rosemary Gladstar's apprenticeship programme at Sage Mountain in Vermont. Time is like that… It feels like a century ago, yet I can remember it like it was yesterday. It was there that I was inspired to think about winter health in a whole new way. It's a lifestyle — enjoying, experimenting and incorporating HEALING foods and HEALING supportive herbs into EVERY day.
What I learned from Rosemary during that year, became a new lifelong passion and new habits that are a part of 'my everyday'. I am going to share more of these but wanted to start with one of my favourites. The recipe is for a small batch. It's more of a guideline really. This tonic will be just as effective with equal parts of each ingredient.
FIRE CIDER 101 ~ ONE of many versions!
1/4 cup Horseradish root, grated
1/8 cup Garlic, chopped
1/2 cup onion, chopped
1/4 cup Ginger root, freshly grated
3-4 tablespoons Cayenne powder (or 3-4 Cayenne or Habanero or similar 'hot' peppers)
Apple Cider Vinegar enough to cover all ingredients by at least 2 inches
Honey – to taste
NOTE: You may want to wear gloves if you chop the ingredients by hand.
Grate and chop the ingredients.
Place in a glass jar and cover all the ingredients with the vinegar.
Let sit 4 weeks.
Strain.
Optional: Sweeten to taste with honey**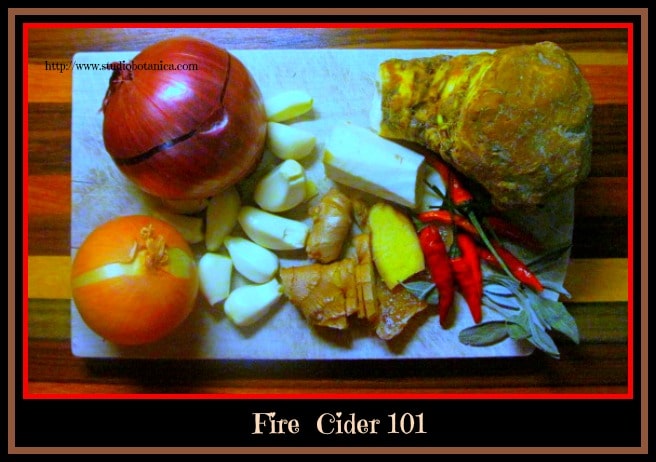 The recipe above is for a small batch. It's more of a guideline really. This tonic will be just as effective with equal parts of each ingredient. For many years, I've simply 1/2 filled a large glass jar with a combination of the veggies above, filled the jar with good quality apple cider vinegar, and PRESTO.. after a month –> GOOD medicine!!
**Sometimes I don't add any honey. If you plan to take like a 'shooter' ~ a shot of this potent brew every morning, you decide! I make it both ways ~ with AND without the raw honey.
In acute situations, take 1 teaspoon every 30 minutes or as often as needed
For prevention of winter colds and flu, take 1 teaspoon every day. Either take it like a 'shot' in a wee glass or add it to your food. I've added this fiery tonic to soups, stews, sauces, casseroles, egg dishes, roasted veggies ~ well.. I've made sure that it's VERY present in meals from November until March, so my family has enjoyed it in many dishes.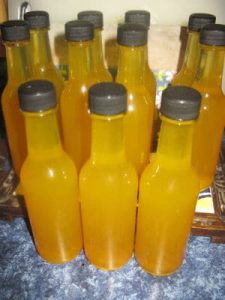 Found this sweet video with Rosemary Gladstar sharing FIRE CIDER. Enjoy here.
Do YOU make Fire Cider? What would you like to share? Please leave a comment!
What do YOU like to add this fiery condiment to, in your kitchen??
Green blessings to all and Good wishes for your great health!
Want to learn more about HOW to increase you and your family's health?
Want to learn some DIY herbal remedies ?
Check out my ebook "Cold + Flu Season ~ Are YOU Ready?"