Fighting the Flu ~ 3 ideas for you!
My FAVOURITE "winter" Homeopathic Formula
It may look like an impossible word to pronounce; it sure is a mouthful ~ Oscillococcinum, is a homeopathic remedy which I've used with great success over many years.
Manufactured by Boiron, Oscillo (as it's affectionately called by those not wanting to tackle the full name!!) is taken like any other homeopathic remedy—sublingually (allowed to dissolve under the tongue)  30 minutes before or after eating or drinking anything except water. I always have a package of this amazing remedy in my purse when on the go. I can't tell you the number of times it has saved me from going down that road to achy, feverish flu symptoms.
I have an entire regimen ready to go "at home" but it's rare that the first feeling that 'something' is 'off' occurs  in the vicinity of my winter medicine chest! With this in mind, I always have a small  immune support kit within easy reach.
Oscillococcinum
The standard dosage is three vials; each vial contains tiny pellets. As soon as I any of my 'pattern' of personal flu symptoms, I take a vial of Oscillo. It's important to take a minimum of 3 vials ~ take the 2nd vial six hours alter the first, and take the third six hours after the second.
Note: These recommendations are offered as my personal experience only, not as a medical recommendation.
ELDER
Every year I make a big batch of my "FLU FIGHTER" and clients stand in line to get their "supply" before cold & flu season.  Elderberry Flu Fighter is a delicious concoction and a very effective remedy to prevent flu AND shorten the duration of that flu  if taken as soon as possible after the onset of symptoms.
Check out my recipe here for elderberry syrup (several versions!) and a wonderful traditional tea recipe using Elderflowers to soothe flu and fever!
Commercially, several good sources exist, with a focus on fresh or dried elderberries as well as elderflowers and other supportive herbs. Elder medicine is very tasty!!
HEALING HERBAL HONEY

This is SO easy to make! This version features the healing attributes of thyme, but you can make this with ginger, garlic, rosemary and ..the list goes on!  This winter health remedy tried & true!
1 cup honey
1/2 cup fresh thyme or 1/4 cup dried thyme
1. In a small saucepan, combine the honey & thyme and heat gently over very low heat for 15 to 20 minutes, being sure not to let the honey boil or scorch.
2. Remove from the heat and allow the honey to cool. Strain out the herbs, then bottle the honey and label it. (or choose to leave in the honey.. just make sure it's always covered to avoid spoilage.
To relieve colds, coughs, and sore throats, take 1 teaspoon of this thyme-infused honey three-four times a day.

You can add a teaspoon of it to a cup of regular hot tea and sip slowly.
Delicious also with a squeeze of lemon, added to your favourite hot herbal tea.
Here's to your health!!!  
Check out my ebook here  packed with LOTS of  DIY ideas for you!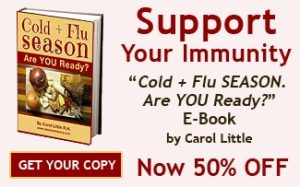 What is your favourite remedy??