Just before Christmas, years ago,I received this recipe with rave reviews from friends, Ann & Diane. I've made it several times, when entertaining and I agree; it's delicious, easy to prepare and always a hit. It's decadent (isn't goat cheese always?) and very colourful. I think it's a delight to serve anytime…some of my favourite flavours in ONE dish! Herbs + Marinated Chèvre!!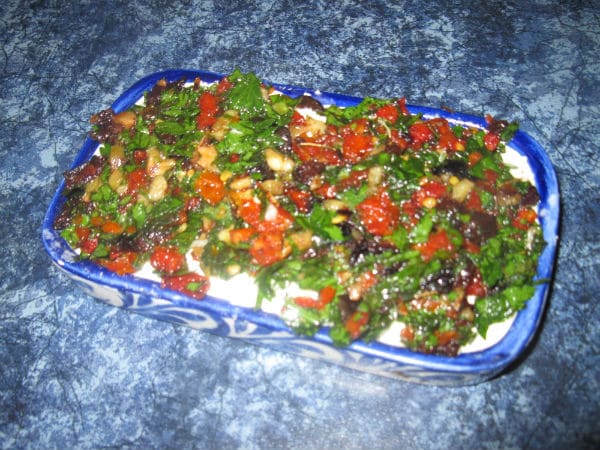 Herbs + Marinated Chèvre Recipe
Herbs + Marinated Chèvre Recipe
2015-12-03 10:33:38
Ingredients
8 oz Chevre (goat cheese), at room temperature
3/4 cup fresh parsley
1/4 cup fresh basil
1/2 cup sundried tomatoes
1/4 cup black olives (or your favourites)
2 garlic cloves, minced
Pinch thyme, dried
Pinch red pepper flakes
1/2 cup EEOO (ExtraVirgin Olive oil)
Sea Salt & freshly ground Pepper
Instructions
Ensure that the goat cheese is 'at room temperature'.
Slice it and then 'pat' with fingers to cover your serving dish to form a 'nest' for the remaining ingredients.
Combine remaining ingredients.
Pour the mixture over the goat cheese.
** If time permits, combine all but the goat cheese and allow to 'marry' in the fridge overnight.
Allow both this mixture and the cheese to come to room temperature and put it together in minutes.
Notes
This is a much requested EASY to make DELICIOUS appetizer!
Studio Botanica http://studiobotanica.com/
Here's a link to a 'round-up' of appetizers from my favourite blogging friends!
By the way, I'd love to hear about your own version, additions or changes ~ if you make this!
E N J O Y !!