Fenugreek Medicine can support our digestive system and SO much more. I've begun to experiment with this fascinating herb/spice and am excited to share Fenugreek's healing attributes with you!
Have you ever cooked with it? Stay tuned. You will want to — like me — 'sing from the rooftops' (ok.. maybe you'll just watch and listen while I do it!)
Fenugreek medicine has been used for centuries in Armenia, Egypt, India, Iran & Turkey. In the kitchen, these fragrant seeds are often incorporated into curries or chutneys, pickles, condiments of all sorts. It is very common in traditional vegetarian dishes for flavour and to assist with better digestion of legumes and starchy veggies. The leaves are used fresh (or can be found flash-frozen in freezer at grocery) or dried. Dried leaves are called Kasoori methi in India. They are a favourite in Indian cooking, as well as several African countries, and taste similar to a combination of celery and fennel with a slightly bitter bite.
FENUGREEK seeds are not eaten RAW. – akin to tiny pebbles and just as hard. When brewed in a tea or cooked, the slightly bitter, pungent seeds transform into a nutty maple-like flavour.
TIP: Soak the seeds overnight and take them on an empty stomach in the morning. Experts report that consuming soaked methi seeds first thing in morning can help regulate blood sugar levels, cholesterol and promote good digestion.
Fenugreek Medicine Highlights ~ Seeds: (Trigonella foenum graecum)

Can both regulate and balance blood sugar levels
Improves glycemic control + decreases insulin resistance
Can lower triglycerides
Can lower cholesterol (specifically the unwanted LDL)
Can support and improve digestive system function
Can possibly prevent and reverse "fatty liver disease" associated with obesity + insulin resistance
Can help to prevent gallstones; can help to diminish existing stones and can prevent stones from re-forming
Possibly prevents kidney stones formation (made from calcium oxalate)
Can boost milk production in nursing moms + stimulate milk flow when breastfeeding
Is this not quite the amazing list of attributes? I think so!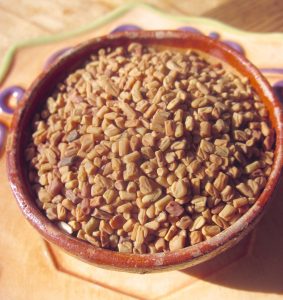 Fenugreek Medicine is believed to help with weight loss. Experiments have shown that fenugreek seeds' fibre appears to influence people to choose lighter foods when eaten regularly. I learned about this possibility in an herbal class from years ago and tucked it away in my brain to share later.. I will be on a search to find the 'source' for this tidbit!
NOTE: AVOID when pregnant. Fenugreek stimulates uterine contractions.
Use ONLY to help to induce labour.
Traditionally, Fenugreek tea has been used to counter heartburn and symptoms of acid reflux. When soaked in water for 5-10 minutes before bringing water to a quick boil, the mucilage from fenugreek seeds can help to coat the lining of the gastro-intestinal (GI) system. Alternatively– just soak the seeds to allow the mucilage to be released and warm the liquid, allowing the brew to simmer for 10 minutes. Allow to cool down and drink at room temperature.
I tincture Fenugreek Medicine ~ the seeds, in this case. I am experimenting with this aromatic tincture as an herbal helper in digestive formulae for clients who want to improve digestion while avoiding re-occurrence of gall stones. The highlights above offer many ideas for how we can create helpful medicine scenarios ~ it's an ongoing art & science –that's why I LOVE this green world — lots of experimentation and many good results.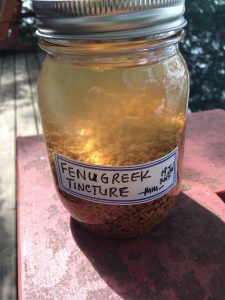 Fenugreek seeds tend to 'marry well' with tomatoes, potatoes; veggies in general and is often paired with Ginger, Garlic, Turmeric, Onion and Mustard seed. It adds a sweetness and a subtle bitterness to saucy dishes. When toasted, it imparts a definite maple syrup flavor which can also taste a bit like dark caramel.
The seeds benefit from longer cooking to infuse with other flavors, so I tend to use it in soups, stews, veggie 'sides' and chutneys. By the way ~ have you ever made a chutney?
Buy locally or online but get your hands on some good quality fenugreek seeds!
Here's an online source ~ from StarWest Botanicals
Starwest Botanicals Organic Whole Fenugreek Seed, 1 Pound Bulk Spice
Template: Veggie side dish with Fenugreek + friends
2017-06-03 23:06:00
Created this years ago and wanted to share. Choose YOUR veggies and play!
Ingredients
2 tablespoons avocado oil
1 - 1.25 pounds of YOUR veggie of choice (squash, eggplant, zucchini, carrots etc.)**
~ cut into 1-inch cubes
6 tablespoons avocado oil
1/2 teaspoon cumin seeds
1/2 teaspoon fenugreek seeds, crushed
1/2 teaspoon sesame seeds
1 (1/2 inch) piece fresh ginger root, chopped
5 cloves fresh organic garlic, chopped, finely
2 onions, peeled and finely chopped
1 chili pepper, YOUR CHOICE re variety ~ seeded and chopped **
1/4 cup tomato paste
1/2 teaspoon chili powder
1/2 teaspoon ground coriander
1/2 teaspoon ground turmeric
3/4 teaspoon sea salt
1/2 cup coconut milk
1 - 2 tablespoons fresh cilantro leaves
Instructions
Heat the 2 tablespoons oil over medium heat in a large skillet, and saute veggies until golden, about 5-6 minutes.
Remove the veggies from the pan and set aside.
Remove excess oil with a paper towel.
Heat the 6 tablespoons oil in the same pan over medium heat.
Stir in the cumin, fenugreek and sesame seeds, and cook until the cumin turns golden,
about 2 minutes.
Reduce the heat.
Stir in the ginger and cook for a minute or so.
Stir in the onions and chili pepper.
Continue to cook and stir until the chopped onion is golden, about 10 minutes.
Add the garlic and stir to mix in ~ for a few seconds
I am a fan of finely minced garlic and very little 'cooking)
Stir the tomato paste, coriander, turmeric, chili powder, plus sea salt into the onions mixture.
Cook and stir over medium heat for 2 minutes.
"Fold" in the cooked, cubed veggies
Cover the pan and simmer until veggies are firm but tender, about 5- 10 minutes.
This will depend on your choice of vegetable. (Zucchini or Eggplant 5 minutes and others may take more time)
Pour in the coconut milk
Stir until the mixture is just blended and warm.
Toss in the cilantro leaves, if using (or your choice of green herbal goodness!)
Notes
Tip: If you can find fenugreek greens ~ saute or steam like spinach. Serve this entire mixture atop the greens!
** As a template -- this is a guideline! Pick the veggie or a combination.
Pick the chili ~ use chopped red bell pepper or add any chili with a little or a lot of heat -
YOUR call!
Adapted from from so many online recipes from around the world
Adapted from from so many online recipes from around the world
Studio Botanica http://studiobotanica.com/
Add some fenugreek seeds to your meals ~ You'll be glad you did.
I can't wait to hear about your experiences!
Fenugreek greens, if you can find them, are delicious and on the rare occasion that I have encountered, I've used in a dish like this 'template' above or in a simple veggie stir fry
or added sparingly at the end of a nourishing soup.
Fenugreek Greens 101:
Wash the leaves. Chop and set aside in a large bowl.
Put 2 tsp of avocado (or other good quality oil) in pan on medium heat.
Add cumin, coriander, mustard seeds or your favourite.
Saute lightly until the seeds change colour.
Add chopped onion(s) and stir/saute for 1-2 minutes
Add the chopped fenugreek leaves. Stir to mix well.
That's it. This is similar to the way I love to prepare wild greens, spinach, baby kale and dandelion leaves. Try it if you should be able to find these greens.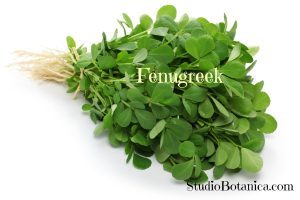 More often than not, I can find the greens in the freezer section at my local grocery.
Online, there are countless recipes for using the dried leaves which are known as 'methi' or Kasoori methi. Go online and check for "methi' recipes. There are many!
I will be thrilled if you experiment with these magical seeds and love to hear back, re your experiences! I shared my 'go to ' template for fenugreek seeds in the kitchen and will link with the pics asap!
What do you do with Fenugreek? Please comment below!
Yay! Fenugreek Medicine!
green blessings to you.
Carol

Sources:
Srinivasan, K. (2006). Fenugreek (Trigonella foenum-graecum): A review of health beneficial physiological effects.Food reviews international, 22(2), 203-224.
Smith, M. (2003). Therapeutic applications of fenugreek. Alternative Medicine Review, 8(1), 20-2
Save
Save
Save
Save
Save
Save
Save
Save
Save
Save
Save
Save
Save
Save
Save
Save
Save
Save
Save
Save
Save
Save
Save
Save
Save
Save
Save
Save
Save
Save
Save
Save
Save