Fabulous Fennel!     Vegetable ~ Herb ~ Spice
Recently I shared a very delicious fennel salad recipe, using the fennel bulb (here). Using this 'vegetable' part of the family has been a newfound culinary love, over the past few years. The 'seed' part aka Fennel Seed and I? We have a much longer relationship! This tiny seed is a powerful herbal ally, and is very helpful for a wide variety of conditions.  Fennel seed is marvellous in the kitchen too, and works well with both sweet and savoury recipes. Chefs say that it brings balance to their herb and spice blends. I would agree. 
How do YOU use fennel??
I use Fennel seed, as a tincture or infusion/tea or mixed with other herbs to create healing concoctions. It offers quick relief for indigestion ~ relieving upset tummies, soothing + calming for the entire digestive tract.
FENNEL HIGHLIGHTS:
good source: Vitamins A,C, E

good source of Zinc, Calcium, Iron, Magnesium, Manganese,

good source of Phosphorus, Sulphur, Sodium, Silica, and Selenium
It is legendary as a remcdy for COLIC in babies! I have many stories of patients are are new moms, who have used it successfully on its own or in combination with chamomile or mints to bring important relief to baby's discomfort. It is truly a blessed relief during these times and works so well with nursing moms that I tend to recommend they drink it ~ for a wide variety of reasons (below) as well as a soothing, healing preventative for the wee one. Bonus: Fennel tea can help to increase milk production in lactating moms.
Fennel can be an amazing  natural ant-acid. As a digestive helper, it acts fast to alleviate heartburn, stomach queasiness or upset and flatulence. It actually aids our body to stimulate the production of digestive enzymes. I have used it successfully as a part of a programme to relieve IBS symptoms.
It can be helpful in cases of constipation and helps to create movement in the body. In this way, fennel can also help to reduce swelling in the ankles, hands and feet.
Fennel can help to reduce painful menstruation, relieving bloating and cramps as well. This anti-inflammatory attribute is very powerful, as it is thought that much of chronic disease can claim inflammation as at least a partial cause.  Fennel's anti-oxidant tendencies combine very well with the anti-inflammatory properties to prevent everything from arthritis to diabetes, cancer and even Alzheimer's disease.
Drinking fennel tea, solo or in combination with other herbs, is a super healthy idea! 
Fennel tea is the easiest to make ~ I use a glass canning jar but you can use whatever you like!
I like to use these jars as I always put a tight lid on, and allow to steep, trapping all of the aromatic steam!
Fennel Tea:  Use about 1 teaspoon of fennel seed per teacup. 
   As i mentioned, I use glass jars or a tea infusers, normally.
   For a 250 ml jar, use 1-2 tablespoons of fennel seeds. You will find the strength you like the best.   
   Just experiment.
   Many folks suggest crushing or bruising the seeds in a mortar/pestle before brewing the tea.
   I do this sometimes, and sometimes I don't. It's delicious either way!
   Pour just boiled 'hot' water over the seeds. Allow to steep 5-10 minutes.
Years ago, I learned about WISE WATER TEA ~ Fennel in concert with Coriander and Cumin seeds combine to make an effective detoxifying but supportive tea. Mostly I use this with clients after the holidays (read 'after too much partying and feasting) and also after cancer chemotherapy treatments. Read more about this healing tea here.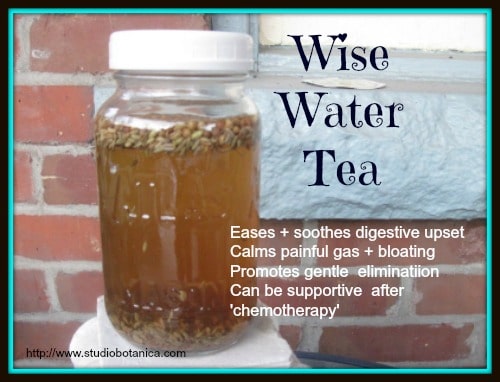 As with many of the herbs I write about, I realize that we really need to incorporate them into our daily meals as much as possible.. It's one thing to take as a medicine, and I realize, very healing and life-changing. We can really support ourselves, however, by adding the healing powers of the herbs into our weekly menus!
I rarely make my own bread. If you do, however,  mix a tablespoon of seeds into the dough.
Bake with fennel seeds. Add to your muffins or coffee cakes.
Fennel seeds can really uplift a fruit salad! Use your imagination. Fennel seeds are well used in cuisines all around the world ~ go well with grilled meats, seafood, olive oil. They go well with:
allspice, bay, cinnamon, cloves, coriander, garlic, ginger, onions, rosemary and turmeric. I'm sure the list is longer, but these are what come to mind and are my own list of "marries well with", from experience.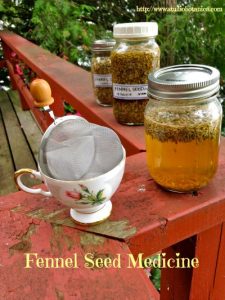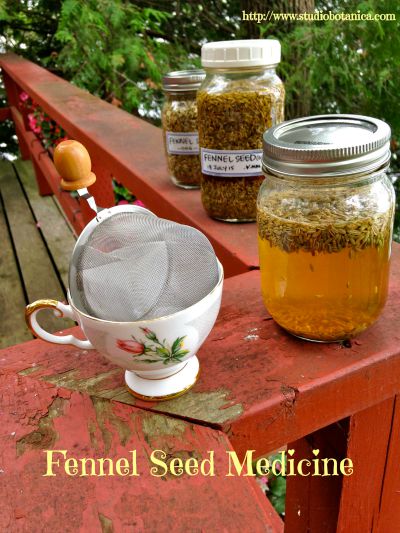 Do you like Fennel Seed ? How do YOU use it ?
Please share this article. Fennel medicine needs to be shared!
Would love comments too!   .. until next time.. Carol xo