I didn't grow up in a home where fennel was a part of our meals. In fact I don't recall seeing that unusual pale green oddity, until later on, and still, didn't know what to do with it, so didn't buy it.
I've since discovered that many friends are in the same boat! Well happily I did acquaint myself, eventually with this fragrant, rather delightful veggie and am happy to report, it's now an occasional treat chez nous! Normally, I roast it with other veggies in the fall and winter and enjoy it in salads in summertime when a refreshing, possibly slightly unusual salad is called for at a picnic or when it's JUST TOO HOT TO COOK!!
Here's one of our faves– from my cousin-in-law from Australia, who is both fabulous cook and caterer in Sydney. I hope you try it. It's easy to put together and very tasty. It lends itself to adaptation well, so whatever you fancy, add it in ~ YUM!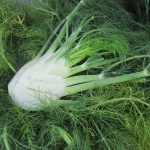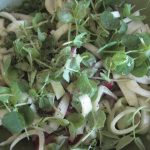 Fabulous Fennel Salad
2015-07-07 19:03:09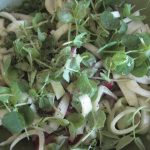 Ingredients
1 fennel head
5 radishes
parsley, flat leafed, about 1/2 a bunch
1 red onion, medium
1/2-1 cucumber
Sea salt
Black pepper, freshly ground
1/2 lemon, organic preferred, juiced
4 tsp Extra Virgin Olive oil
Instructions
Prepare the fennel bulb. Cut off the leafy fronds and set aside.
Cut the end off the bulb and compost
Chop the rest of the bulb into bite-sized pieces
Slice the red onion and radishes into slivers.
Finely chop the parsley.
Slice the cucumber into thin slices.
Assemble all in a large bowl.
Add the lemon juice and toss.
Add the olive oil. Toss.
Taste. Add the salt and pepper.
Toss.
Taste. Add more lemon if you desire.
ENJOY!
Notes
This salad does well as is.. or with additions such as pea shoots, sunflower shoots, sprouts, additional greens such as baby spinach or your own favourite.
Add chopped celery if you like, but you will find this salad to have a nice crunchy texture as is.
Studio Botanica http://studiobotanica.com/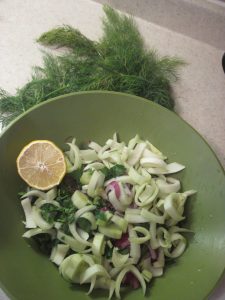 It's so easy to assemble this FABULOUS fennel salad. Basically toss together and serve!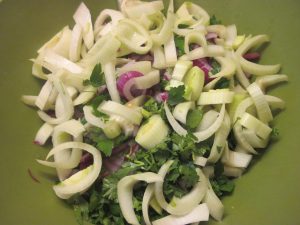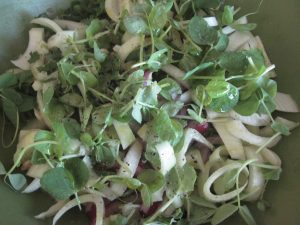 Such a delightful salad. Want to pin it so you'll have the recipe handy?


This aromatic salad is a winner in my home. I hope you enjoy it. Please share and comment ~ ALSO ~ What do YOU like to do with FENNEL BULB??