HARVEST time ? Maybe that's normally at the end of the growing season, in late August thru October for my garden in Toronto, but we can harvest herbal goodness from the beginnings of the growing season. And I do! Make herbal vinegar and join me in this healthy addiction!!
I  harvest for medicines from spring through fall, but definitely August is prime time, the garden's bounty (or that of our local markets) makes me think about just how to preserve my herbal goodness for the winter months.  I make tea, tinctures, vinegars, infused honey and herbal syrups.
Herbal Vinegar is easy to make and requires very little "medicine making knowledge".  Essentially, herbal vinegars involve pairing a vinegar of choice with an herb or a combination of herbs. The possibilities are endless and I never tire of the trying new combinations!
Many herbalists believe that when you add vinegar to your food, it actually helps build bones because it frees up minerals from the vegetables we eat. When it's combined with mineral rich herbs, vinegar is better than calcium pills. A tablespoon of infused herbal vinegar has the same amount of calcium as a glass of milk.
Primarily I use Apple Cider vinegar (ACV) but also enjoy using either red or white wine vinegar, or rice vinegar.  For salad vinegar I choose any of these. For personal care (skincare, hair car etc) I almost always use Apple Cider vinegar for it's healing and alkalizing qualities.
HERB TIP:
A  spoonful of  herb-infused vinegar on your broccoli or kale or dandelion greens increases the calcium you get by one-third.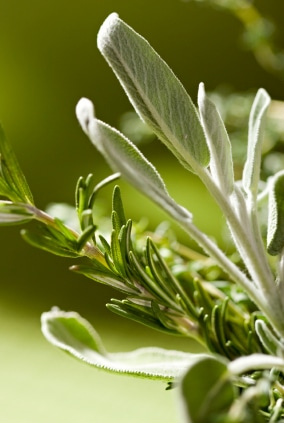 These vinegars take no time at all. Maybe you find yourself with some extra herbs from the grocery store, some that didn't get used in a dish you were cooking up…. Just get out a clean canning jar with a plastic lid, and within 10 minutes, there's a new addition to your pantry!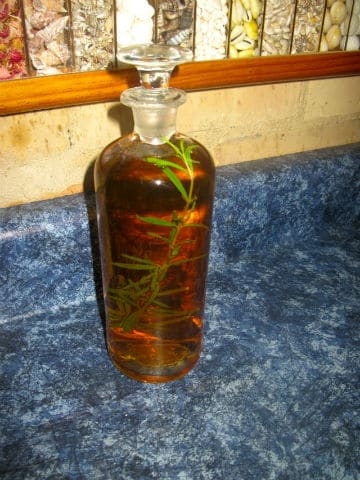 Here are some of my personal favourites:
Parsley, Sage, Rosemary & Thyme
Basil, Garlic & any kind of hot or 'piquant' red pepper
Dandelion
Chive blossoms (made in Spring and with white wine vinegar which turns pink)
Ginger, garlic, cranberries & pineapple sage
Lemon Balm and/or Lemon Verbena
Opal basil (made with white wine vinegar which then turns pink)
Rose
Rosemary
Tarragon
Garlic and Cilantro
Garlic and Rosemary
NOTE: Garlic and most other herbs go very well together.. Experiment!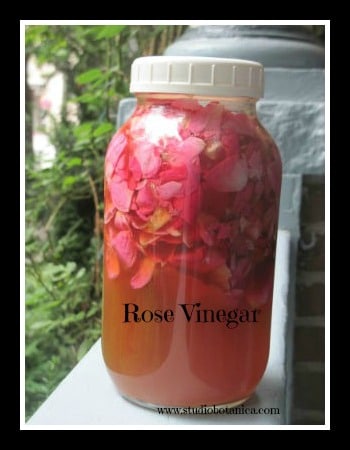 Sometimes, to increase the variety of flavours, I like to add other botanicals.
Try these whole berries or seeds:
Allspice berries, Coriander Seed, Cloves, Cumin Seed, Mustard Seed or
Juniper berries.
Also, hot peppers, bay leaves, orange or other citrus rinds.
INFUSED VINEGAR 101
Start with a clean bottle or jar.
Add any spices first.
If using garlic, ginger or garlic ~ drop in next.
Add the fresh herbs.
I use a chopstick or a bamboo/wooden skewer to poke at the herbs to settle down into the jar.
Add the vinegar to 1/2 inch below the top of the container.
Use the chopstick or skewer to poke at the herbs to ensure that they are completely submerged.
If using parsley or other leafy herb; add last so that the spices will stay submerged in the vinegar.
It is actually ready at this point but the infusion will be more flavourful if allowed to sit for 4-6 weeks.
NOTE: if the vinegar is topped up after each use, to ensure that the botanicals are not exposed to air, the vinegar will keep for up to 6 months.
Infused vinegars are
a. good for you
b. a flavourful addition to your 'cuisine'
Infused vinegars can be used in soups, stews, stir-fries, in BBQ sauces and virtually wherever lemon, lime, plain vinegar or wine are called for in a recipe!  It's an adventure!

What are your favourites ?  Store bought or home-crafted?
Love to hear your comments.   It's easy . Just look to the bottom of the post .
Green blessings,Carol
If you want to learn more ~ here's my own inspiration, from years ago:
My all time favourite book as a source for herbal vinegar ideas was written by Maggie Oster  in 1994.
It's every bit as valid and interesting today.
Herbal Vinegar
Until next time, here's to a new passion for you — in the world of botanicals!          Carol
Save
Save
Save
Save
Save