For years, my family has enjoyed these little delicacies!
Have you ever eaten Stuffed Grape Leaves? I am sharing a classic traditional recipe today, by way of my 'bil' Michel and my niece Mariam. There are no doubt countless ways to make these babies.. but this is a classic recipe from Lebanon, which I have enjoyed and want to inspire you to try!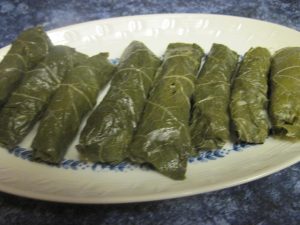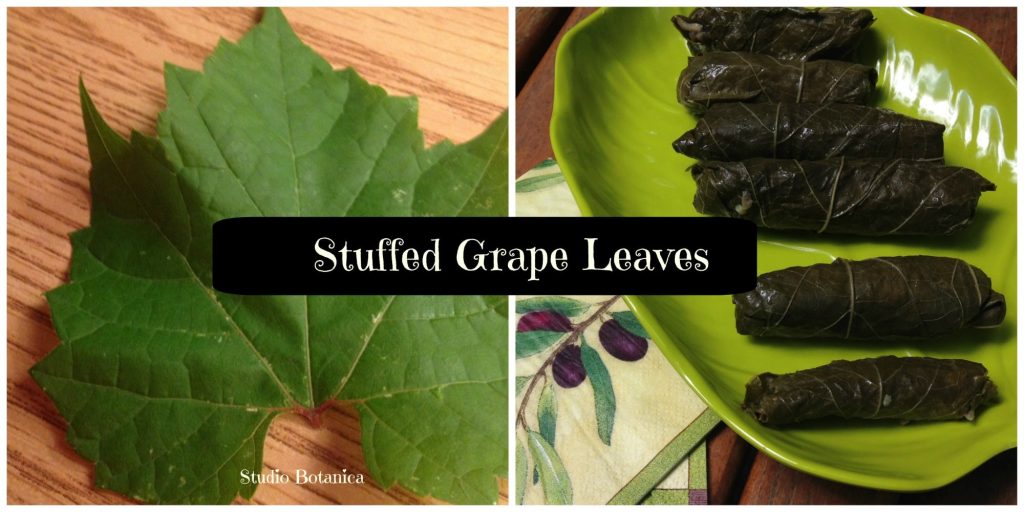 Stuffed Grape Leaves
2017-07-02 13:09:24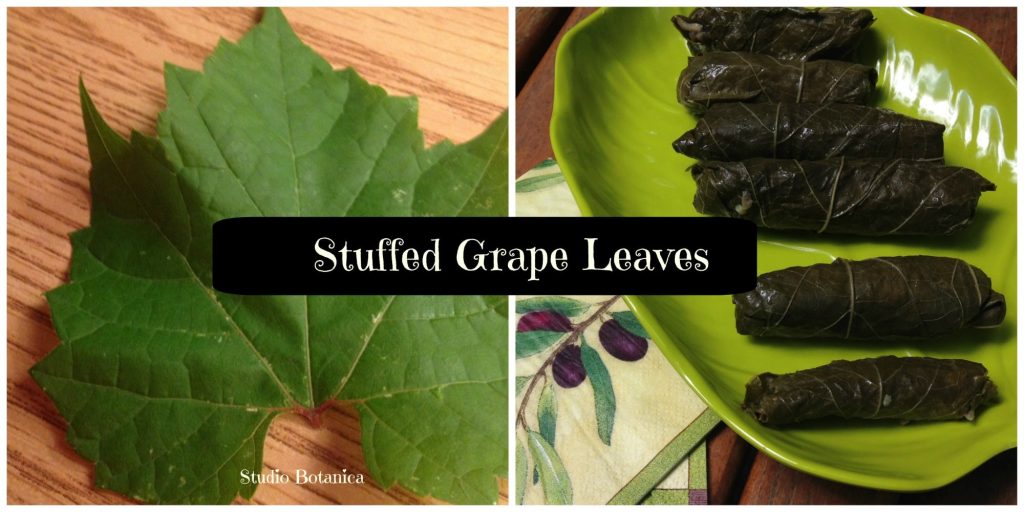 Delightfully Scrumptious appetizer from the Mediterranean!
Ingredients
1 litre jar of grape leaves (rinsed and drained well)
4 skinless bone-in chicken thighs
1/2 lemon (organic), sliced into four thick slices
1 heaping tbsp cinnamon powder
Filling
3 cups Basmati rice uncooked
2 medium onions (very finely chopped)
4 medium tomatoes (very finely chopped)
1 large bunch of parsley, curly type best (very finely chopped)
1/2 lemon, juiced
1 1/2 teaspoon "seven spices"*
2 teaspoons of sea salt
3 tbsp olive oil
Instructions
Combine the "filling" ingredients.
Make sure that they are all combined very well.
Set aside.
Remove skin from the chicken thighs.
Slice the remaining 1/2 of the lemon into 4 slices.
Put the chicken into a large pot and top with the lemon slices.
De-stem the grape leaves. Set aside on paper towel covered plate (to allow brine to drain off)
Place the leaves on the work surface, smooth side 'up'(this side is a darker green)
Note: the very veiny side is NOT the side that the stuffing goes on
(it faces out, to allow thorough cooking)
Place the well mixed stuffing on the leaf in a narrow line with a little room remaining at each side of the leaf and at the bottom as well.
After doing so, fold the sides of the leaf inward over the stuffing with a little space in the middle.
Then, take the bottom of the leaf and roll upwards keeping the sides of the leaf tucked in and make sure your leaf is rolled tightly.
You should end up with a cigar-shaped leaf 'package'
Place each rolled grape leaf into the pot forming a layer atop the chicken and sliced lemons
Make a second and third layer (this will depend upon the size or your pot and the number of rolled grape leaves.
Place a plate on top of the leaves, inside the pot
In a bowl, mix together 1 tbsp cinnamon powder with 2 litres of fresh water
Pour the 'cinnamon water' over the entire mixture, ensuring that the water level is above the plate
Place on stove on high heat to bring all to a boil and then turn the heat down to medium, and cook for 1.5 hours with a lid on the pot
It's all done when you remove one stuffed grape leaf and have a taste.
If the rice inside the leaf is cooked, it's done! If not, replace the lid and cook for another 15 minutes.
Notes
There are several types of "Seven Spice" blends. See below for one blend + ideas.
As the layers of grape leaves are place in a round pot, the grape leaves form a star shape. When creating the next level, place the grape leaves in alternate position (i.e. not exactly on top of level below) It'll be obvious when you are doing it. (teehee)
Adapted from Via my family members Michel & Mariam
Adapted from Via my family members Michel & Mariam
Studio Botanica http://studiobotanica.com/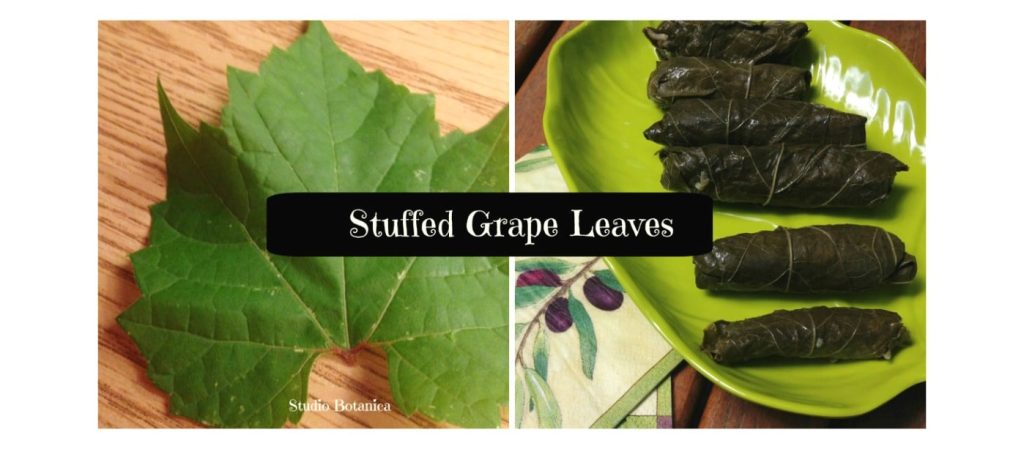 There are many ideas for 'the stuffing' here but the traditional way, from the hills of Lebanon, is the one I know best.
The "Seven Spices" used in this recipe:
Black Pepper
Cinnamon
Cloves
Coriander
Cumin
Ginger
Nutmeg
You can find mixtures like these online, at a Middle Eastern store, or make your own. Use equal parts of each, in the list above.
We have abundant wild grapes available in the countryside. I've always wanted to make use of these but, in the interest of time, I confess, the yummy leaves are purchased "ready to go" ~ for now. I use these grape leaves from Krinos:
Krinos Gourmet Grape Leaves in Vinegar Brine, 16 Ounces, 454 grams
This may all change, however, as I've just read a very informative post from my friend Chris over at JoyBilee Farm about how to ferment grape leaves, easily at home. I just love learning!
Here's to making nutritious and fun-filled food and memories ~
Green Blessings, all.. Carol

Save