MEATLESS MONDAYS and SPRING = DANDELIONS
DANDELIONS are one of my favourite Spring herbs. I use the flowers, leaves and the roots as medicine,and enjoy this delightful highly nutritious "weed" often at this time of year. I've been dismayed for many years at the millions of $$$ spent each year to eradicate these  cheerful sunny flowers from our yards — when all we really need to do?  EAT THEM!
Dandelion Medicine information has been widely written about. My favourite book, entitled  Dandelion Medicine
 by Brigitte Mars
is an excellent source.  There is even a dandelion festival (actually several!)
Check out this post for more about the medicinal attributes of Dandelion.
Enjoy them often with these EASY Dandelion Recipes!
 Dandelion Sauté
This is my all time favourite way to enjoy these highly nutritious + delicious Spring greens!  When time permits, I gather these myself but I realize most of you will prefer to purchase fresh dandelion greens from your local supermarket.  That's great. Whatever way you can get Dandelion into your kitchen — is fine with me!
Sauté onions and garlic in a small amount of olive oil
Trim the leaves and prepare the greens by rinsing in a colander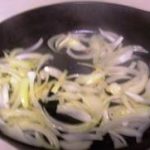 Add wilted greens to the pan of onions & garlic.
Toss with 1 tsp. of  toasted sesame oil.
Top with 2 tsp of sesame seeds
Serve.
Nuts and/or seeds can be added for crunch.
YOU and YOUR Imagination can create many nutritious dishes from this simple recipe. I often add sesame seeds or slivered almonds, and sometimes a dash of Tamari.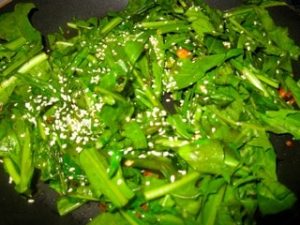 Dandelion Quiche
This easy Quiche recipe works well with or without a crust. I usually make it
without as a lighter version, but it's delicious either way.
31/2 cups dandelion greens
1/2 lb mushrooms
9 eggs
1/2 cup grated Romano cheese
Pie shell (optional)
1 tbsp Olive Oil
1-2 cloves Garlic, minced
2 tbsp Parsley, fresh, minced*
Sea Salt + Black Pepper to your taste
'dash' Hot Pepper Flakes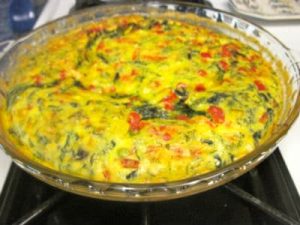 *As noted, this recipe calls for parsley but use what you have on hand.  Yesterday, I made this recipe with green onions,(scallions),  added 1/4 cup of arugula and 1/4 cup of diced red peppers too.
It's a quiche ~ Fun to experiment. It tastes great the next day too, at room temperature.
This version IS crustless.
If you are making 'with crust', partially bake the pie shell at 450 degrees for 5-7 minutes or until lightly browned.
Remove from the oven and set aside. Reduce oven to 325 degrees.
otherwise, for a crustless version; preheat the oven to 325 degrees
Cook 3.5-4 cups of dandelion greens in salted boiling water until wilted but not completely cooked.
Drain using a colander (I wait a few minutes and then squeeze out excess moisture by hand)
Chop the dandelion greens into bite-sized pieces.
Saute the minced garlic in the olive oil and add the mushrooms.(this is where I add the green onions if using)
After about 5 minutes, add the greens. (this is where I add the extras like red peppers or sun-dried tomatoes)
This mixture is 'ready' when all the liquid has cooked off.
Beat 9 eggs in a bowl. Season with S+P and that dash of Hot Pepper flakes (or your favourite seasoning)
Add the cheese. Stir.
Put the greens mixture into the pie shell or directly into a pie or quiche pan.
Pour the eggs mix over the greens.
Bake at 325 degrees for about 35 minutes (or until the eggs are 'set')
Happy MEATLESS MONDAY!
Enjoy Dandelions!