It's been years now, that, we have enjoyed this simple recipe. "Cole Slaw with a Kick" is the result of my research, when writing a chapter in the IHA's Horseradish Herb of the Year (2011). As is the norm, when writing about an herb, I have fun playing with it in the kitchen like the 'mad herbgal' I am.
This 'Cole Slaw with a kick' is just so good. We enjoyed it with our Easter dinner this year and as usual, our family and friends gobbled it up. There is rarely any left for the next day. In fact, I normally make extra, just so I can try to enjoy the leftovers!
For more on that 'kick', Horseradish, and why it packs such a punch, check out this post about our HOY 2011 and this one called "herbal heatwave".
For this special salad, I rarely grate fresh horseradish root, as I have access to gorgeous jars of local goodness, and one of the super selling points re this recipe? It comes together SO quickly and with minimal fuss! It's perfect as an accompaniment to a traditional picnic but also holds up with other veggie dishes in a more formal family celebration (i.e. at a table lol)
Here's the recipe: Cole Slaw with a Kick ~ Enjoy!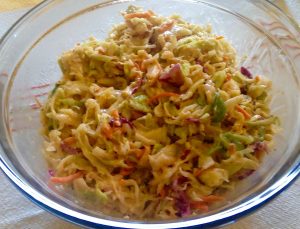 Cole Slaw with a Kick
2017-04-30 09:46:31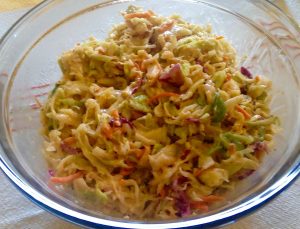 Delicious. Control the kick to suit your taste. Always a crowd-pleaser!
Ingredients
1 medium cabbage, shredded (or convenient pre-shredded bag cole slaw)
1-2 large dollops of mayonaise
1 large dollop of horseradish cream (from the jar)
Sea Salt
Black pepper
Instructions
Place the shredded cabbage in a large bowl
Sprinkle with sea salt. Stir so that the salt mixes in.
Set aside (for at least an hour or in fridge overnight, covered)
Add the mayo and prepared horseradish
Stir to ensure cabbage is lightly coated.
Allow flavours to marry. Check seasoning.
May not need any more salt but add fresh black pepper
Can be served immediately but is better after an hour in the fridge.
Notes
I normally make the day before and it's all ready to go -- when you plan to enjoy it.
Can be made with a combo of shredded cabbage and shredded broccoli or carrots.
This is more of a guideline than recipe. Add whatever salad ingredients you have on hand.
Studio Botanica http://studiobotanica.com/
Here's hoping you try this idea and enjoy very soon with your family & friends!
with only GOOD wishes for your health, Carol