Cold-Kicker Honey
I love to add herbs to honey to create another welcome winter remedy.
It's easy to make and simple to change to suit what's needed. The honey
helps to coat the throat and relieves irritation. Both anti-microbial and
antioxidant, honey helps to fight bacteria and viruses.
Due to its high sesquiterpene content, ginger helps to overcome the
most common type of cold virus; the rhinovirus.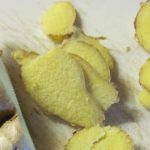 Horseradish packs a nutritive punch, but also helps to liquefy phlegm,
which can help to clear and relieve a cough.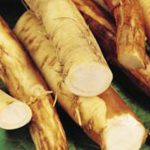 Here's one that I always have on hand:
Ginger  root, sliced or grated
Horseradish, grated
Honey (raw, unpasteurized if possible)
Garlic, raw, minced (optional)
Combine fresh ginger root and grated horseradish to a good quality pot
of honey. Cover the roots and let sit for a couple of weeks, if possible!
I generally put this concoction in a dry, dark cupboard. As long as the
herbs are covered with honey, they can be left in the jar. Otherwise,
both the ginger and the horseradish pieces can be recycled in soups,
stews or chutneys.
This potent honey is yummy in a cup of tea or by the spoonful to soothe
sore throats and alleviate cold symptoms. This herbal honey plus a
strong infusion of fresh or dried sage leaves are great team players in the
world of winter health!
Hope you enjoy another  "herbal honey" idea.  What do you like to make?
this post is an excerpt from my chapter in:
HORSERADISH HERB OF THE YEAR 2011
published by the International Herb Association 2011
Available at www.iherb.org