Growing up, cinnamon was always a part of mom's baking and the smell of cinnamon can still bring me back to days spent in an aromatic kitchen making apple tarts or other treats. I still like to make sweets with cinnamon, allspice, nutmeg and all of those 'autumn' herbs n' spices, but in recent years have fallen in love with cooking with cinnamon ~ adding to savoury dishes from baked veggies to grains, legumes and meat dishes.
My brother-in-law, a trained chef from Lebanon has been an inspiration and mentor in the manner & method of using cinnamon and other aromatic spices to elevate every-day meals to delicious new 'foodie' experiences. Check out the recipe below ~ a version of "Loubieh" (translated into English from Arabic, "Green beans", literally but also the name of this classic Lebanese dish) There are many reasons to enjoy cinnamon as often as possible.
How do YOU use it?
As always, with herbal medicine, I am in awe of the many positive influences that ONE plant/bark/root/flower can offer us.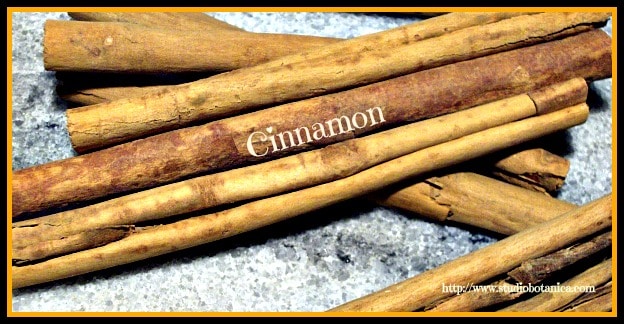 Cinnamon HIGHLIGHTS:
Regulates blood sugar. Stablizes daily energy levels + moods.

Excellent for hypoglycemics and diabetics. Can be used to PREVENT elevated glucose and blood lipid levels.

Anti-microbial. Effective remedy against the ulcer-causing H. pylori bacteria.
Anti-viral
Anti-fungal. Effective remedy re Candida
Reduces LDL cholesterol levels. As LDL (bad cholesterol!) is reduced, it can reduce risk of cardiovascular disease
Reduces pain related to arthritis
Also anti-inflammatory action related to some neurodegenerative diseases (e.g. Alzheimer's, Parkinson's, MS, brain tumours) Shown to be beneficial post stroke, offering protection from further damage.
Possibly a part of an anti-cancer group of herbs non as anti-neoplastics; shown to reduce proliferation of cancer cells* *University of Texas research published in the Journal "Nutrition & Cancer"
It's easy to add cinnamon to your daily meals or snacks! I'm fond of my cup of hot water with freshly squeezed lemon. Sometimes I add some honey & cayenne powder but another choice is to add a couple of dashes of cinnamon instead of the cayenne. Now that's tasty! Oatmeal is a nutritious, hardy way to start the day and tastes great with cinnamon sprinkles! (Oatmeal is THE best nourishment for our nervous system!) Add a teaspoon or two to soups or stews! It's now a part of my winter turkey chili and, although subtle, adds another level of flavour. Add a little each time you roast or bake vegetables. I use rosemary, oregano, thyme, turmeric and cinnamon; sometimes a little cumin or garam masala. Change the taste totally with 'herbes de Provence' plus a dash of cinnamon. Experts advise that 1/2 teaspoon per day can make a remarkable difference in the above scenarios! Here'e a tasty recipe from the cuisine of Lebanon:
Loubieh
2015-10-22 09:59:06
Ingredients
2 lbs green beans
3 onions (medium to large), finely chopped
5 garlic cloves (crushed)
1 cinnamon stick (broken in half)
1 tsp sea salt (or more if desired)
1/2 - 3/4 tsp 'seven spices' *
1/2 can tomato paste
2 cups pure water
2 tbsp olive oil (1 tbsp used in two ways)
Instructions
Prepare the beans. (Remove ends and snap in half ~ unless they are small)
Rince beans in a colander with running water 2-3 times
In a bowl, whisk the tomato paste with the water. (some folks add a dash of sugar to this mixture)
Place the beans in a large pot with 1 tbsp olive oil, and turn up the heat.
Stir the beans for about 5 minutes rapidly, turning the beans continuously.
Add the tomato paste-water mixture plus 2 pieces of cinnamon.
Cover and bring to a boil.
Simmer with lid 'ajar' until all the liquid has evaporated
While the beans are simmering, add the onions and the remaining 1 tbsp olive oil to a pan.
Saute the onions until golden brown. Add the garlic during the last minute, stirring well.
Add the salt and the 'seven spices'. Stir to combine.
Remove the cinnamon stick from the simmered beans; beans should be soft and almost no water left in the pot.
Add the onions-garlic mixture from the sauté pan.
Stir gently to combine all.
Notes
This dish tastes great warm or cold. Will keep well in the fridge for at least a week.
Freezes well.
Studio Botanica http://studiobotanica.com/
How do you like to enjoy cinnamon in your meals??? Looking forward to hearing about that! Keep warm!