Any of my friends who have read StudioBotanica posts for a while, may recall that I LOVE potatoes. I love them every way, I've ever tried them, with the exception of (sorry mom!) my mom's scalloped potatoes. As a child, that was almost 'up there' with liver and onions in the "no thanks" department!
Otherwise, any potato recipe seems to jump out at me and scream "try me!".
One of THE most favourite ways to enjoy tender new potatoes, in the summer, is definitely in a warm potato salad ~ a warm garlicky lemony simple preparation that brings a smile to family and friends alike. Tessa, a cousin-in-law, came to visit one summer and as a fabulous Lebanese-Australian caterer ~ treated us to her version of warm potato salad extraordinaire!
It's simple to make and is sure to please your family and guests. Adjust the size to fit your group; big or small.
Best Warm Potato Salad
2015-06-26 13:17:55
Serves 4
Garicky Lemony Scrumptious ~ You'll want more!
Ingredients
1 kg (approx 2 pounds) baby potatoes
3 cloves garlic
1/2 lemon, juiced
1/2 cup best olive oil
sea salt + fresh ground pepper to your taste
fresh Parsley (flat leaf) ~ can substitute dill, basil, rosemary or your own favourite!
Instructions
Preheat oven to 350 degrees.
Cut the potatoes to bite-sized pieces.
Place on parchment paper lined cookie sheet.
Bake for 50- 60 minutes. Check every 20 minutes and flip with spatula for even baking.
Mash the garlic cloves and add to a bowl with the lemon juice and olive oil.
Whisk together until blended.
When potatoes are done, remove from oven and toss with a little salt and pepper.
Add the potatoes to the bowl and toss with the garlicky lemony olive oil.
Add chopped herbs and toss again. Serve warm.
Notes
Bon Appétit!
Please feel free to substitute dill, basil, rosemary or your own favourite!
Studio Botanica http://studiobotanica.com/
Best Warm Potato Salad Recipe pics: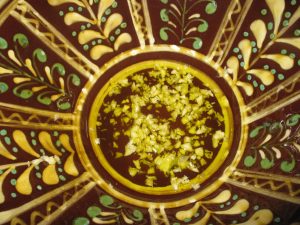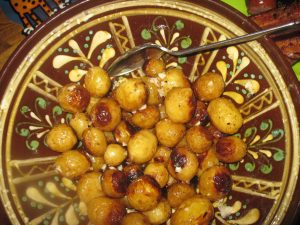 Does this not look delicious?? All that's needed is the parsley ~ and it's ready!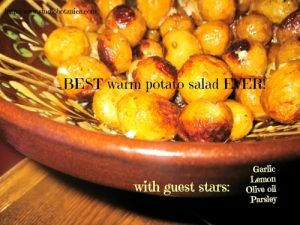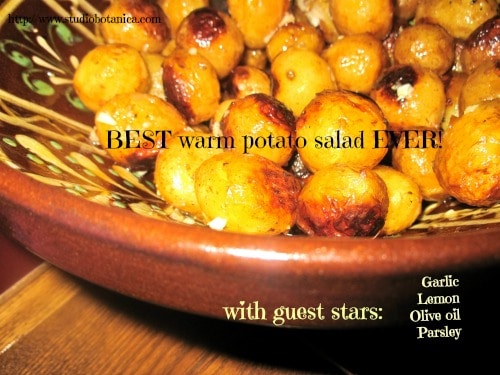 What's YOUR favourite potato recipe??
Please share any that have HERBS included! good green wishes, Carol