I've had a love affair with infused herbal vinegar for as long as I can remember. From the first dandelion leaves in springtime, until late in the autumn, when herbalists dig our roots for medicine, I always have a series of jars brewing with life-enhancing herbal vinegar!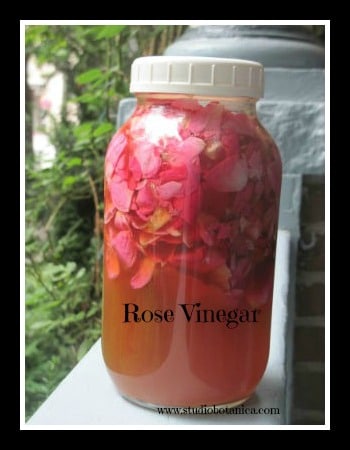 WHY make your own infused herbal vinegar?
Well, I can only tell you why I do it.  I love making them. I love infusing flavours and herbal goodness into vinegar and then using this creation daily ~
With infused herbal vinegar, we can enhance our meals with new flavours, tenderize meat dishes, add 'heat' to stews, soups and sauces, as well as add bone-building nutrition to our day! The healing constituents of the plant medicine infuses into the vinegar itself, creating an edible plant medicine. Vinegar extracts are often less potent than alcohol (herbal tinctures) extractions but have a definite place in the herbal culinary apothecary. Daily consumption of infused vinegar is good for you!
I tend to use pasteurized apple cider vinegar for most of my 'healing concoctions' but there are times to choose red wine vinegar, white wine vinegar, vinegar made from rice wine or from Champagne! 
I remember being astounded many years ago, when Susun Weed  (Susun's site) taught me that some infused vinegars possess such high mineral content that only 1 teaspoon of the vinegar = 1 cup of cow's milk.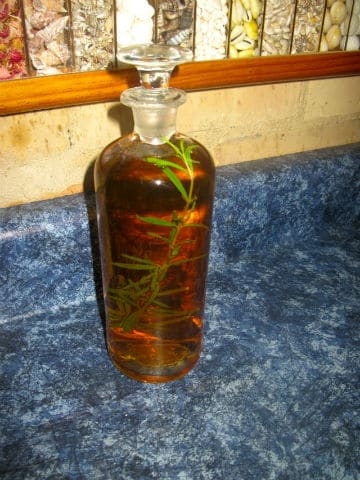 There are countless combinations of possibilities for you to create tasty life-enhancing vinegar 'brews'. Initially, I would make small 1 cup jars, filled with 'simples' (one herb only) and then play with adding them together in different ways. Then, I started to infuse different herbs and spices together ~ all in one jar, with hopes of tasty results.
Experiments were usually a success; sometimes, not so much! We can make super tasty vinegars which enhance meals but also add a boost of herbal goodness. We can increase our immune system function with a concoction of 'Fire Cider', which Rosemary Gladstar shared with me, almost 20 years ago in Vermont, when I was an herbal apprentice on Sage Mountain. 
Fire Cider is easy to make and full of immune-boosting delicious-ness!
Add heat to your meals and increase your circulation with this recipe. Add some dill to a vinegar and you have the perfect accompaniment for a fabulous cucumber salad or salmon entrée (plus dill enhances digestive system function, as a bonus)
Here's an idea re how to get started with your project:
INFUSED VINEGAR 101
Start with a clean bottle or jar.
Add any spices first.
If using garlic, ginger or garlic ~ drop in next.
Add the fresh herbs.
I use a chopstick or a bamboo/wooden skewer to poke at the herbs to settle down into the jar.
Add the vinegar to 1/2 inch below the top of the container.
Use the chopstick or skewer to poke at the herbs to ensure that they are completely submerged.
If using parsley or other leafy herb; add last so that the spices will stay submerged in the vinegar.
It is actually ready at this point but the infusion will be more flavourful if allowed to sit for 4-6 weeks.
NOTE: if the vinegar is topped up after each use, to ensure that the botanicals are not exposed to air, the vinegar will keep for up to 6 months. (Confession: I have vinegars that are 2-3 years old, that are just fine)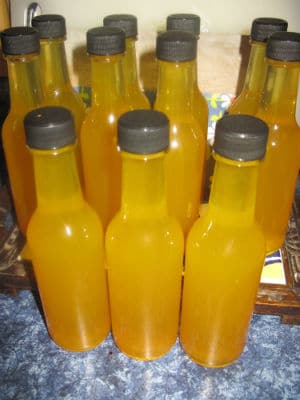 Using Your Vinegars
Herbal vinegar tastes so good; you'll want to use frequently. Regular use boosts the nutrient level of your meals.
 ~ Use as a condiment
~ Use as a part of a vinaigrette
~ Add them to stir-fries, soups, stews
~ Add to cooked greens to help with assimilation of nutrients
~ Toss it back as a 'shooter' in the morning before food (*alkalizer*)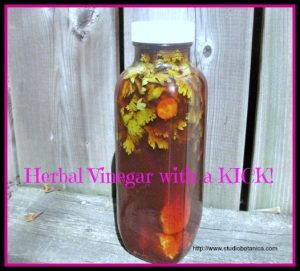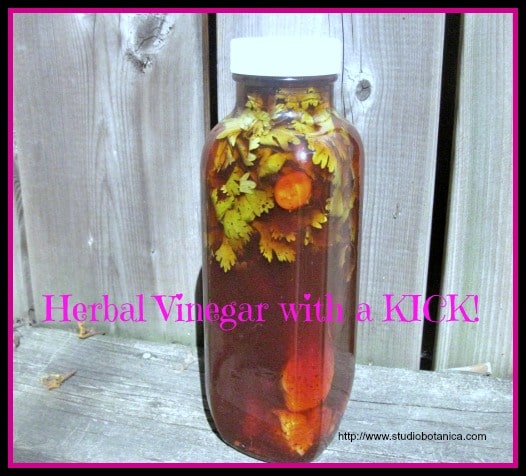 I came across some notes from an herbal conference;  some notes from a "VINEGAR" "class with Susun Weed ~ who offered the list below:  
Some plants make VERY tasty herbal vinegars:
 All of the mints are excellent choices and are also high in anti-oxidants.
Apple mint (Mentha sp.) leaves, stalks
Catnip (Nepeta cataria) leaves, stalks
Lemon Balm (Melissa off.) leaves, stalks
Orange mint (Mentha sp.) leaves, stalks
Peppermint (Mentha piperata and etc.) leaves, stalks
Spearmint (Mentha spicata) leaves, stalks
ALSO:
Bee balm (Monarda didyma) flowers, leaves, stalks
Bergamot (Monarda sp.) flowers, leaves, stalks
Burdock (Arctium lappa) roots
Chicory (Cichorium intybus) leaves, roots
Chives and especially chive blossoms
Dandelion (Taraxacum off.) flower buds, leaves, roots
Dill (Anethum graveolens) herb, seeds
Elder (Sambucus canadensis) berries
Fennel (Foeniculum vulgare) herb, seeds
Garlic (Allium sativum) bulbs, greens, flowers
Garlic mustard (Alliaria officinalis) leaves and roots
Goldenrod (Solidago sp.) flowers
Ginger (Zingiber off.) and Wild ginger (Asarum canadensis) roots
Lavender (Lavendula sp.) flowers, leaves
Mugwort (Artemisia vulgaris) new growth leaves and roots
Orange peel, organic only
Perilla (Shiso) (Agastache) leaves, stalks
Rose (Rosa sp.) flower petals
Rosemary (Rosmarinus off.) leaves, stalks
Thyme (Thymus sp.) leaves, stalks
White pine (Pinus strobus) needles
Yarrow (Achilllea millifolium) flowers and leaves
 I have written about herbal vinegar a few times here at SB. Here's another post with more ideas.  There is so much MORE to know about the benefits of infused vinegar. For example, we can increase calcium uptake in our bodies with vinegar. Important info to share here where healing and bone support is the focus.
 
In the meantime ~ What are YOUR favourite healing herbal vinegar? 
                              ~ What would you like to make? try?   Please share!
Good green wishes!!  Carol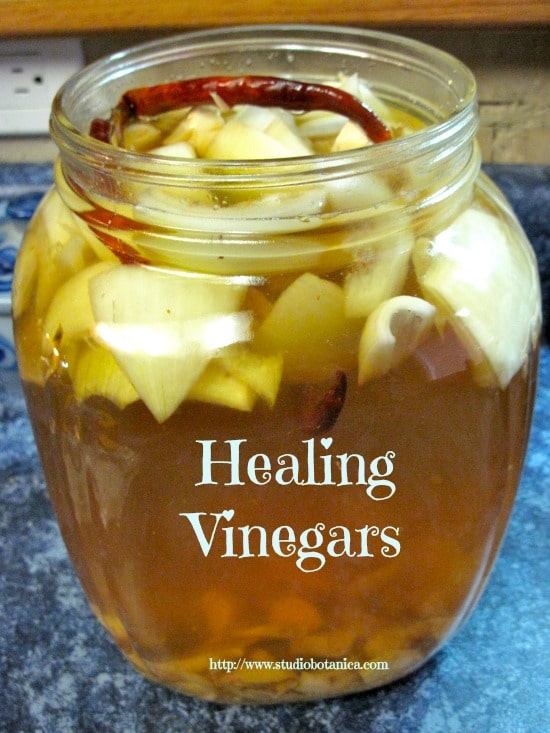 This post has joined the Blog Hop party at Cedar Hill Chronicles! Come visit here!

Save
Save
Save
Save
Save
Save
Save